Onsens are deeply embedded into Japanese culture and no trip to Japan is complete without a relaxing dip in the hot springs surrounded by natural scenery. An onsen is a hot spring fuelled by volcanic activity. In Japan, there are over 20,000 hot spring sources and around 3000 onsen ryokans (traditional resorts) which attract over 130 million visitors annually. Here, we introduce the 5 best onsen resorts in Japan, alongside a guide to Japanese bathing etiquette.
Hakone-Yumoto Onsen
Famous for its luxury onsen ryokans, traditional architecture and breathtaking views, the Hakone region has been one of Japan's most popular hot spring resorts since the 9th Century. Located within two hours by car or train of Tokyo, Hakone Yumoto is Hakone's most established hot spring resort with over 40 accommodation facilities. Many ryokans also open their baths to non-staying visitors during the day with admission typically costing ¥500-2000 (£3-15).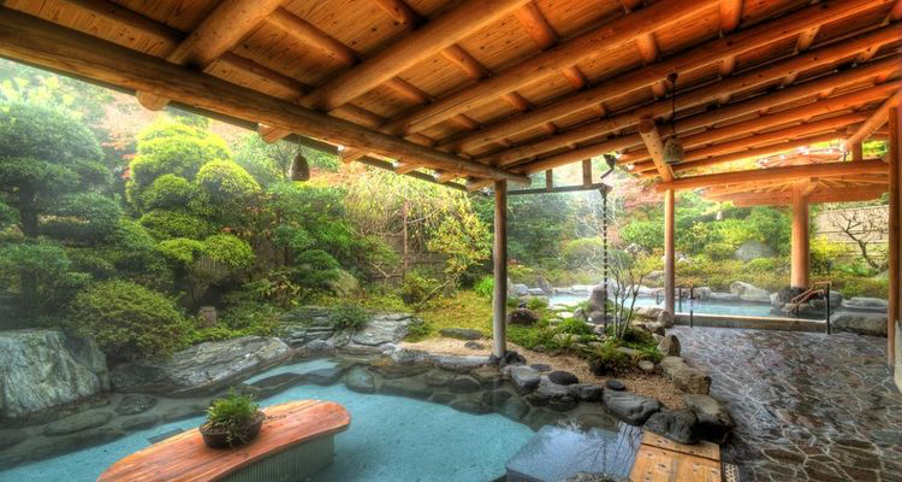 Popular sightseeing destinations nearby include:
Ashinoko (Lake Ashi) – Created 3000 years ago by a volcanic eruption, Ashinoko offers a stunning view of Mt Fuji and the surrounding mountains of Hakone. Pirate ships and pedalos operate on the lake, making it the perfect destination for visitors of all ages.
Owakudani (Owaku-valley) – Created during the last eruption of Mount Hakone 3000 years ago, Owakudani is a unique tourist attraction surrounded by volcanic activity. The view of the volcanic zone can be observed from the Hakone ropeway and a walking trail from the ropeway station leads to a number of steam vents and bubbling pools. Here you can buy eggs that are boiled in the hot springs and blackened as a result of the sulphur, which is said to prolong your life by seven years.
Video: HAKONECTION - Hakone promotion video
Kusatsu Onsen
Kusatsu Onsen is another of Japan's popular onsen resorts known for its sheer volume of natural spring outflow and natural scenery. Located three hours north-west of Tokyo by car and also accessible by Joetsu Shinkansen (bullet train), the Kusatsu region offers multiple hot springs that can be visited free of charge. The Yubutake hot water fields is the symbol and heart of Kusatsu Onsen. The hot water (about 55°C) is cooled as it runs along a series of connected wooden chutes into the emerald reservoir while preserving the natural mineral content. The high acidity spring water is said to cure every illness but lovesickness. The healing power of Kusatsu Onsen is so treasured that several Tokugawa shoguns had the water transported in barrels to their castles in Edo, today's Tokyo. Located 1200 meters above sea level in the mountains of Gunma prefecture, Kusatsu offers skiing in the winter and hiking during the summer months. To see our comprehensive report on Niseko, Asia's top ski destination and vacation resort, click here.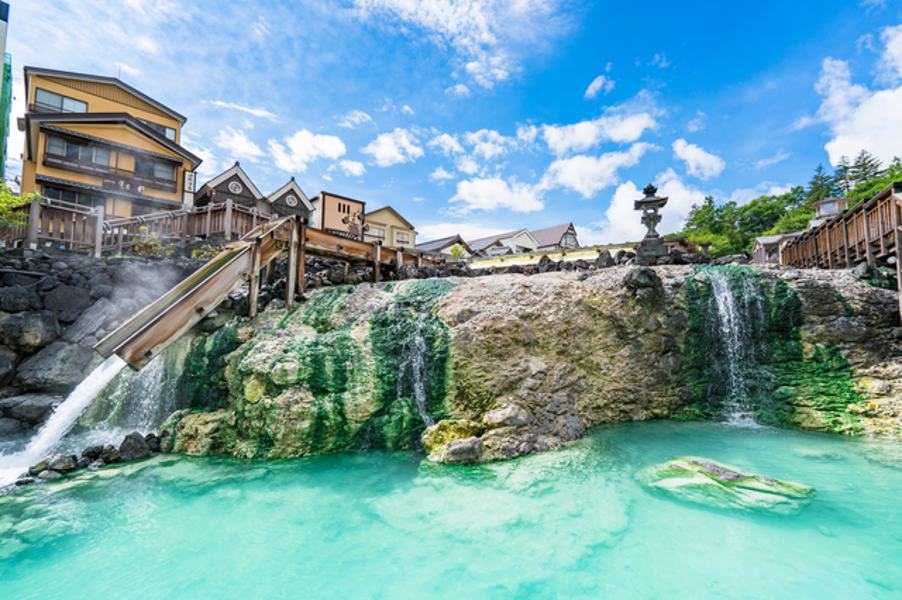 Video: 4 seasons of Kusatsu Onsen in 4K Ultra HD
Beppu Onsen
Beppu Onsen offers eight different hot springs each featuring its own public baths and ryokans. Together, it produces approximately 96,000 litres of hot spring water a day, the highest volume of all onsen resorts in Japan. What sets Beppu apart from other resorts is not only its abundance of hot springs, but also the range of bath types that can be enjoyed. Aside from conventional hot water baths, Beppu offers sand baths, where bathers are buried in naturally heated sand; steam baths that are heated by the steam of the hot springs; and mud baths, which is essentially muddy hot water in baths. A guide to the best public baths in Beppu city is provided at the tourist desk at Beppu station.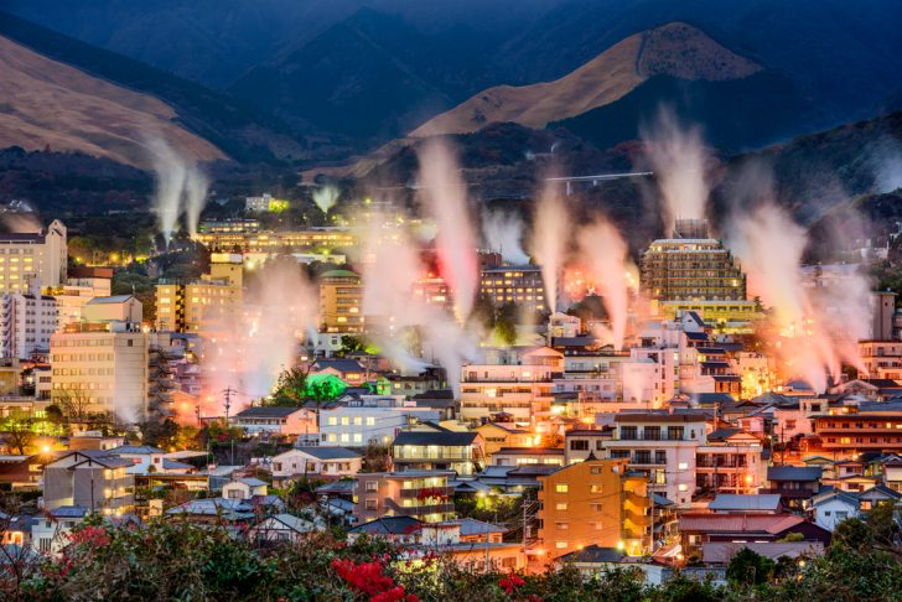 Video: Beppu Bathhouse – Japan from Above by NHK Japan
Ibusuki Onsen
Ibusuki Onsen is a group of hot springs situated about an hour south by train of Kagoshima city on the eastern coast of Kyushu Island. Ibusuki is a popular seaside onsen resort that stretches 6 miles north and south of Ibusuki station and is famous for its geothermal sand baths. The sand baths are located on Ibusuki beach, where the view of Kagoshima Bay and Sakurajima (volcanic mountain) can be admired. Once you put on a yukata (a type of kimono), the staff will bury you in the thermal sand for about 10-15 minutes and then dig you out when you are ready. The sand baths are known to improve your circulation and are an excellent all-body detox. Regular bath style onsens are also available in the resorts. The waters of Ibusuki have a high sodium content, which is known to be a good cure for rheumatism, neuralgia and digestive problems.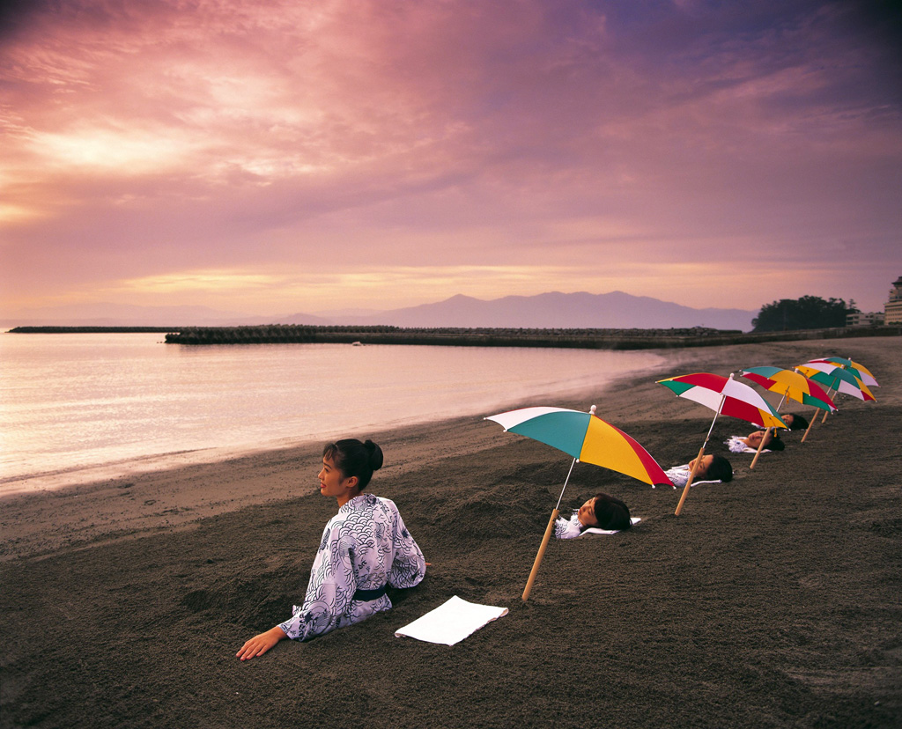 Video: The sand baths of Ibusuki
Arima Onsen
Arima Onsen is a famous hot spring town located within the city limits of Kobe and Osaka. With a history of over a thousand years, Arima Onsen is considered one of the oldest hot spring resorts in Japan and ranks consistently highly among the onsens in western Japan. The town has two types of hot spring waters: the kinsen ("gold water") is brown due to iron deposits and is said to be good for skin ailments and muscle pain, while the clear ginsen ("silver water") contains radium and carbonate and is said to cure various muscle and joint ailments. Several ryokans open their baths to non-staying visitors during the day with admission fees ranging from ¥500 and 2500 (£3-20).
Today, Arima Onsen has a modern look but one can still find several narrow lanes and traditional wooden buildings when strolling around the town centre. The town can be explored entirely on foot and there are several hot springs, temples, shrines and an onsen museum (¥200, £1.50) to be explored.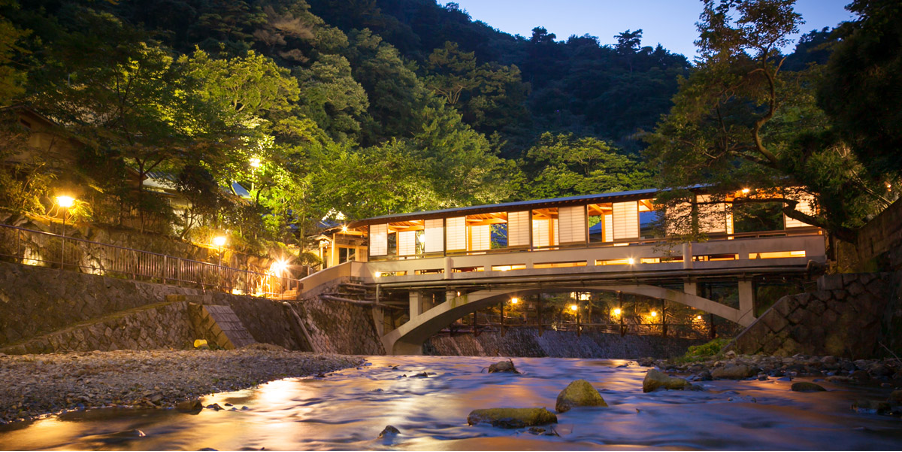 Editor's section: important rules when visiting onsens
Go naked, no swim suits
This is the traditional rule in Japan's bathing culture. Don't be shy because it's a rule that you have to follow, and you'll probably get more weird looks if you enter with a swimming costume. Usually, two towels will be given upon entry and the small towel is to cover your body when entering the bath house from the changing rooms.
Be clean
Wash before entering the bathtub. Either use the showers or lightly rinse yourself with the kakeyu (bucket of warm water) provided. No washing inside the bathtub, and try to keep the small towel out of the water.
Be calm and quiet
Don't be loud when in the bathhouse. Walk slowly because the floor may be slippery due to the natural ingredients of the onsen. No swimming as well, because the purpose of taking an onsen is to rest and relax. Quiet chat is acceptable, but be mindful of others and the atmosphere.
Wipe your body before entering the locker room
Lightly wipe yourself with the small towel before entering the locker room. It is typical to wear a yukata (type of kimono) after a bath when at the onsen resort.
No tattoos
In Japan, people with tattoos have always been banned from entering the onsens. This is because people with tattoos are traditionally associated with yakuza members. However, western culture is more appropriated nowadays and there is less social stigma towards tattoos, especially among the younger generations. With Japan expecting a rise in foreign visitors with the upcoming Tokyo Olympics, some onsen resorts have loosened their entry restrictions for people with tattoos. That being said, it is probably best to hide your tattoos if possible when at the bathhouse reception because it's the people working there that enforce these rules. Once inside, use the small towel to try and cover your tattoos but I wouldn't stress it too much because I've personally never encountered a member of the public calling out someone with a tattoo in my 20 odd years of visiting onsens.