With Boris Johnson announcing the lifting of Plan B pandemic restrictions in England, commuters finally head back to work with a growing sense of 'normality' entering 2022. But does this also mean a move back to urban from rural locations?
The pandemic saw many of us question 'why should I carry on living in a city if I don't need to be in the office?'. In turn, there was a mushrooming effect of people flocking to smaller towns and villages. A chance for us to take a break from the hustle and bustle of a vibrant city such as London, save more money, do less commuting and enjoy better mental health. As WFH is scrapped, big banks, advertising firms and insurers have announced plans to return to the office, meaning alongside trading in pjs and home comforts for more formal attire and a clear space of work, we should see a steady increase of people returning to cities from their relaxed, rural resides.
Looking back on the height of the pandemic, where uncertainty was peaking, it was Cornwall that overtook London and snapped up the top spot as the most desirable place to live. With other Southern locations such as Dorset, climbing up the list from 20th to 10th place on most searched locations. It was also those living in cities such as London, Birmingham, and Manchester who were most likely to want to move out to more rural locations.
The image below represents the Top 10 UK Property Searches in 2021.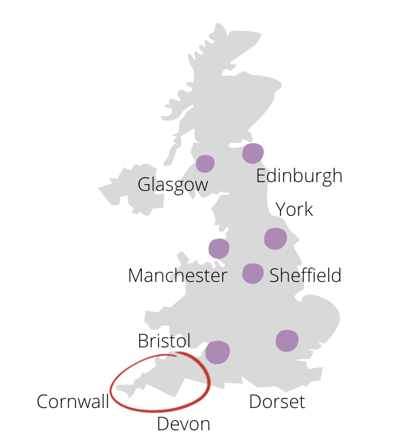 As we can see, there is an influx of online searches to moving to South Coast towns, such as Cornwall, Devon and Dorset taking in the highest number of queries. This could also be due to the cities being targeted as 'Covid hotspots', with a spreading fear of the virus targeting metropolises, where people are at closer proximity with one another. This is echoed by estate agents such as Hamptons quoting the number of registrations to buy in its rural offices were up by 50% on the same period for 2019, while city buyer registrations rose just 9%. Additionally, the rising house prices in England and Wales during this people triggered an affordability crisis amongst young people. For those struggling with housing costs in the south-east where rents are highest, the switch to remote working offered the possibility for them to live somewhere cheaper whilst keeping the same job.
There is no question that the pandemic changed the kinds of property people bought or rented. However, as lockdown restrictions ease, we can see a clear sign of a return in buyer interest. In a shift, as the UK's leading vaccination programme took off, there was a significant upsurge in High-Net-Worth international investment into prime London, for residential houses and apartments. Then with travel restrictions easing, demand once again from buyers in the Far East, Gulf and USA saw a strong interest in the UK's capital city. Now with the move back to the office, evidence suggests that lower housing costs in cities could be a beneficial result for renters, with new help-to-buy schemes and mortgage guarantees from the government meant to help people that need it. Meaning those who may have moved towards rural areas due to affordability may now find new opportunities to move back to the city at a more reasonable price. With lockdown restrictions lifting, and businesses making plans to bring people back to workplaces, there are signs of tenants moving back into London, to take advantages of these lower rents.
However, there is also evidence that the lockdown, paired with the WFH scheme could have everlasting effects and lifestyle changes. Brits now long for green space on their doorstep due to the isolation periods, with a recent study showing that a third (32%) of people want to move to rural areas once restrictions lift. Comparatively only 17% of homeowners want to move to a city once restrictions are lifted. So, will this mean a preference of living further out the city for a 'greener' lifestyle at the cost of a longer commute? As such, properties with outdoor space are becoming increasingly desirable for property buyers in the UK. Although if we look at this through the lens of an age demographic, the demand for rental properties out of the city is challenged by those in their mid-twenties, dreaming of moving to a big city and working in a corporate environment.
The last few years living in a whirlwind or restrictions and lockdowns has meant that many of us had the opportunity to reflect on where we want to live and why we've chosen those areas. With the WFH scheme now lifting, the convenience of paying cheaper rent and working from anywhere has been eliminated. Therefore, we can expect to see people moving back, closer to work and being able to enjoy everything that the UK's cities have to offer.