Thailand was known as the Kingdom of Siam, or simply Siam, to outsiders until it officially became known as Thailand in 1959. No one is really sure where the name Siam came from, some think it came from Chinese, others Burmese and others say it comes from Thai dialect. Thailand is the second largest economy in south-east Asia, with a PPP GDP of well over a trillion USD. The country's main export these days is computer equipment, which accounts for about 20% of all exports. Other more traditional exports such as rice and rubber have been overtaken as Thailand has risen as a centre of technology in the region.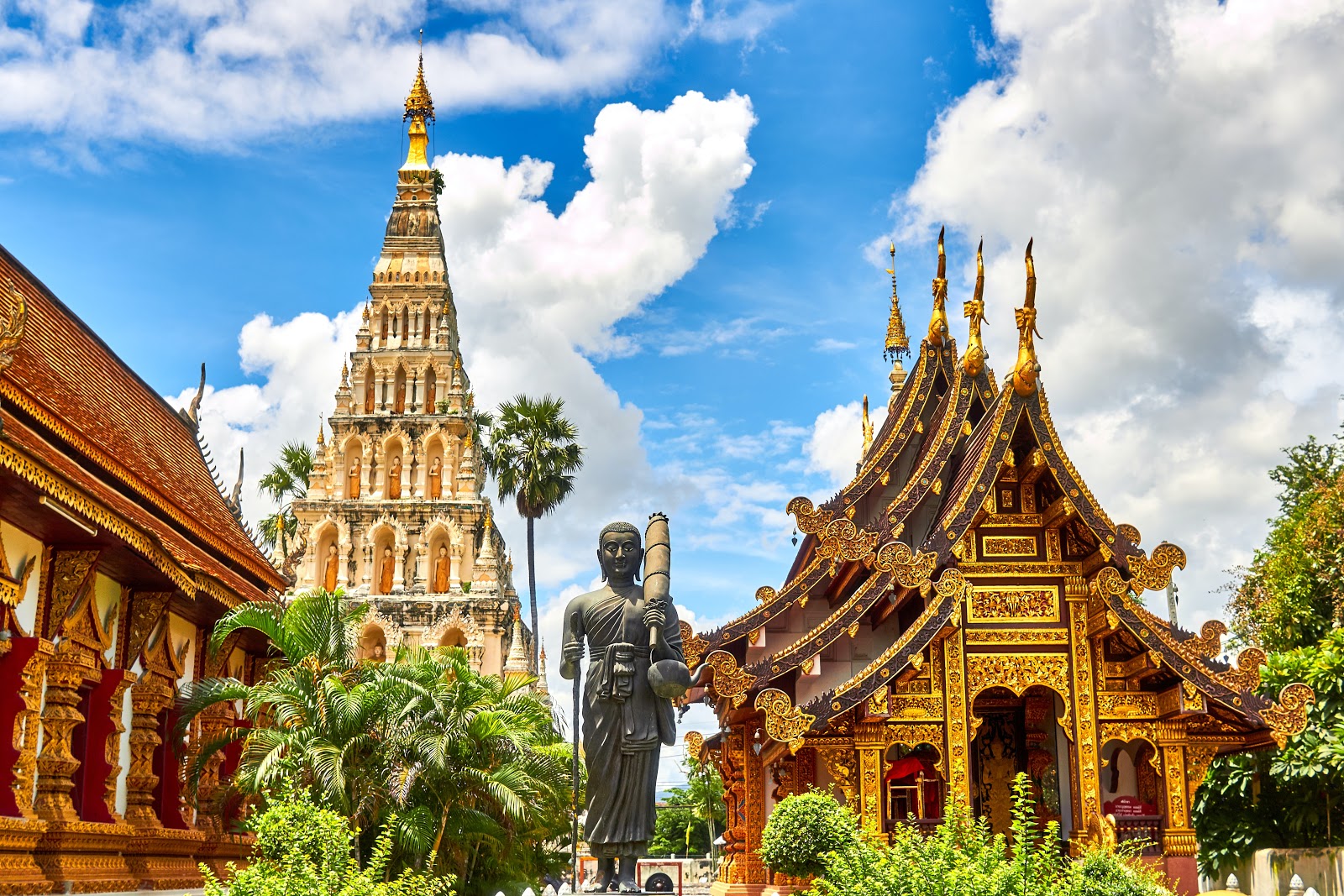 Thailand has a population of approximately 66 million people, making it the 22nd most populous country in the world. Many of the people live in rural communities in the north, east and south, while over 10 million people call Bangkok home. However, tourism is huge in the country, with travellers from all over the world flocking to Thailand all year round to visit bustling Bangkok and shop or take in the many fabulous attractions and temples, or to travel to one of the country's 1,430 breathtaking tropical islands, where they can enjoy water sports, scuba diving or just relax on the beach with a cocktail. Other tourists come to watch, or even take part in, muay Thai bouts. This is an ancient martial art that has become increasingly popular over the last 20 years or so, and there are now muay Thai camps around the country where tourists can go to train in this lethal form of fighting.
There are 76 provinces in this extremely diverse country. In the north, there is a thick jungle and a plethora of fascinating wildlife, including Asian elephants, tigers, gibbons and many hundreds of species of reptiles, birds and insects. Each year millions of tourists make their way north to go on elephant treks through the dense jungle and to enjoy the hospitality of the famously welcoming people of the region. In the south-east, there is Pattaya, now famous for being one of the party capitals of the world. This resort is usually packed with tourists, all heading for the white sandy beaches or the bars that line them. Further south is the fashionable resort of Hua Hin and a short boat ride away are the famous party islands of Kho Samui and Kho Pangan, where you can enjoy the world famous full moon parties.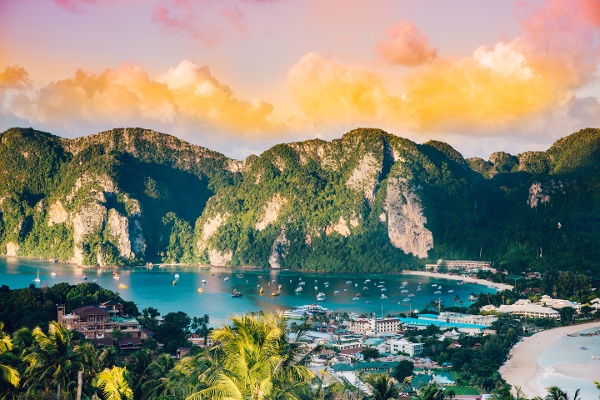 Phi Phi Islands
Thailand is bordered by four countries - Burma to the west, Laos and Cambodia to the east, and Malaysia to the south. Although Thailand has no border with China, the countries are less than 100km apart and it is thought that the original inhabitants of the peninsula, from Thailand down to Malaysia and Singapore, came from south-west China. These neighbouring countries have all had a great influence politically and culturally over the millennia, and nowhere is this more obvious than in Thailand's distinctive food, which comprises five main tastes - sweet, spicy, salty, sour and bitter. Bangkok is sometimes called the street food capital of the world as it seems you can't go more than two metres in the city without coming across another stall selling irresistible morsels to keep a hungry shopper or traveller going. Now a constitutional monarchy led by King Maha Vajiralongkorn, officially known as King Rama X, Thailand has experienced several military coups in its history and is currently experiencing more civil unrest, with protests against the current regime taking place on a daily basis in Bangkok. However, Thailand remains one of the most attractive places to visit and one of the most stable countries in which to invest in the region.