Paladin Realty, a leading institutional real estate investor in South America, argues the region houses some of the most under-valued markets in the world and thus is capable of potentially unmatched growth. This sentiment is backed-up by the firm's recent infrastructure investment in 2018, hoped to produce a projected $420 million dollars in sales revenue.1 Importantly, however, just as South America is the home of the Samba, Tango and Pablo Escobar alike, its investment opportunities are heterogenous and varied.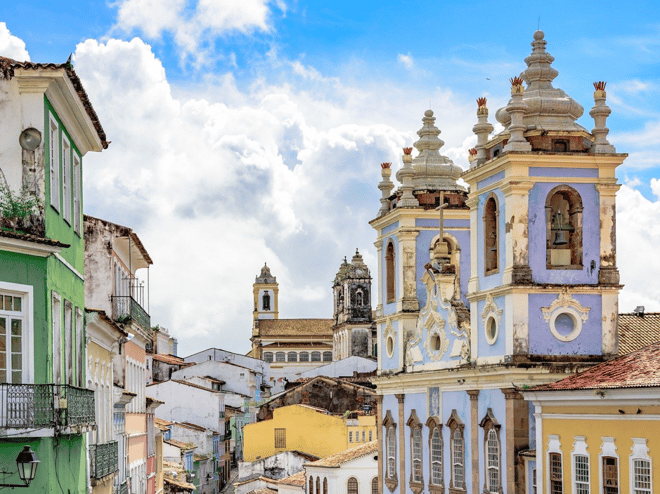 Fig 1: Stunning Santiago, Chile, demonstrating its colonial heritage through its vibrant architecture, presents one of the most undervalued property markets in the world2
Much like Latin America's ride-sharing market, with an estimated current worth of $895 million USD with a market penetration of only 5%, South America's real estate has been grossly underdeveloped.3 Indeed, Uber has yet to infiltrate South America, giving regional firms, such as 99 (previously 99 Taxis), the opportunity to dominate. Didi Chuxing has since acquired 99 for close to $1 billion USD, allowing the Chinese multinational to exploit its early-mover advantage over Uber. Analogous to this under-exploration is the South American real estate market. The market fundamentals of the region render this inexcusable.
The scale of the continent, attractive demographics, a growing affluent middle-class, greater mortgage availability and large housing deficits are fostering economic imbalances. These economic imbalances have the potential to create lucrative investment opportunities.
Fig. 2: Rio de Janeiro: Brazil's capital city has seen house prices fall consistently.
Historically downtrodden by high inflation and low growth, South America is yet to prosper economically in the same manner its counterparts, the Asian tigers, managed to, despite arguably having greater economic potential.4 Racked by drug-trafficking and corruption, alongside gross mismanagement of natural resources, the continent has failed to reap the successes of South-East Asian development.
However, now the disastrous policies of Import-Substitution have been abandoned and over-reliance on volatile commodity exports is predicted be coming to an end, this investment frontier may now be considered a more viable opportunity.5,6 The recently signed EU-Mercusor trade deal in June, is also projected to help diversify the continent's export markets away from commodities towards value-added products such as the steel and automobile industry, as was so central to the success of China and its neighbours.7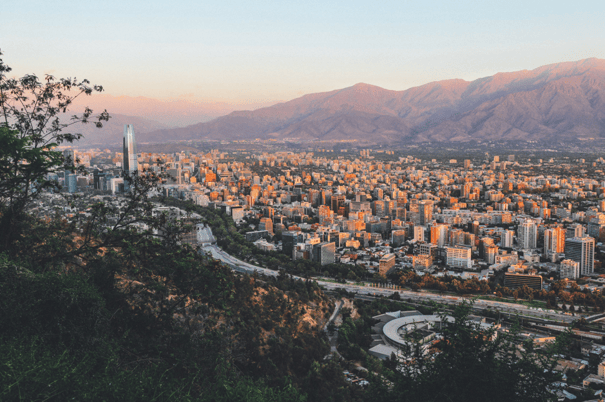 Fig 3: Stunning Rio: the Brazilian capital presents an intriguing
real estate opportunity for foreign investors.
This article concentrates on the more established emerging markets on the continent. Its frontier markets will be examined in forthcoming reports. Furthermore, the brevity of this snapshot should be noted. These economies are interesting investment locations for different reasons and differ significantly in their perceived risk. For more in-depth analysis, please see our individualised country reports.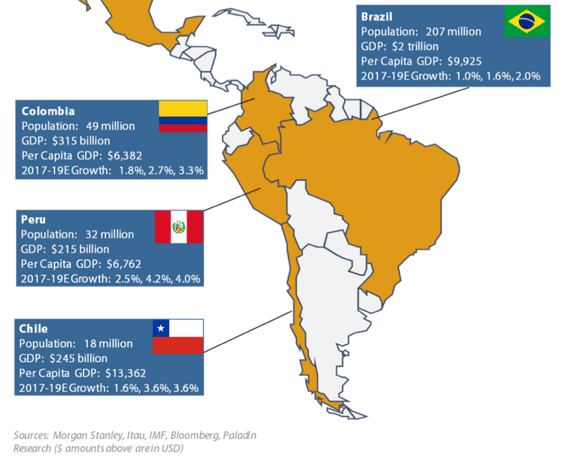 Fig. 4: Map showing the 4 countries discussed in the following report.
Regional overview
Political instability has, for the most part, now receded, with market-friendly administrations prevailing in Brazil, Peru, Colombia and Chile. This is generally representative of improving economic fortunes for the region. For example, the Brazilian President Jair Bolsonaro was elected on an anti-corruption drive, whilst the country's inflation rate has dropped from 10.7 percent in 2015 to 4.4% in 2018.8 The recent Peruvian election was run on a similar ticket, with the current President, Martín Vizcarra vowing to inject integrity into the Peruvian political class, following a corruption scandal involving his predecessor, Pedro Pablo Kuczynski.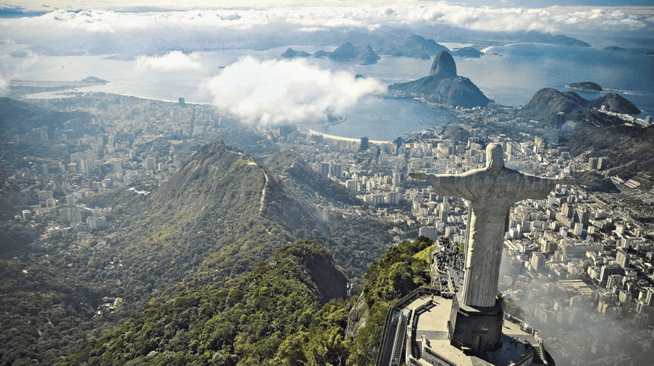 Fig 5: Rio's unforgettable view from Paul Landowski's famous Christ the Redeemer.
A burgeoning middle class, a trend seen across South America, is projected to vastly increase demand for real estate. This will only increase as the region's young and growing population enters the workforce. Moreover, two decades of development has lifted millions out of poverty. An increasingly wealthy, mature and economically-engaged population is projected to fuel demand for a large array of goods, services and real estate. Fitch Solutions predicts this affluent middle class, particularly in these four countries, to be a main driver of economic growth over the medium term.9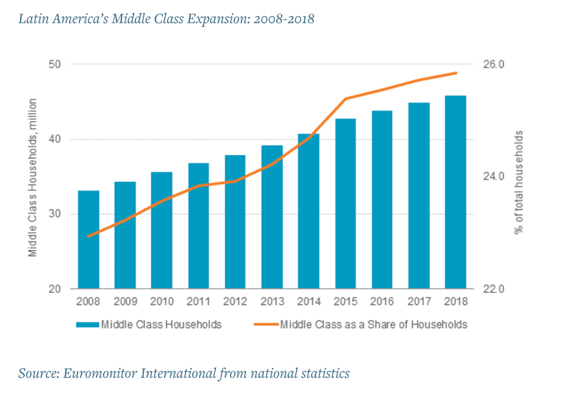 Fig. 6: Graph showing the growth of the South American middle class in recent years.
These demographic shifts are tailwinds to the background of a large housing deficit (over 18 million units), potential demand is predicted to exceed new housing supply by between 2-7x in the near future, giving a favourable outlook for the future of real estate price growth.10 Evidence of this is Chile's real estate sector, displaying impressive growth rates since the early 2000s. Indeed, its real estate prices increased by 30 percent between 2005-2015 before plateauing off into 2018.11
Chilean Real Residential Property Prices 2002-2018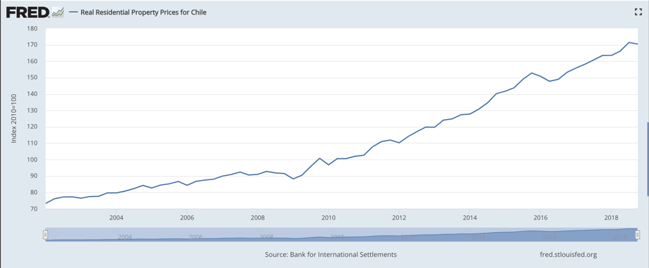 Fig 7: Graph demonstrating the historic rise in Chilean Real Residential Property prices 2002-2018. Source: Federal Reserve Bank of St. Louis.
Peruvian Mortgage Market Growth 2001-2017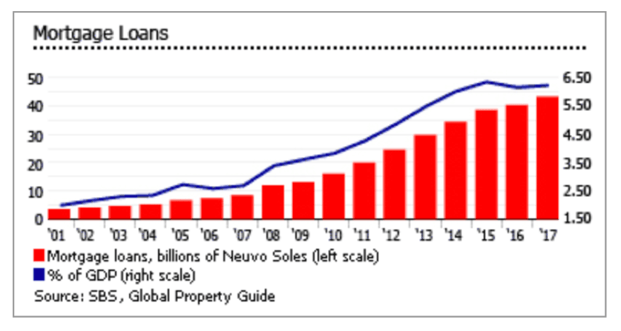 Fig. 8: Graphic demonstrating the expansion of the Peruvian mortgage market.
Greater housing affordability through increased long-term mortgage financing has allowed this progressively growing, wealthy demographic to realise their demand. This rise in actual demand is represented by the graphic above, which demonstrates the huge rise in Peruvian mortgages being obtained since 2001, allowing a growing number of ordinary people access to the country's fledgling real estate market. This pattern is being seen across the region.
Importantly, too, the leading Andean countries enjoyed 2-4 percent annual GDP growth in 2019, with inflation close to or well within their Central Bank's target rate, arguably feeding hopes that monetary stability a characteristic of these countries.12 Moreover, despite Brazil's recent recession causing low investor confidence, the country is now stabilising: registering low inflation and subdued, yet positive, GDP growth. This is especially impressive given the fact that global commodity prices are relatively stagnant, as demonstrated in the graphic below.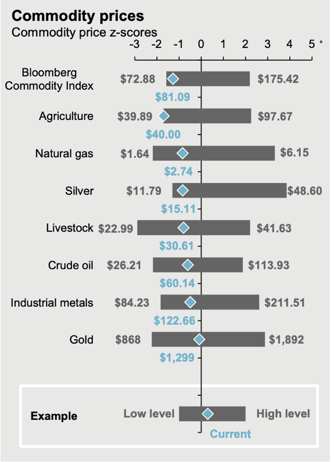 Fig. 9: Graphic demonstrating the low price of global commodities13.
Investors often associate high unemployment rates with South America. This is frequently cited as a drag on future domestic demand for real estate and has certainly been an impediment to investment flows in the past. Colombia, with a current unemployment rate of 9.2 percent, is a common example of this. However, from exceeding 20 percent unemployment to just under ten today, Colombia's days of double-digit unemployment are coming to an end. The government's recent peace deal with the FARC, although controversial, is undeniably positive. As the graph demonstrates below, Colombia's real estate market has enjoyed near-constant real price growth. With increased employment, this is surely set to increase.
Colombia's Nominal and Inflation-adjusted house prices 2010-2017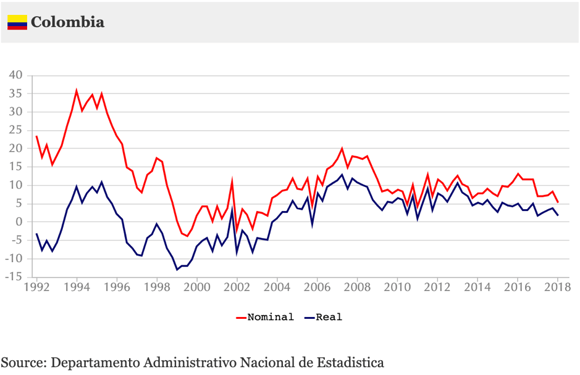 Fig. 11: Colombian nominal and inflation-adjusted house price changes 2010-2017.
Colombian Unemployment as a % of the Total Population 2000-2018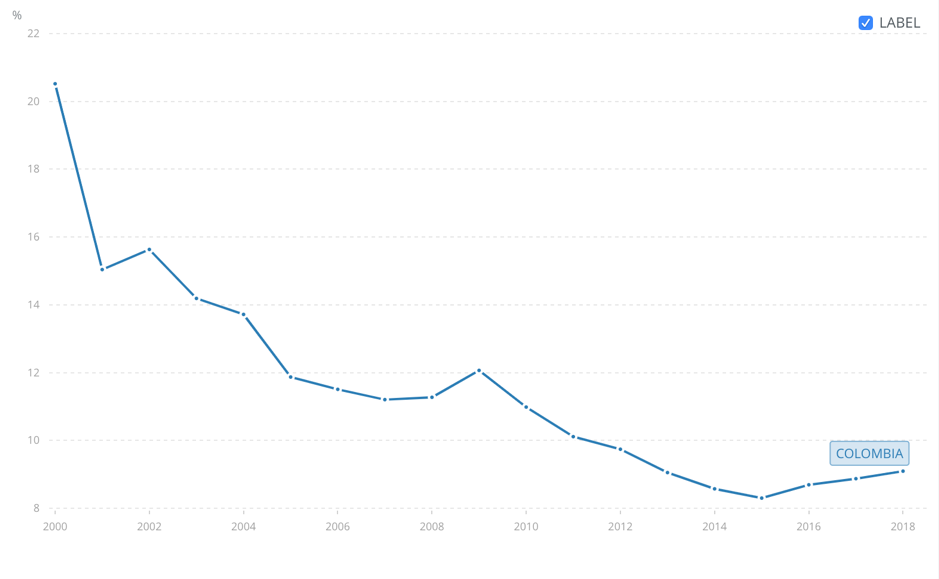 Fig. 12: Graphic demonstrating the drop in % unemployment of Colombia between 2000 and 2018.
Moreover, the Pacific Alliance, a free trade bloc containing Peru, Chile, Colombia and Mexico, with Brazil reportedly preparing to join as a member, provides exciting prospects for a more diversified set of trading partners beyond China and the United States. This diversification, in light of its implicit acceptance of free trade will create domestic economic affluence through job creation. This may help to combat the region's relatively high unemployment rates, such as in Colombia. With employment comes actualised demand, further adding to the housing shortfall and creating upward pressures on housing prices.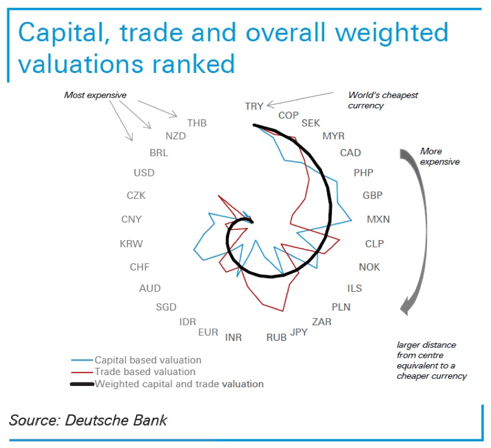 Fig. 13: Deutsche Bank's 2019 FX report evaluating the relative worth of international currencies.
These market fundamentals should be digested in light of the region's undervalued currencies. This with the background of massively deflated real estate prices, again suggests real opportunity. Deutsche Bank's annual FX report places the Colombian and Chilean Peso (COP and CLP respectively) some of the most significantly undervalued in the world, making investments relatively inexpensive for holders of strong international currency.
Fig. 14: Colonial Bogotá presents promising real estate yields for those willing to invest.
Markets overview
With Chile, the most dependable, to the riskier, under-valued Brazilian proposition, real estate prospects are attractive for different reasons. Having experienced a five percent drop in investment as a percentage of GDP, from 20 to 15 percent between 2013 and 2018, Brazil's recovery is fragile.14 This may present a huge opportunity, however. With Brazil's real estate prices falling for more than five years, its housing market is arguably now dramatically undervalued.15 Rising consumer confidence, as demonstrated on the graph below, is predicted by many to be a sign of higher future household consumption, feeding housing demand. This may indicate a medium-term uptick in the prices of the undervalued housing stock currently available.
Brazilian Real Property Prices 2014-2018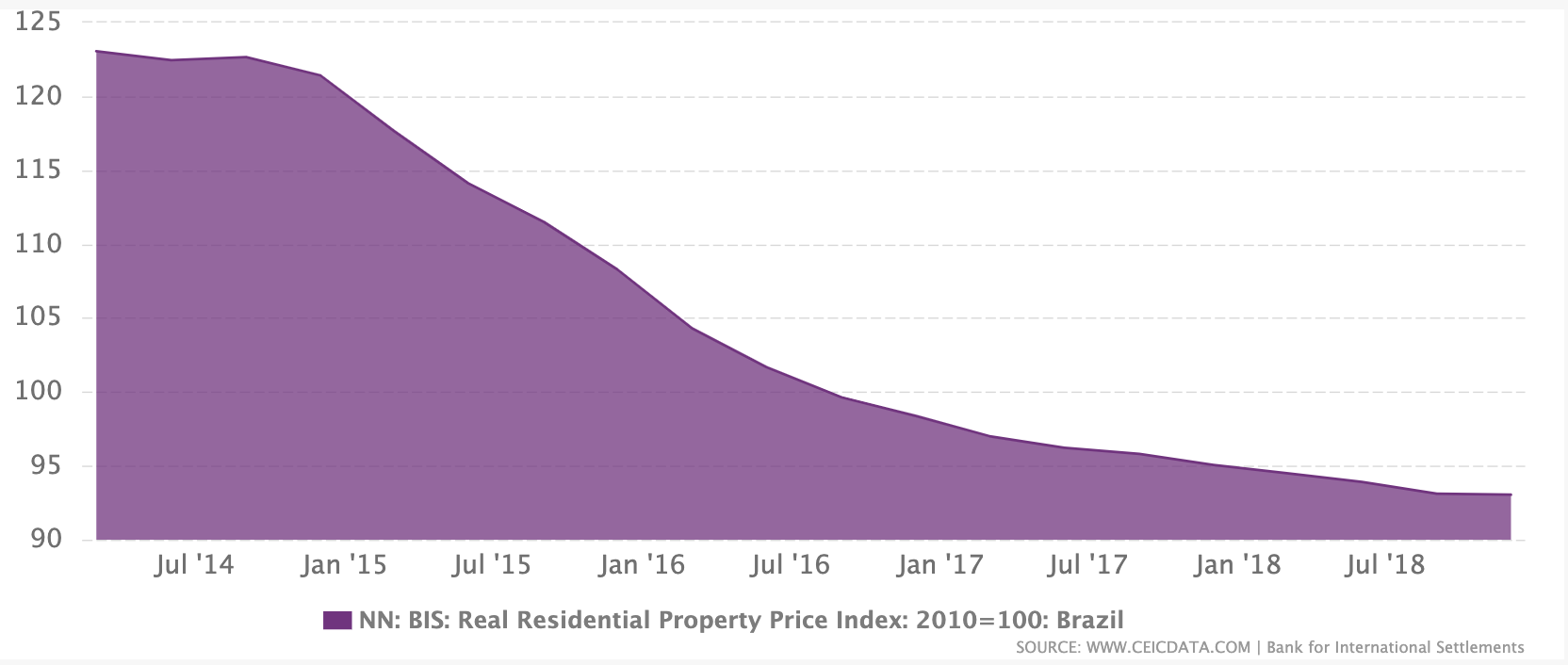 Fig. 15: Graph demonstrating falling Brazilian Real Property Prices.
Peruvian Real Residential Property Price Index 1998-2018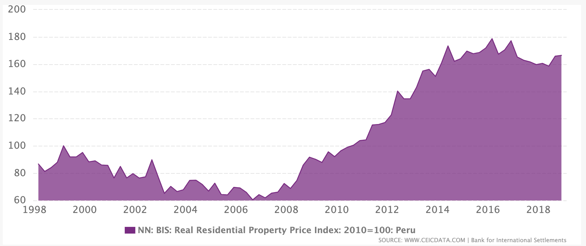 Fig. 16: Graph demonstrating the dramatic increase in real prices of residential real estate in Peru.
Certainly, the promising historic growth of Peru's impressive real estate prices had, until 2017, displayed an encouraging average inflation-adjusted growth rate of 7.42 percent, displayed above, suggesting high growth is again possible.16 Whether this will be repeated in Peru or Colombia is to be seen. However, the dependability of Peru's monetary management, alongside Colombia's potential future economic future suggests it may.
Brazilian Consumer Confidence 2014-2018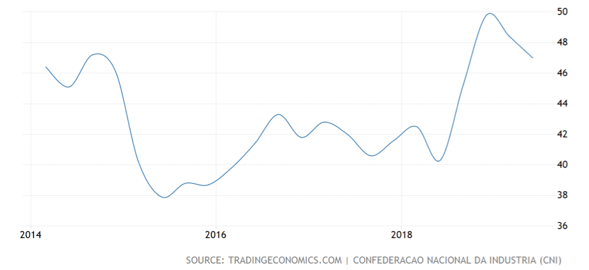 Fig. 17: Brazilian consumer confidence sees uptick since 2018, indicating potential future private consumption may increase in the short-term
Predicted headwinds include over-reliance on US and Chinese demand for exports, given the countries' trading exposure and a high degree of economic reliance on historically volatile commodity prices. This is particularly pertinent given the possibility of a US-Chinese trade war. This causes the region to be prone to economic uncertainty. Low confidence from corporations in Brazil and Colombia may present further obstacles to rising real estate prices in the future. The region does, however, present an intriguing set of market fundamentals which are surely set to interest investors in the coming years.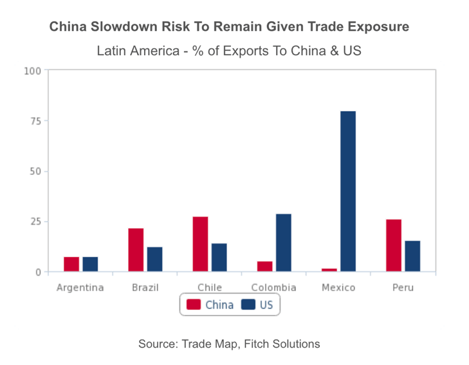 Fig. 18: Graphic demonstrating the reliance of South America on both the Chinese and US markets for their exports.
Overall, each case presents an interesting prospective investment opportunity. Both Colombia and Peru, present the most uncertain choices, yet both sport encouraging market fundamentals. Chile is the most established market and this is reflected in the consistency of its housing market growth. However, each case displays promise and real potential for the future.
[1] Paladin Realty 2019 Outlook- Macro & Property Trends 2019 Report
[2] Paladin Realty
[3] Statista- https://www.statista.com/outlook/368/103/ride-hailing/south-america#market-arpu
[4] Fitch Solutions
[5] Paladin Realty
[6] Llorente & Cuenca- Export Diversification in South America 2016 Report
[7] CEPAL: https://www.cepal.org/en/pressreleases/latin-america-and-caribbeans-foreign-trade-will-grow-2018-amid-global-tensions-require
[8] Global Property Guide
[9] Fitch, Argentina and Venezuela being exceptions to this
[10] Global Property Guide
[11] Federal Reserve Bank of St. Louis
[12] Paladin Realty
[13] JP Morgan Chase Asset Management- Latin American Guide to the Markets: http://www.jpmorganassetmanagement.com.br/EN/dms/GTTM%20Brazil%20[MKR]%20[BR_EN].pdf
[14] Global Property Guide
[15] Paladin Realty
[16] Global Property Guide