When in Rome, do as the Romans do… when in Belfast, have Guinness and stew. Ireland is world-renowned for its pubs, its Guinness, its simple but delicious food and the legendary craic, a Gaelic word that has no literal translation into English, but which means 'having fun' (usually with a few pints of Guinness and a group of friends). Here, we look at 10 of Belfast's best drinking holes, but be warned… reading this will make you thirsty.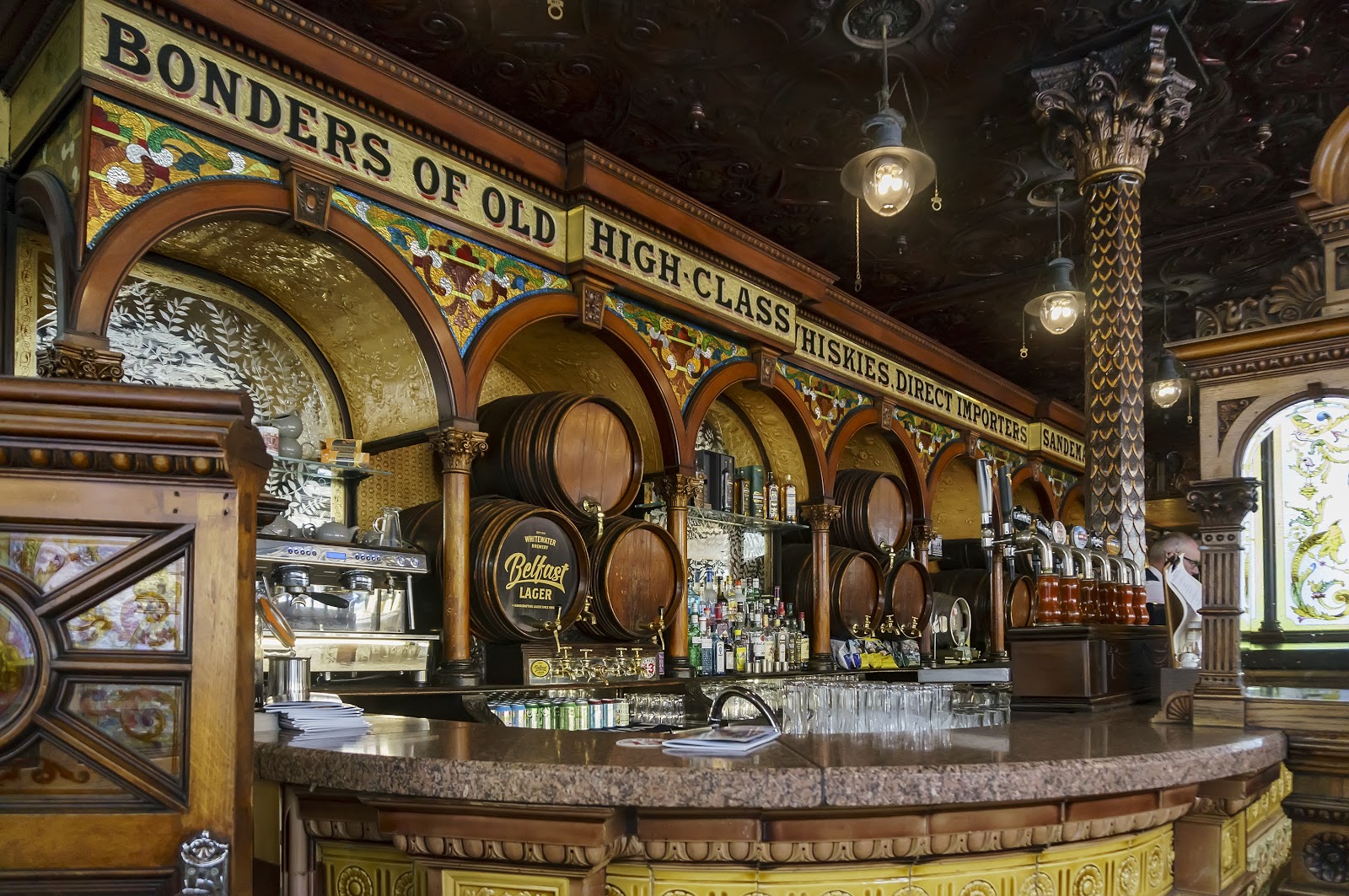 The Crown, Belfast
The Crown
Probably the most iconic pub in Belfast, The Crown is the image of what you expect a traditional Irish pub to look like, dark oak, brass, ornate tiles and stained glass, barrels as ornaments and wooden flooring in case of spillage. The menu, although slightly more international and eclectic in recent years, reflects the pub's image, with rich stews and pies cooked in Guinness alongside more modern fare. No trip to Belfast would be complete without propping up the bar or finding a secluded corner for a pint in The Crown.
Bootleggers
If you're after a slightly less traditional atmosphere and menu, then try Bootleggers. As an American bar, the food is meat-heavy, with tacos, burgers, hot dogs and chili con carne all present, but if you are not that way inclined, there are also plenty of dishes for non-carnivores. The food, however, might not be the reason you choose Bootleggers and it might also not be the reason you stay there for far longer than you planned, with delicious cocktails served by professional cocktail slingers and served at a fraction of the price you would pay in London, prepare for a long night and a sore head in the morning if you visit this watering hole.
Kelly's Cellars
Back to the more traditional boozer, Kelly's Cellars is one of the most famous and oldest pubs in Belfast. Established in the early 1800s and just a couple of hundred metres from City Hall in the centre of the city, this pub is one that's, literally, hard to pass as it's on most tourist trails around Belfast. The food is traditional and tasty and the Guinness has to be tasted to be believed. With live music, both of the planned and unplanned variety, almost every night, the atmosphere is always lively, so make sure you pop in at some point to sample a taste of old Belfast.
The Parlour Bar
If you enjoy a pizza with your pint, then this is the place for you. Normally packed with students due to its pizza-based (no pun intended) menu and reasonably priced drinks, The Parlour delivers on atmosphere and won't put too large a dent in the wallet if you're on a budget. As a student pub, there is also, of course, a quiz night so that you can test your little grey cells while wolfing down goat's cheese pizza or sharing platters with the rest of your team.
The Dark Horse
Made famous by its incredible door, as seen in Game of Thrones, and murals, this fabulous pub in the Cathedral Quarter attracts a huge number of visitors to Belfast. The interior has to be seen to be believed, with poems and paintings covering the walls. Hot whiskeys and porters are perfect for a chill autumn evening and the hearty traditional food will leave you feeling more than satisfied.The atmosphere, too, is something that the pub is proud of, with its owners often providing personal service and making patrons feel welcome. Highly recommended.
Revolucion de Cuba
This list can't be all Guinness and stew, so here is another more modern and ethnic offering from this famous old city. Revolucion de Cuba offers outstanding Cuban cuisine but in an Irish atmosphere, so if fish tacos, tapas and cuba libres are what you prefer with your craic, then this is definitely the place for you.
The Duke of York
Back to the best of traditional Irish pubs, along with The Crown, this is probably the most famous pub in Belfast. Situated down an alley in the old part of town in the Cathedral Quarter, once you find it, you might not be ready or willing or able to leave a couple of hours later. The atmosphere is simply electric and the fun starts as soon as the doors open at 11am, especially on the weekend, when the pub is packed to the rafters with revellers. Expect to be dragged into a singalong or press ganged into an impromptu Irish jig, but you are guaranteed a night, or afternoon, to be remembered in this, the most welcoming of public houses.
Eglantine Bar
If you're heading out to the Botanic Gardens, why not combine it with a drink at the Eglantine? 'The Egg', as it's known to locals, has been around for a while and has adapted to meet the needs of its patrons. For that reason you will find a truly eclectic mix of people here, from sports fans propping up the bar and watching the football, to discerning diners, to couples on a night out and big groups of students taking advantage of the 2-for-1 cocktail menu. Whatever your fancy, the Egg will deliver.
The Thirsty Goat
Back to the Cathedral Quarter for the more traditional, and excellently named, Thirsty Goat. Another pub with enough atmosphere to fill a pub five times its size, this place also boasts one of the best old fayre menus known to man. So if bangers and mash with onion gravy, Irish stew with soda bread or steak and Guinness pie are your thing, then make sure you visit this wonderful old drinking hole.
Pug Uglys
Belfast loves a pub with a good name, and so do we, and Pug Uglys maybe takes 1st prize in that particular competition. It might also be top of the pile, it's certainly in the medal positions, in the rankings for best sports pub in Belfast. Expect noise, lots of screens, a packed bar on Saturdays and Sundays when the sport is on and maybe a covering of beer when someone scores… oh, and a great craic!