There are many more reasons for Oxford's ranking as the UK's number 1 place to live and work in the UK for the fourth year running than meet the eye. The annual report, by PwC and Demos, takes into account factors such as jobs, education, the environment and health, and as Oxford is, if not first, consistently very near the top in these areas countrywide, it makes sense that it ranks so highly. However, even these impressive statistics don't tell the whole story or paint the entire picture of what living in Oxford is actually like.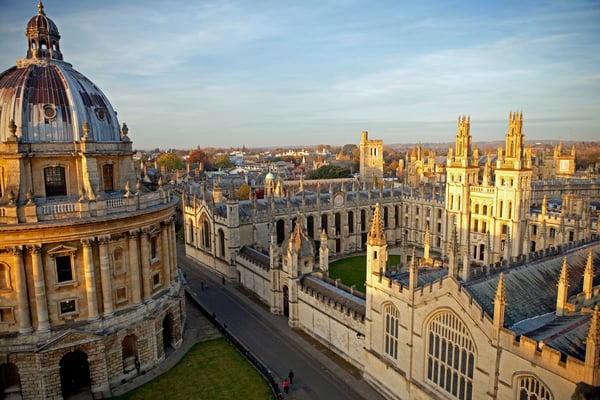 Oxford University
Although Oxford is famous for its university, in recent years it has become an economic boomtown, attracting established firms as well as entrepreneurs. The combination of a ready supply of graduates, a convenient geographical location, excellent transport links and a high standard of living have contributed to Oxford becoming an excellent place in which to do business. More and more Oxford graduates are deciding to stay on in the city after completing their degrees, rather than moving on, as there are so many jobs available in a variety of knowledge based sectors.
As the population grows so, of course, does the need for new housing and Oxford has many developments that have recently been finished or are near completion. The diversity of Oxford's demographic is reflected in the new-builds that are going up in and around the city. Many of them, like Mosaics in North Oxford or Heyford Park a few miles further out near the lovely village of Bicester, feature a variety of homes for the myriad of different household types moving into the city, from modern one bedroom apartments for single professionals to spacious detached houses for families.
It's no secret that Oxford has a shortage of affordable housing. The combination of very low unemployment (Oxford ranks 52nd in the country out of the 55 largest towns and cities) and a strict council that has been infamous for granting permission to only a few developers the right to build each year has led to an influx of people and a dearth of places for them to live. Fortunately, the council has realised that it is only harming the economy and has now relaxed its attitude towards new housing, meaning that Oxford will become even more attractive as a city in which to settle in the future.
Oxford certainly isn't cheap, though. With house prices that keep pace with London, Oxford is number one on more than the best place to live list, it is also the least affordable city in which to live. Why then, when it is so unaffordable, is it so desirable to settle there? One reason is that although houses aren't cheap, they retain their value much better than in other British cities, including London. Another reason is that it's just a fantastic place to live. Oxford seems to have everything for everyone… it's a beautiful, peaceful and safe place for families, with some of the best schools in the country; it's a lively and vibrant place that attracts young people; and it's an incredibly picturesque and endlessly fascinating famous and historic city. That's why anyone who can afford to is making their way to Oxford, and with more and more houses being built, now is definitely the right time to think about setting up home in this ancient and stunning city… before it's too late.