I was glad when my friend Roland moved to Bristol, not because I dislike him, but because it gave me an excuse to visit the city. It had always been one of those things on my bucket list… do a parachute jump, meet one of the Spice Girls, learn Japanese, visit Bristol… so as soon as he was settled in, I invited myself up for the weekend. And I have to say that it didn't disappoint. I, like most English people, had heard nothing but good things about Bristol since about 2005, when it seemed to become the most fashionable place to live overnight. Words like 'vibrant', 'lively', 'exciting' and, of course, 'trendy' often popped up in articles or conversations about the city, and it had always intrigued me as to what was so special about the place.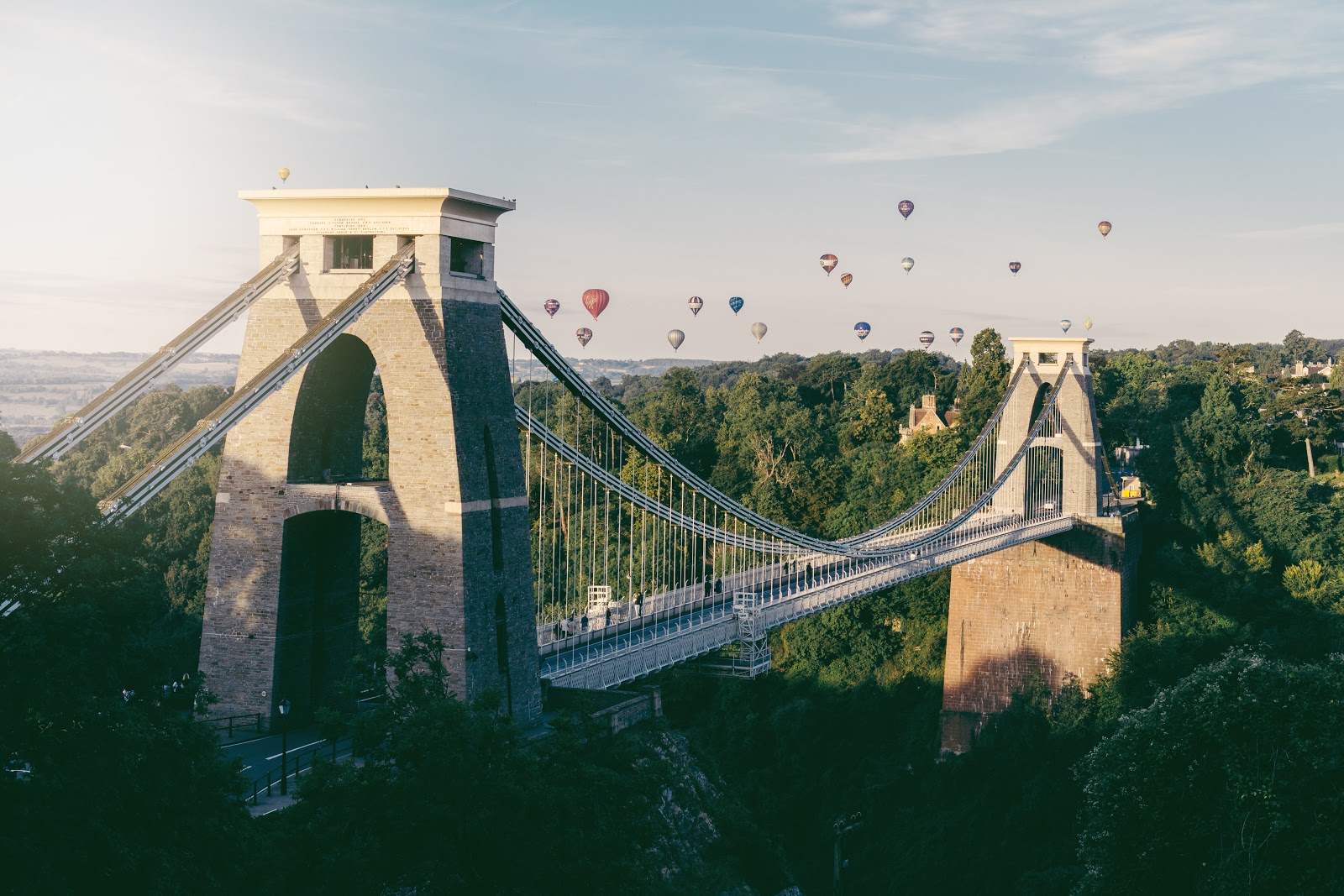 Clifton Suspension Bridge
I arrived at Bristol Temple Meads on Friday evening, after a very speedy train journey from London Paddington. The cross country route got, it has to be said, far more scenic the further west we got. After passing through the beautiful city of Bath, with its ornate facades visible even from a speeding train at dusk, we passed through villages that seemed to be stuck in the 1930s, with art deco stations whizzing by at what seemed to be a rate of about one every two minutes. After alighting at the bustling station in Bristol, I decided to walk up to the hotel I had booked, a simple city centre number that didn't stretch the budget too far but had all the things you'd need as a single man staying in a city for a couple of nights, no frills, just the basics.The walk took me up through Castle Park, so I had a quick wander around the ruins of Bristol Castle, and they really are ruins, the castle has long since departed, but St Peter's Church, a far more intact 15th Century church in the same park afforded a more rewarding sightseeing experience.
After 'unpacking', which involved sticking my overnight bag in a cupboard and putting my wash-bag in the bathroom, I headed out for a quick look around. Roland, being a family man, was doing his fatherly bedtime duties, so would meet me the following day. I had heard a lot about Bristol's legendary nightlife, but I am far too old to bother to go to Motion, the world-renowned dance club, or anywhere else that involved anything other than sitting down and drinking a pint of Guinness. I therefore made my way north, around the amusingly named roundabout The Bearpit, and up the less imaginatively named A38. I was drawn to the sound of music and laughter as I wandered up the busy road, admiring the architecture and taking in the lively atmosphere of Bristol on a Friday evening. The happy sounds had been emanating from a rather large pub with an open-air 'garden' on the road called The Canteen. Thirst got the better of me and I decided to stop for a drink. As it was a mild night, I joined the smokers outside and it wasn't long before I got chatting to the group at the table next to me, then a guy stopped and asked for a pound, when I said that I didn't have any change, he was very polite and friendly and went on his way, Bristolians certainly seemed very warm and open. After my drink I wandered a little further up the road and found a rather trendy pub called the Crofters Rights, which had bare walls and locally brewed beer in traditional kegs behind the bar. I partook of a pint or two and also tried one of their delicious stone baked pizzas.After a quick wander, I decided to go back to the hotel and get an early night, Roland had promised me a tour of the city the next day.
On Saturday morning, after a full English and some coffee, I met Roland outside the hotel. One of his sons had a cold so was stuck at home with some oranges and a blanket, but his other son, Howie, was in the back of the car and raring to go… so it turned out to be a fun kids day rather than two blokes talking about the old days. First, Howie, 9, insisted that his dad had been promising to take him to Bristol Aerospace forever and as his other son wasn't interested, this seemed to be the perfect opportunity. I didn't argue, I like planes. It was a great experience, the highlight of which, for me anyway, Howie preferred the ingenious clocking-in station treasure hunt, was seeing and getting inside Concorde. The famous plane, now retired, is a Bristol icon, the first flight being made from Bristol Airport, and I had always longed to travel in one, that is now impossible, but at least I can now say that I've been on Concorde.
We decided to follow up our aeronautical experience with a nautical one and, after a rather nice lunch in the Aerospace restaurant, made our way back south into the city itself and over to the Great Western Dockyard, to see the ancient and fascinating ship, the SS Great Britain, another great icon of this famous maritime city. The ship's designer, Isambard Kingdom Brunel, was one of Bristol's greatest sons (even though he was born in Portsmouth) as not only did he design great ships that made Bristol famous, he also drew up the designs for the Clifton Suspension Bridge, but more of that later. The SS Great Britain was great fun for Howie as there were plenty of activities for kids to enjoy, and very interesting for me and Roland, who admitted that it was the first time he'd managed to visit the attraction. Wandering around the decks really transports you back to the days when Bristol was one of the busiest ports in the world, with huge ships containing cargo of all kinds, including slaves, it must be said, all over the globe.
After bidding Howie and Roland farewell till the morning, I headed up to a place that Roland had recommended called Under the Stars. It was a floating bar/restaurant on the Harbourside that was like a throwback to the 1920s, serving delicious classic cocktails and bar snacks in a lively but refined atmosphere. I immediately fell in love with the place and ended up chatting to some locals and staying rather longer than I had planned to, which didn't help the next morning when Roland's other son joined us on our trip out to the bridge.
Approaching Clifton Suspension Bridge, which spans the stunning Avon Gorge to the south-west of the city, was like an encounter with other great architectural feats like the Great Pyramid or the Empire State Building. No photograph can do the structure justice, as it looms up out of the green hillsides and dominates the skyline. Roland told me that they had come here the previous year during Bristol's annual hot air balloon festival and seeing all the multi-coloured balloons floating past this beautiful bridge had been a sight to behold. I was jealous, and made a pact with him and his two sons that we would do it together one day. It was a fine way to finish up my weekend in Bristol. Roland could see that I was smitten, and I am already planning my next visit. Bristol really is as vibrant and exciting as people say it is, but it's also steeped in history, the locals are incredibly friendly and then there's that bridge…