A discerning traveller's guide to the best hotels in Miami, from the luxury resorts for a deeply relaxing vacation to the family-friendly, full of activities ones to get you and the family savouring Florida's glorious weather. With so much on offer, we know it can be hard to choose the perfect place for you to stay. We have selected a handful of our favourites for you to check out below.
Fisher Island Club
This ultra-exclusive private club is located on an island a short boat ride from Miami South Beach. It is considered to be the pinnacle of private members clubs, offering outstanding facilities, incomparably astute service and an idyllic setting. Within its grounds the club contains, 18 Grand-Slam quality tennis courts, a 9-hole golf course, private beach and associated clubhouse, two deep-water marinas, seven high-end restaurants, a spa offering comprehensive global treatments, a wellness centre, an aviary of exotic species and an observation deck for gazing at the clear Atlantic sky. This unrivalled experience however requires significant financial and personal commitment. As a private members club, exclusive and highly expensive membership is necessary.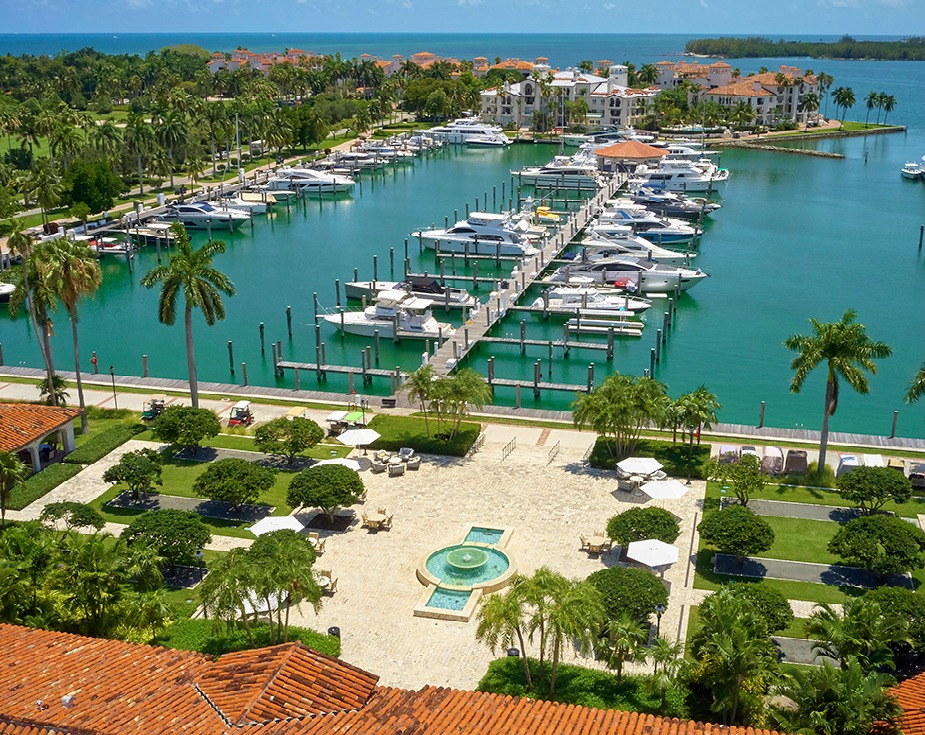 Credit: Fisher Island Club
The Setai Miami Beach
Nestled within the desirable Art Deco area of Miami Beach is The Setai. Housed within one of Miami's Art Deco style buildings, this beacon of flawless Asian hospitality is an award-winning stay for sophisticated travellers. The artful design feels comfortable whilst maintaining stylish features and the modern rooms in the Ocean Suites Tower reveal spectacular views of the Atlantic. The state-of-the-art amenities include beach-front service, luxury spa facilities, three separate temperature-controlled swimming pools, a fitness centre and exceptional dining experiences. The Hotel has been awarded a Five Star rating by Forbes every year since 2015, showing its exceptional class in a city famed for its luxury stays.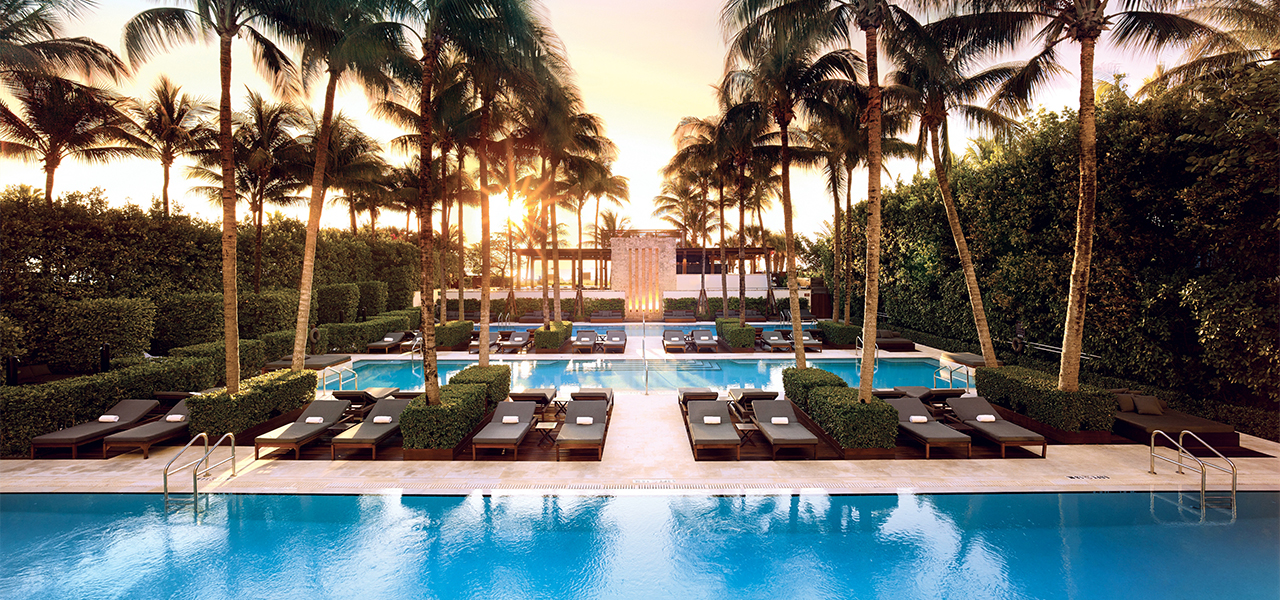 Credit: The Setai Hotels
W. South Beach
Since opening, the W in South Beach has maintained its hotspot status year in year out. Located in a prime lot on Miami's renowned South Beach right on the oceanfront, the hotel has great access to Lincoln Road, home to some of Miami's hottest restaurants and nightclubs. The rooftop tennis and basketball court have stunning views of the expansive ocean and Miami sunshine. Other facilities include beach service, a comfortable bar with a leisurely atmosphere, two great, in-house Chinese and American restaurants, and relaxing spa facilities. Complete with an in-house DJ for late night intimate revelling, guests are made to feel as though Miami comes to them. This hotel is popular with families, business people and sun-seekers alike.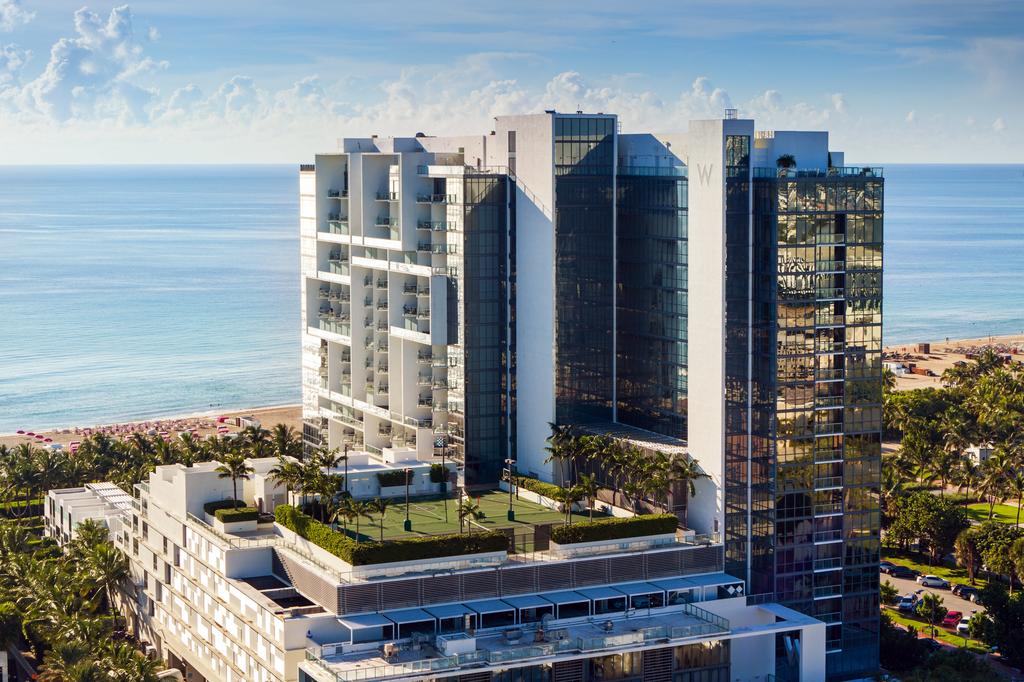 Credit: Booking.com
Faena Hotel Miami Beach
The Art Deco luxury of the 1950s is glorified in this stunning hotel. The interiors were creatively decorated by world-famous director, Baz Luhrmann and wife, Catherine Martin, whose Hollywood touch can be felt in the glamour and colour of the décor. The hotel amenities are the modern quality to an otherwise vintage enclave. The Faena has so much to offer such as the Tierra Santa Healing House spa offers a great way to unwind, or watch a cabaret revival show at the Saxony Theatre as entertainment for the evening. With quality service throughout the hotel, including down on the beach, and from the moment you step onto the front steps, you will be impressed with the level of staff dedication to ensuring a luxurious stay.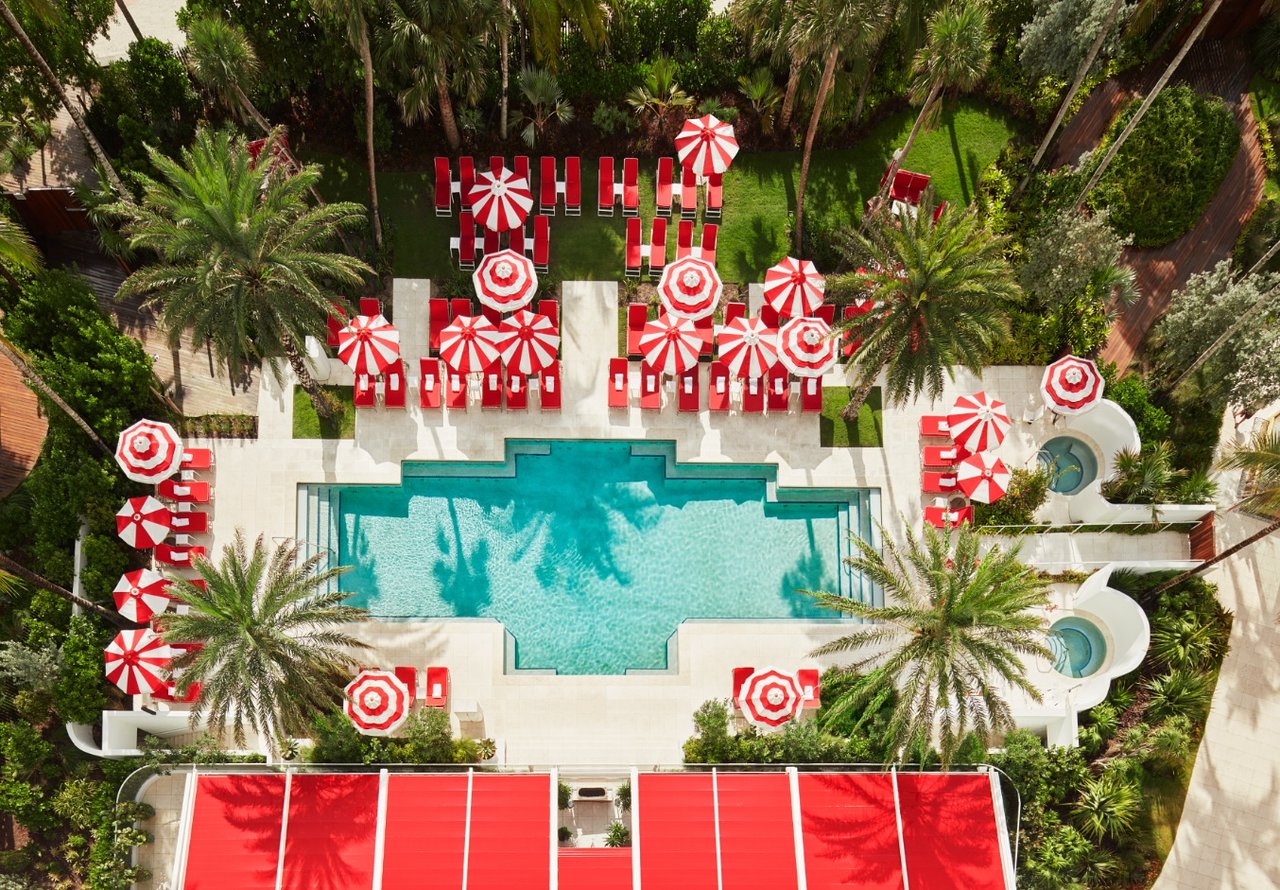 Credit: Faena (faena.com)
The Biltmore Hotel
The timeless Mediterranean-style architecture of the Biltmore differentiates it from the glass façades of South Beach's modern hotels, whilst the amenities make this as much modern luxury as any other resort in Miami. The facilities include an 18-hole golf course, tennis courts, a European spa for a beauty or muscle tissue treatment, a fully-equipped fitness centre and the largest pool on America's East Coast. The hotel is continually recognised as one of the best places to stay in the world as a member of the 'Leading Hotels of the World'. Its feature restaurant, the Palme D'Or, serves haute-French cuisine for which it is recognised as one of the best restaurants in the entire United States. The luxury of choice is also offered with an Italian restaurant, a golfers clubhouse restaurant at the 19th and a culinary academy offering fun classes for you and the family.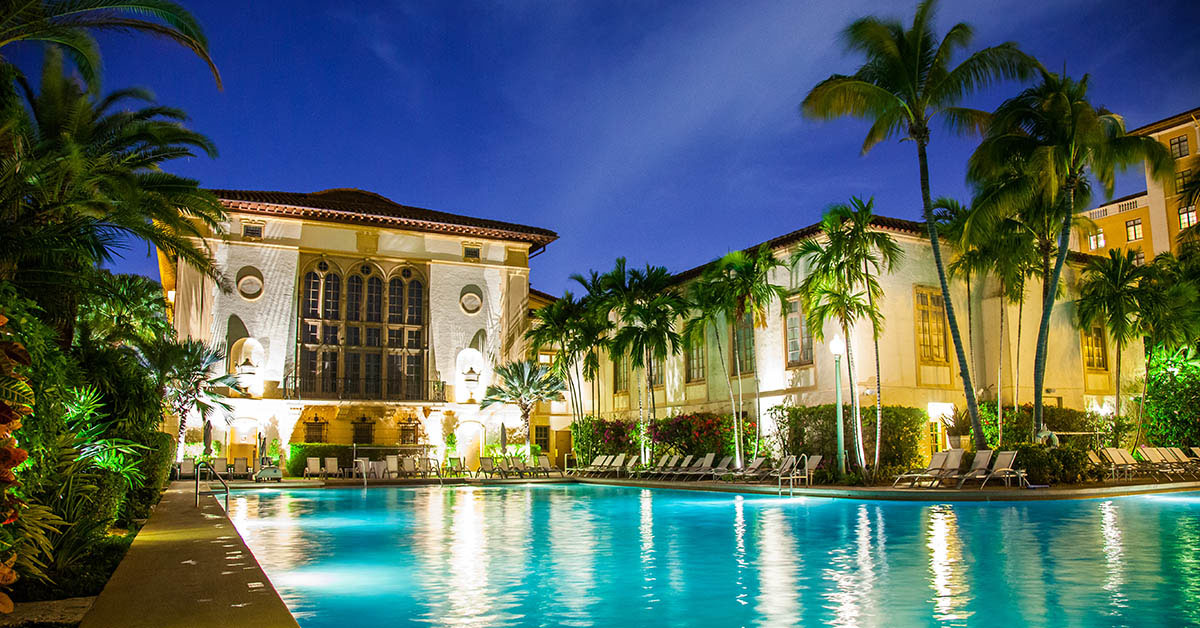 Credit: Biltmore Hotel
1 Hotel South Beach
This eco-chic hotel has sister hotels in New York, Hollywood and a Chinese island, with plans to expand the brand significantly globally in the coming years. The Miami location has been such a hit since its opening. Its eco wall of spouting foliage is a verdant change from the surrounding blue of the expansive ocean. Guests can also rent electric cars to get around Miami should you wish to visit Little Havana for a much anticipated Cubano sandwich. Having been named the '#1 Hotel in Miami' by Condé Nast Traveller in 2019, the hotel has continued to improve its service, style and amenities for guests. With Beach Club memberships that offer exclusive services, this is the place to stay for families looking to keep the kids entertained whilst relaxing in utter luxury.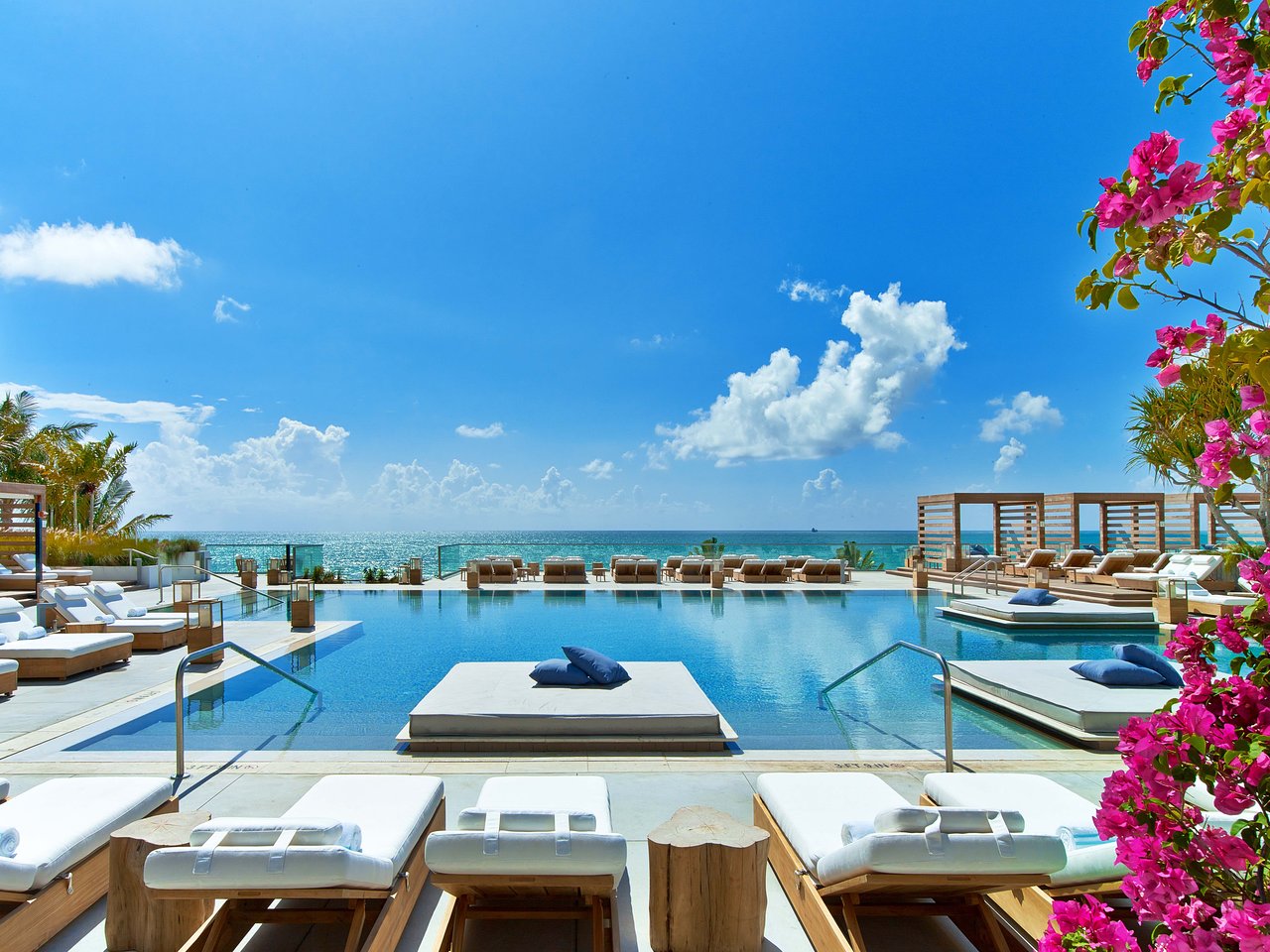 Credit: TripAdvisor (tripadvisor.com)
If you like the look of these hotels, take a check out our Miami Property Guide. There is a place in Miami for everyone so have a look to see what amazing properties are on offer!