Tucson's unique location within the Sonoran Desert, surrounded by mountain ranges and blessed with beautiful, local flora and fauna, makes it a paradise for outdoor enthusiasts. Whilst the wealth of outdoor opportunity contributes to the city's appeal that draws 7 million or so tourists per year, the city itself has a grand variety of things to see and do. Crucial to the Sonoran Desert landscape, Tucson has a strong Native American heritage and has been heavily influenced by Mexican culture, which has resulted in a diverse, welcoming city, full of opportunity. Check out the list below of what to see and do next time you're in Tucson, Arizona.
Kitt Peak National Observatory
Get closer to humankind's final frontier than ever before with stargazing opportunities at one of America's most important observatories. The astronomical observatory is situated atop Kitt Peak in the Quinlan Mountains, about an hour's drive from downtown Tucson. The observatory boasts some of the largest and most complex astronomic apparatus in the world, offering beautiful insight into outer space with pristine clarity. To learn about the world conducted here, the science behind telescopes and the history of human understanding of space, head to Kitts Peak during the daytime. Alternatively, visit the observatory at sunset for a special drive above the Arizona Desert first and, upon arrival, a spectacular interactive experience that allows visitors to view the cosmos through the telescope themselves.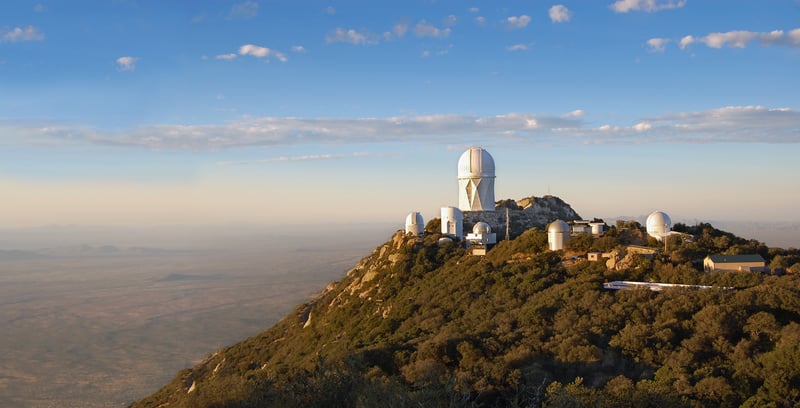 Astronomy
Hotel Congress & Live Music
Tucson is home to a thriving music scene full of vibrancy and inclusivity. Celebrating the very best in live performances from local, national and international musicians, the historic Hotel Congress has played host to some of the biggest performances in the city for the last 100 years and continues to do so today. Offering some of the best nightlife in the city, it is always worth checking the event or live band if you are looking to hit the town in Tucson. Other music venues include the Fox Tucson Theatre, a beautiful building built in art deco style, and the Rialto Theatre, which has hosted international musicians like Morrissey and Maroon 5 as well as box-office comedians like Dave Chappelle.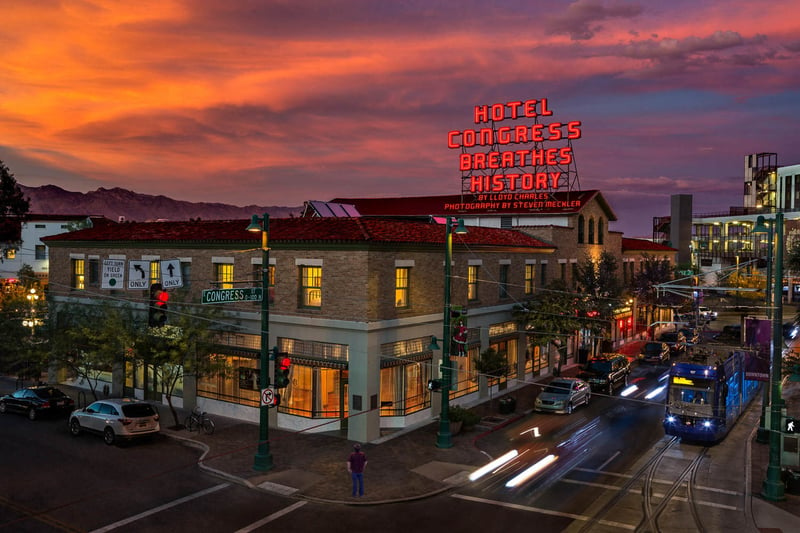 HospitalityOnline
Mural Walk
A city bubbling with creative talent and a passion for expressing their creativity in public through performance art or visually, Tucson's Mural Walk is the perfect manifestation of this quality. Over a few blocks, Mural Walk depicts paintings by a variety of artists in big, bright colours that draw the eyes and the tourists. Check out Joe Pagac's 30 feet tall, 130 feet wide depiction of a modern western with a cowboy and señorita in traditional Mexican dress riding bicycles off into the Sonoran desert, whilst a javelina, jackrabbit and turtle ride theirs into the sunset. This surreal art combines local and cultural imagery for a fun, engaging purpose but other pieces are more thought-provoking. Check out Rock Martinez's Goddess of Agave on an old warehouse building which explores the beauty of the desert, the importance of the desert to the people of Tucson and their harmonious relationship. Mural Walk is a favourite Instagram spot for many, so make sure to grab a photo for your page while you're in town!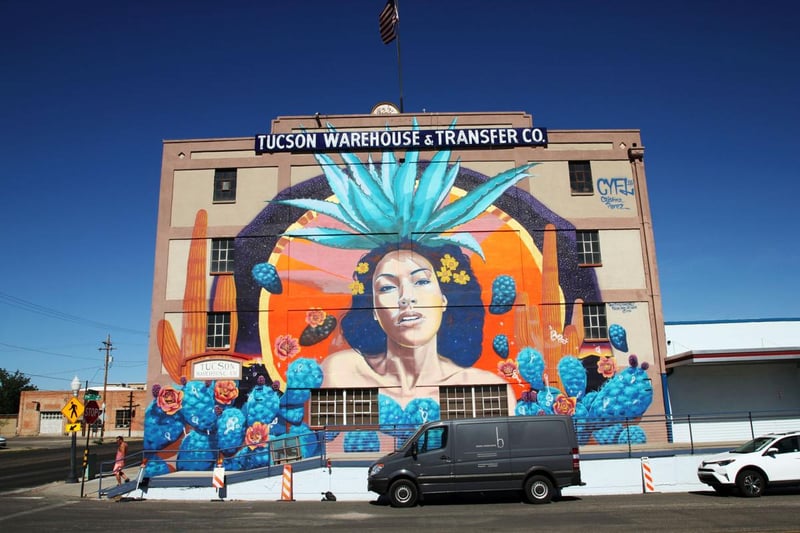 ThisIsTucson
Loft Cinema
Loft Cinema is a local treasure, supported by a local non-profit organisation seeking to bring cultural and community screenings to the people of Tucson. The community of Tucson clubbed together to renovate the cinema in 2017, which screens new and old films, documentaries, cult classics and foreign films over three screens. More than just a cinema, Loft offers a diverse selection of films as well as interactive elements for local and traveling movie buffs. Catch a filmmaker Q&A or one of the film festivals hosted annually. In the fall Loft hosts an international film festival and a free-to-access children's film extravaganza during the summer holiday.
Arizona Sonora Desert Museum
The Arizona Sonora Desert Museum is spread over a whopping 98 acres and features a multitude of family-friendly activities including an aquarium, botanical gardens, zoo, art gallery and natural history museum. Head out to West Tucson to find this comprehensive guide to the history, environment and inhabitants of the magical Sonora Desert. Housing over 200 species of desert-dwelling animals and 1000 species of plants, the museum is full of creatures you may never have seen before. Attracting almost half a million visitors a year, the museum is one of Arizona's most significant attractions. Great for children and adults alike, learn more about the wonder of the Sonoran Desert from exhibitions including 'Cat Canyon' and 'Rivers to the Sea'.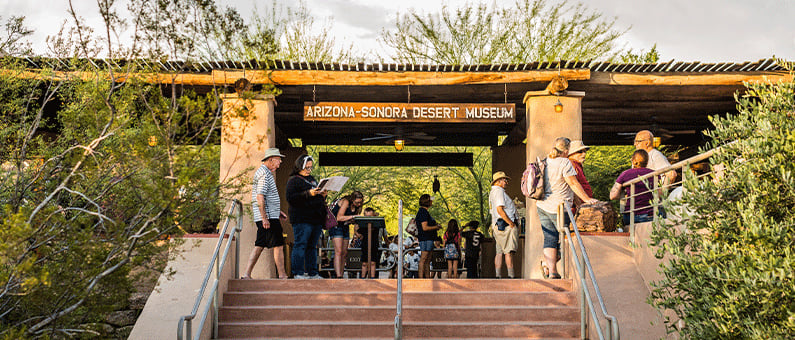 SonoranDesertMuseum
San Xavier del Bac
Nicknamed 'White Dove of the Desert', San Xavier del Bac is located in the Santa Cruz Valley to the South of Tucson, on the reservation of the Native American tribe called Tohono O'odham. The church was built by missionaries of the Franciscan order, Fathers Juan Bautista and Juan Bautista Llorens, between 1783 and 1797. The building is an extraordinary example of Moorish, Byzantine and contemporary Mexican architecture with the bright white plaster of the towers a stark contrast against the deep blue of the Sonoran Desert sky. The towers remain asymmetric to this day purportedly due to a tax on completed constructions in the area during the 18th Century, so to avoid this taxation, it was deemed incomplete. Explore the wonderful architecture of some of the earliest European religious settlers in the region before meeting members of the Tohono O'odham tribe outside San Xavier for local delicacy of fried bread.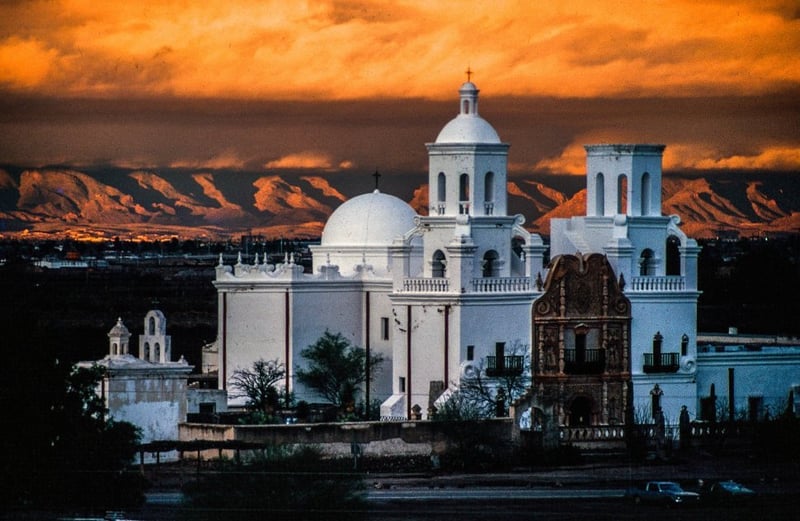 AnalogStock
Tucson is a gem of culture, history and picturesque beauty in the Sonoran Desert, rich with a near-perfect climate year-round, wonderful, friendly people and lots to do. With millions of tourists visiting Tucson each year and more people than ever choosing Tucson as their home, discover your American dream in Tucson with Propeterra.