Charlotte, North Carolina is blessed with an active community driven to host events, express creativity and foster a strong sense of community. Every year the city has a schedule packed with exciting things to do, see and interact with for all ages and dispositions. From beautiful, tranquil trails a stone's throw from the city centre to adrenaline-inducing sports, there's something for everyone in the city known as Queen's City. Check out our guide below to the essential things to do and see in Charlotte.
Blumenthal Performing Arts Center
This spectacular space is filled with talented artists demonstrating their unique expression of creativity. Split over a number of theatres including the Belk Theatre, Booth Playhouse, and Stage Door Theatre, the schedule offers a wide array of talent including classical music performances, comedy, live theatre and dance. With household name acts, internationally renowned troupes and family-friendly shows like acrobatic circus shows or Disney favourites, the Blumenthal is a hub of entertainment within Charlotte.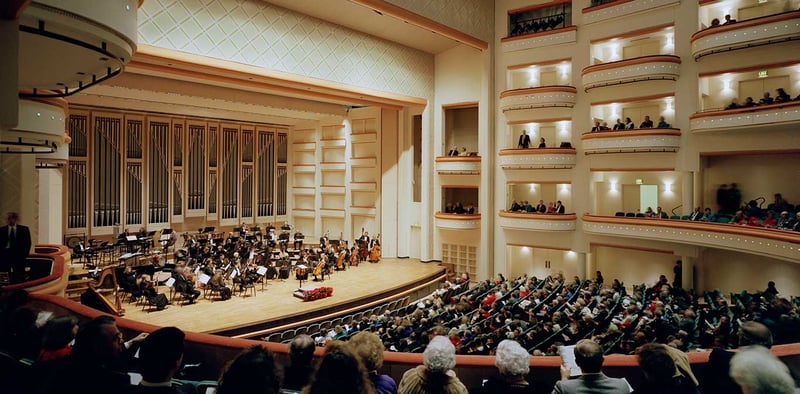 Blumenthal Arts
Little Sugar Creek Greenway
Little Sugar Creek Greenway is a network of trails located in midtown, Charlotte. The variety of paved paths, trails and adjacent streams make for a rural retreat in the centre of town. Designed for walkers, families, joggers and those who value the outdoors, the paths are a popular weekend destination for locals to socialise. Currently stretching from Cordelia Park to Uptown, there are plans in place to extend the network down to to the South Carolina state border. Walk the trails on a Sunday morning before visiting one of Charlotte's many brilliant restaurants or cafés for a relaxing retreat from the hustle and bustle of the city.
Charlotte, NC
NASCAR Hall of Fame
For the NASCAR and automobile enthusiasts, Charlotte is home to the definitive museum of the sport. For Charlotte, NASCAR has historically held a place in the hearts of locals and continues to do so to this day with many of the sport's iconic figures choosing Charlotte as their home. Located in Uptown, the museum requires no knowledge of NASCAR to enjoy its fabulous, interactive exhibitions. Visitors can try a hands-on simulation of an intense pit-stop and roam the exhibitions of historic races. There's something for everyone from the petrolhead to the backseat driver.
NASCAR Hall of Fame
US National Whitewater Rafting Center
The US National Whitewater Rafting Center just outside Charlotte is the largest man-made white rapids river in the world. Built as an Olympic training base for America's athlete hopefuls, the park that houses it has expanded to accommodate adrenaline junkies of all types. If extreme outdoor activities are for you, be it heights or rapids, there's something for everyone. Try the mega zipline, the 40 miles of mountain biking trails or the rock climbing for a unique day out. IT goes without saying that children love this place for its exciting atmosphere and sensations of pure joy.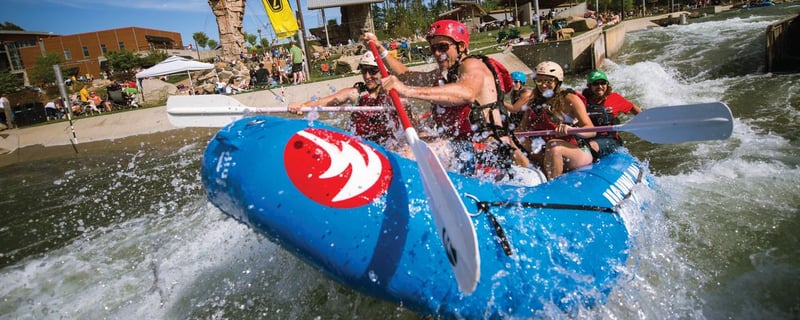 VisitLakeNorman.com
Bank of America Stadium
The largest and most prominent of Charlotte's sports venues, the Bank of America Stadium was built to house the Charlotte Panthers, the local National Football League team. Sporting a 75,000 person capacity, natural grass field and luxury corporate hospitality, the stadium fills up every Sunday for the NFL spectacle. Enjoy family-friendly tailgating for a social atmosphere with fans bringing children and communities enjoying America's defining sport. With plans to open another stadium in the centre of Charlotte to house the new Major League Soccer team, there is plenty of live sports on offer in the city!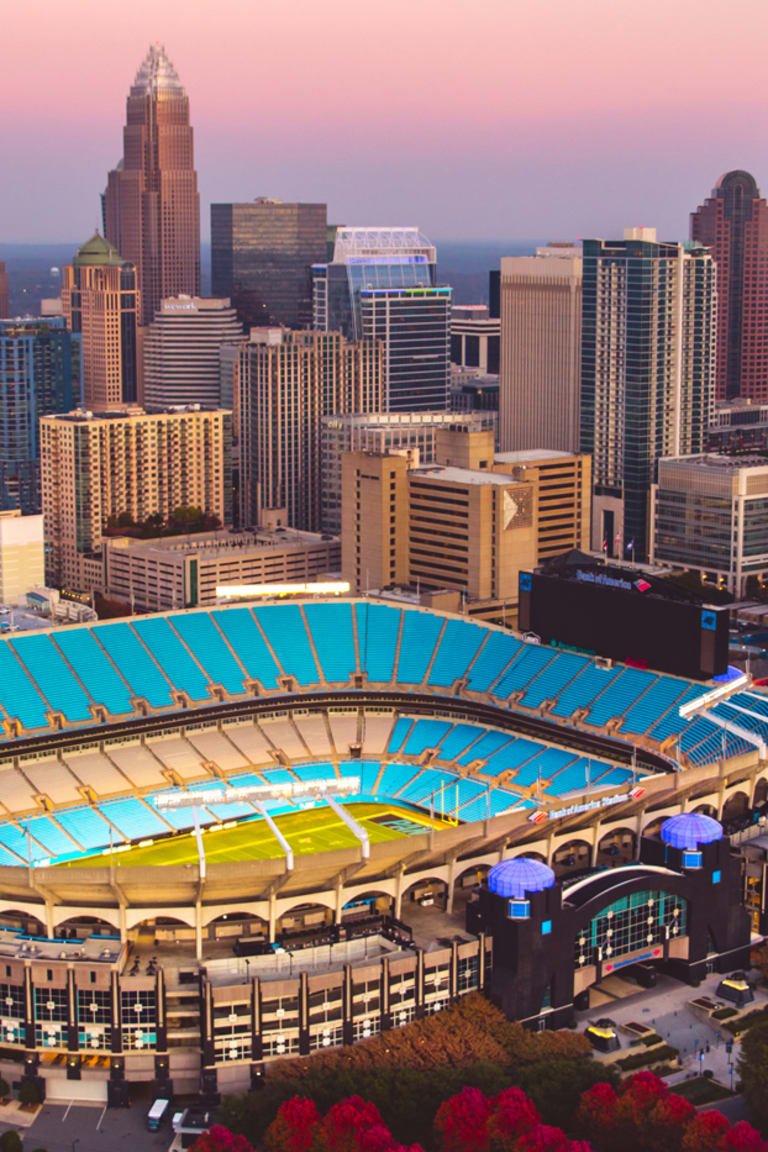 Carolina Panthers
Lake Norman
A short 20-mile drive north of Uptown lies the largest man-made lake in the Carolinas. Known for its variety of activities and escape from the city, the lake has space for boating, watersports, fishing and swimming. Throughout the spring and summer months, you will find locals in their swimming gear lounging, socialising or being active lakeside. From students to families, there is a strong community feel on the lake during the summer. Take a dive in Lake Norman next time you find yourself in Charlotte.

VisitLakeNorman.com
Freedom Park
The Charlotte equivalent of Central Park, Freedom Park is a hive of social activity throughout the year. The 98-acre park is home to playgrounds, basketball courts, football pitches, baseball pitches, tennis courts and volleyball courts. The park sees thousands of Charlotte locals making use of its facilities on a daily basis, centralising a hub for the city's community. The go-to place for socialising, picnics, sports and staring wistfully into the summer sky, Freedom Park is an essential part of life in Charlotte. Take a stroll through the picturesque scenery past the lake, making sure to feed the ducks as you do.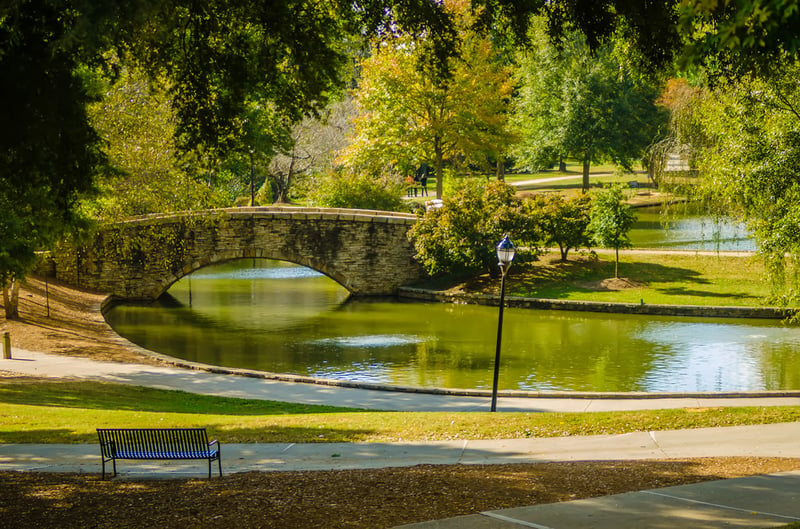 Flickr
Charlotte is a city full of outdoor adventures with a strong passion for communities of likeminded people. If you are a sports fan, thrill-seeker or simply enjoy relaxing in beautiful surroundings, this city has something for you. With a robust property market and the city's stock on the rise, why not make Charlotte, North Carolina your next home? Contact Propeterra today to invest in your future and fulfil your American real estate dream.