Washington, DC has always been a prosperous American city. As the country's capital, it is the hub of political and federal infrastructure, which have continued to draw outsiders to the city either for work, tourism or living. Given the city's status, the US and the world look to Washington as a symbol of Americana, imposing a necessity for the city to maintain an attractive modernity to encourage investment.
The city has gone from strength to strength in recent years, with cranes dominating the skyline signalling the city's prosperity to her residents and visitors. Since 2010, 622 development projects have been completed in the city, totalling some $27B in cumulative investment according to the Washington DC Economic Partnership Development Report (WDCEP). The city's economy has been a significant factor in attracting the investment, which has been crucial to the augmentation of residential, office, retail and hospitality spaces. The multifaceted investment in real estate signals the city's prosperity and, according to the WDCEP, this is set to continue for the foreseeable future such are the string foundations of the city.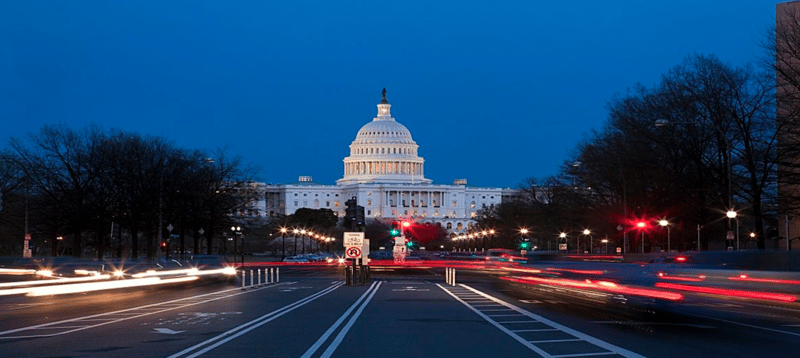 Economic Overview
Washington is making advances to ensure a diversified economy, moving away from a reliance on the political and federal industries. The Mayor of the city set a target to achieve a benchmark totalling $100M from private sector GDP by 2021. In Q1 of 2019, the private sector GDP stood at $99M, demonstrating the city's achieved growth well ahead of schedule. This growth, in part, is due to the rapid growth of the technology sector within the city. Technology's growth is outpacing any other private industry significantly with Amazon HQ2 in nearby Arlington County, a noticeable contributor. Also, the city's East End has become a technology hub with multinational corporations such as Dell, Facebook, Yelp, Apple and WeWork establishing large offices and networks within this district. In total, Washington Metro added over 33,000 new jobs in the year 2018-19 and surpassed the population benchmark of 700,000 during the same year. The rise in population, new jobs and prospering industry indicates a sustainable growth in Washington DC. Importantly, the growth is not one-sided, it is forecast to benefit all layers of society with the median household income projected just shy of $100,000 per annum in 2024, up 15% year over year to $94,570.
DC's investment in commercial real estate has been rising year over year to generate this growth. The city's high investment numbered $5.6B in the year ending June 2019 with foreign investment a significant contributor to this success. Whilst foreign investment focuses particularly on trophy assets in downtown Washington, of all investors across the city, at multiple levels of funding, over a quarter of investors are foreign. This statistic highlights America's openness to foreign investors in everything from residential real estate to landmark edifice of great historical value.
Given the current economic climate, the forecast GDP growth may be slower than expected, but what is clear is Washington has a well-earned reputation as a safe option for long-term real estate investment thanks to its historical insulation against economic downturns. So despite the setbacks faced by global growth in recent months, Washington continues to be an appealing choice for capital development across a broad spectrum of investors from family offices to individuals and institutions.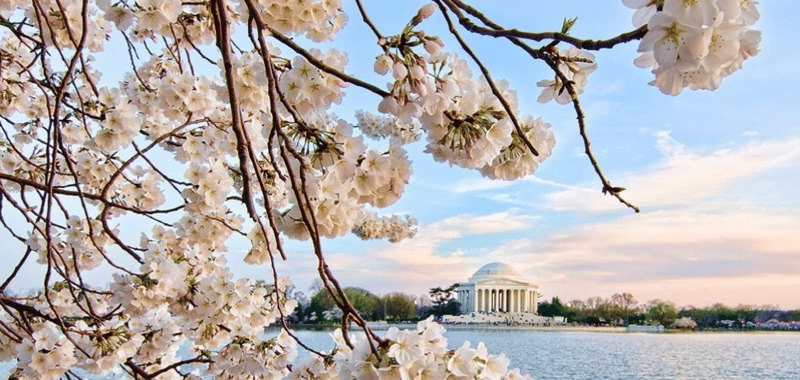 Projects to Look Forward To
As Washington prospers, the commercial, residential, office, hospitality and mixed-use developments are showing signs of permanently altering the city's landscape. The majority of these developments are strikingly modern, built to foreshadow the aesthetics of the future city, to blend in with the architectural styles of the next century to come. They are exciting, sleek and, most importantly, will likely benefit all investors in Washington from the billionaires down to those purchasing a family house. Let's take a look at a few of the most exciting developments likely to increase the city's status and attractiveness even further.
655 New York Avenue
This $85M office development was completed in 2019 and boasts 653,000 square feet of office floor space and 80,500 square feet of retail space on the ground floor. Flexi-workspace giant WeWork has already contracted a lease for over 100,000 square feet of the office space, whilst the retail space has been earmarked by LEON Restaurants, Compass Coffee and Rumi's Kitchen, making it an almost self contained metropolitan block. The modern working lifestyle was evidently front and centre in the minds of the architectural and development teams as this project seeks to demonstrate the projections for work-life balance in years to come. What separates this project from others in the same class is how the architects, Shalom Baranes Associates, have integrated the surrounding historical buildings that exude an authentic Washington style. The seamless harmony of Washington's history and future vision is essential in encouraging investment by demonstrating an appreciation for what defined the city historically and an understanding of where the world is heading.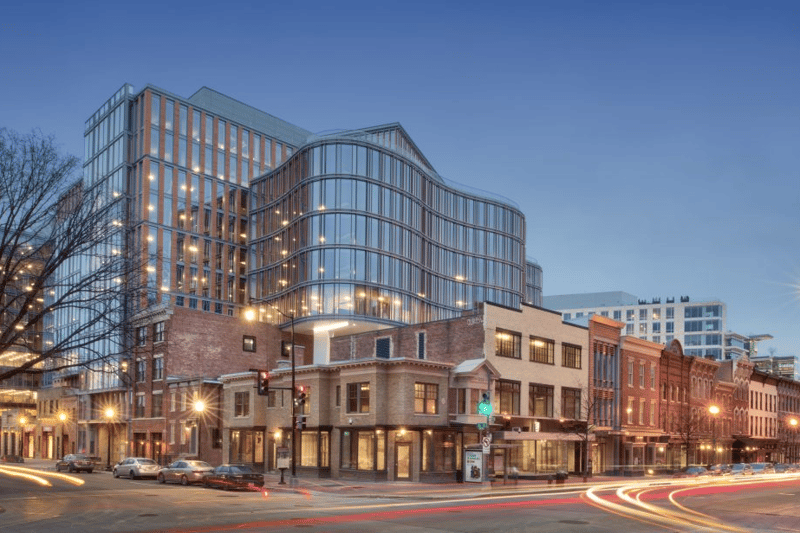 WTOP
City Ridge
City Ridge, the vast mixed-use real estate development, will be situated on 3900 Wisconsin Avenue, Northwest. With a value totalling $700M, the project is set to be one of the most expensive in Washington for the coming years. Located on the former site of the large American mortgage broker, Fannie Mae, City Ridge will house 1.15M square feet of mixed-use development, including 194,000 square feet of retail space, 170,000 square feet of office space and apartments anchored by a 80,000 plus square feet grocery store. Offering accessible amenities, living and working all in one location may be appealing to some and suggests a lifestyle that's forward thinking and self contained, but it might not be for everyone.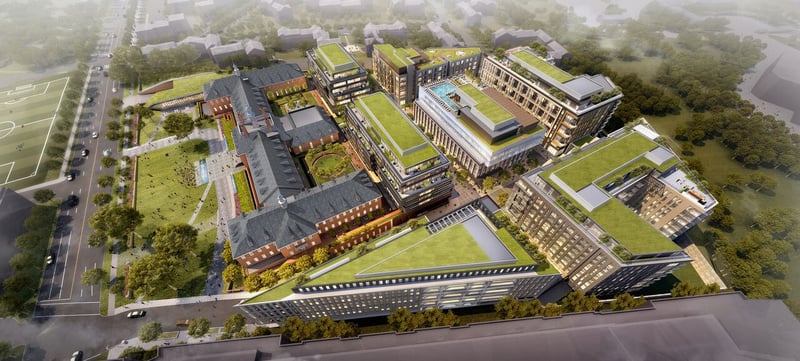 Curbed.com
Within the hospitality sector of commercial real estate development, Washington is powering ahead with new hotels from major hospitality companies and franchises such as Marriott, Pendry and many more. The new hotel construction suggests that developers are confident in the city's continually prosperous tourism industry. The projected demand for hospitality through 2021 is expected to sustain these new developments. The largest construction project that DC has to date is Phase 2 of The Wharf, a development on the Southwest Waterfront. Set to include 547,000 square feet of office space, 120,000 square feet of retail space, 116 hotel rooms at the enclosed Pendry hotel, 345 residential units and over 200 private marina docking stations, The Wharf is a jewel in the crown of the latest revitalised Southwest Waterfront district. Totalling $1.2B worth of investment in Phase 2 alone, The Wharf is forecast to be completed in 2022 bringing a new facade to this area and a feather in the cap of Washington residents across the city.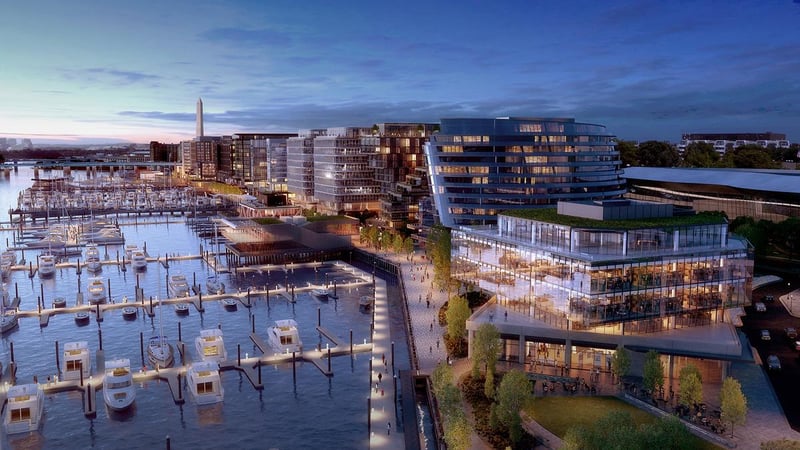 BizJournals
Beyond the projects currently underway, the DC pipeline has over $38B worth of projected investment in over 120M square feet of real estate, making Washington one of America's most exciting cities to be a resident right now. These developments will augment America's already prosperous capital over 520 near and long-term projects. Investing in Washington is an investment in America's future and your future also. To find out more about how you can invest in Washington real estate for your future, for your family and for your finances, then contact Propeterra today.