Interested in investing? Check out Propeterra's opportunities in Bracknell - No. 1 Thames Valley and The Grand Exchange.
Nottingham
A few years ago, if you'd talked about investing in Nottingham you might have raised a couple of eyebrows. The city has suffered in recent years thanks to a somewhat undesirable reputation - situated in the East Midlands, it was affected by this area's general decline as well as gaining the moniker of the UK's most dangerous city thanks to crime rates far higher than other areas of similar size. However, the city has undergone something of a regeneration and is now top of our list of underrated cities to invest in. Statistics show that the crime rates have fallen and new developments are on the increase - but Nottingham has so much more to offer than that. It's a historic and well-connected city, with easy access to two airports and great road and rail links - soon to be even further improved by HS2. One of the fastest growing cities in the UK, it also has a great start-up scene and young population, in part thanks to the two universities which call Nottingham home. And with the title of the greenest city in the UK, there's no shortage of parks and open spaces to enjoy.
The most convincing argument for investment, however, is the potential for great returns. Figures from Zoopla show that Nottingham boasted the highest rental increase in the UK, of 5.9% - in part thanks to all those students. And house prices are rising rapidly too - data from the Land Registry shows that property prices in Nottingham city centre increased 19% from 2019-2020, with some nearby areas rising even further. In the postcode of NG5, just to the north of the city, prices rose by a staggering 48% from 2019 to 2020. You might expect all this growth to come at a price, but Nottingham's property is still very affordable, with the average apartment coming in at a bargain £111,103, according to Leaders estate agents. With prices like this, there's no reason not to invest now!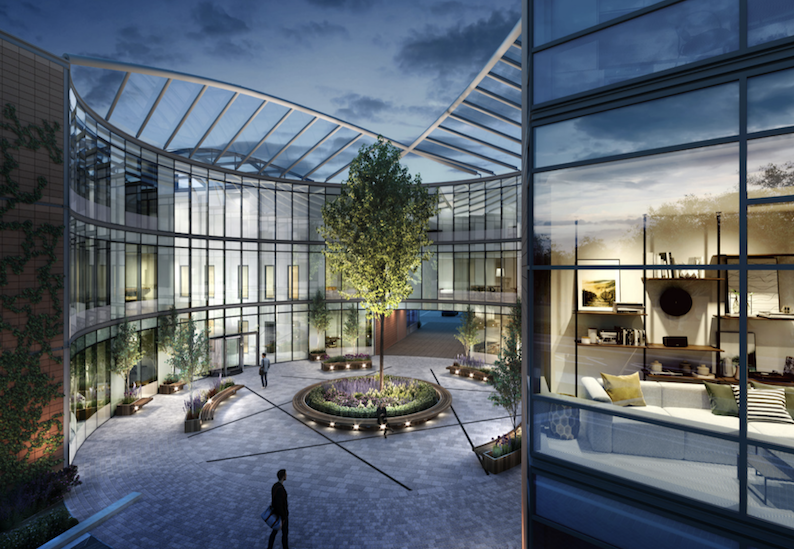 No. 1 Thames Valley, Bracknell
Slough
Slough is one of those towns that's often thought of as a bit of a joke - not helped by its being the setting for the much-loved comedy programme, The Office - but as an investment location Slough is worth taking seriously. It's fantastically well-connected, ideal as a commuter base for London and with easy access to the rest of the South East. And with the exodus from London still having an impact across the market, Slough's appeal for London workers remains strong - especially with the opening of Crossrail on the horizon, which will massively reduce commuting times. And if the Heathrow expansion goes ahead, this is likely to boost growth as well.
When it comes to the numbers, Slough stacks up too - data from the ONS shows that Slough has one of the most stable property markets in the UK, with only one fall in house values over the past ten years, and an average yearly growth of 6.4%, making it a safe bet for investors. Property prices are also great value compared to the rest of the South East, with the average price for a one-bed apartment coming in at £206,665. The future looks bright for this region, with predicted rental growth of 8% over the next five years, according to JLL Research, and property price growth of nearly 20% predicted by Savills. Rental yield in Slough is already strong, with yields of 5.38% for one bedroom properties, compared to the London average of 4.6%. If you're looking for a strong and stable performer, it's definitely worth looking at Slough.
Interested in investing in Slough? Check out our last remaining properties at Steel House at The Metalworks - a stunning development at the core of a bustling commercial hotspot, only five minutes from Slough train station.
Bracknell
Bracknell is unlikely to hit anyone's list of the top towns in the UK - in fact, many visitors could be forgiven for having never heard of the place! But if you're looking for a good investment, it would definitely be a bad idea to overlook this town. Situated in the heart of the commuter belt, Bracknell can boast of its own Silicon Valley, being the home to a host of large tech companies, including Dell, HP and Microsoft. With over 40% of the town's office space being taken up by tech, it's not just commuters to London who are looking to Bracknell for affordable living with great transport connections and an increasingly vibrant commercial and leisure offering, thanks to the £240 million development of The Lexicon shopping centre.
And the £770 million regeneration of Bracknell isn't the only reason to consider investment. With the average property price coming in at £367,458 it isn't cheap - but still only half the London average whilst being under an hour away by train. And Knight Frank have predicted that prices will grow by 17% over the next five years, a considerable increase - indeed, some areas of Bracknell grew by 18% over the last year alone, according to data from SevenCapital. It's good news for rental prices too, which are expected to increase by 8% over the same period, with current rental yields of around 5.48%. With figures this good, Bracknell could be the best investment location you've never heard of.