UK devolution and enhanced powers for the regions have long confounded British policy makers. Lauded by liberals for bringing democracy closer, its detractors have argued against a 'federalist' UK. Though the devil is always in the detail, meaningful autonomy and grouping of regions has historically supported economic growth. And it is for this reason, the North Tyne Combined Authority (NTCA) is of interest. Though inelegantly named, it has the potential to transform the prospects of Newcastle and its neighbours, and support meaningful development in a sometimes overlooked part of England. Far from being a backwater, this is an area of 880,000 people, supporting a local economy of £17 billion and nearly 360,000 jobs. (NTCA)
Created in 2018, elections were held the following year for a directly mandated mayor, with enhanced powers passed from Westminster. Significantly, in the 2017 budget, £600 million of funding was allocated over the next three decades. Its founders point to the potential for coordinated action, given Newcastle, North Tyneside and Northumberland, have one of the fastest growing local economies and job rates anywhere in the country and a booming technology sector, second only to London. Additionally it reports the highest trained workforce in the North of England, strong connectivity, and innovation, research and development hubs in two renowned universities. Its progress has been frustrated by a lack of coordinated action, not by poor fundamentals.
Figure 1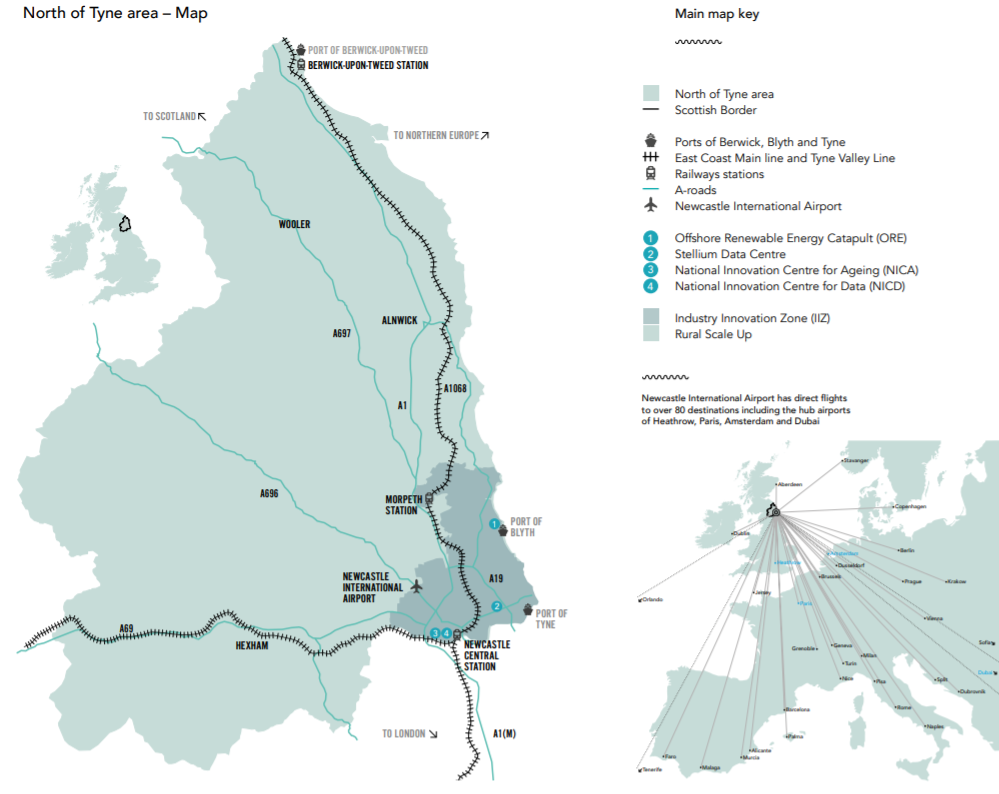 Source: North of Tyne Combined Authority
The history of semi-autonomous regions- especially those capable of attracting investment- suggest transparency and streamlined decisions are central to success. The NTCA is constituted so members of the public and the investment community can openly access policies, plans, financial information and performance metrics. It has clearly articulated regulations as to its budget and policy framework, anti-fraud and corruption protocols and Mayoral allowance scheme. Though these terms and phrases lack spice, structures are vital to the sustained success of an area. This is not unique to the UK, but defines activity from Panama City to Delaware, Zurich to Kigali, Singapore to Dubai. And given the vision set out by representatives, this assumes increased salience.
'Strong and unapologetically positive' sets the tone for a document describing the area as the 'Home of Ambition'. It sets out six pillars which will underpin a multigenerational programme of uplift and infrastructural improvements. Unsurprisingly, enterprise is the first strategic priority. This involves incentivising companies to initiate or accelerate operations in the area and foster trade links. Notable companies such as the Sage Group, Proctor and Gamble, Grainger PLC, Greggs PLC, Piramal Pharmaceuticals and Accenture are already active. In all, there are in excess of 50,000 registered businesses, with a tilt toward creative, digital and corporate service sectors.(Invest Newcastle) Additionally, there is a life sciences and healthcare ecosystem estimated to be worth over £1.1 billion, employing 7,000 people in more than 200 companies.
The NTCA has aspirations to maintain a highly educated workforce capable of servicing growth in the regional economy. In Newcastle itself, skills levels are higher than both the UK and regional average. According to data from the Office for National Statistics (ONS), over 50% of people are managers, directors, senior officials, professionals or associates.(ONS) 26.4% of the population have a National Vocational Qualification (NVQ) at level 4 or above, meaning employment involving sophisticated application of learnt practice.(IN) Supplementing this employment-age talent is over 100,000 students in the region, a fifth of whom come from overseas. The NTCA is working toward an inclusive system not only in tertiary education but also through vocational courses and apprenticeships.
Proponents of this initiative point to connectivity both nationally and internationally as supportive of business and a rising wave of prosperity for local people. Over 8 million passengers a year use Newcastle Station, and the airport is the second largest in the North of England. There are train connections to London in less than three hours, and Edinburgh in one hour and thirty minutes. Meanwhile direct flights lead to 80 global destinations, including hubs in Paris, Heathrow, Amsterdam and Dubai. But it is digital connectivity where the area really excels. There is a major Industry Innovation Zone (IIZ) where 96% of households have superfast broadband. Further, Newcastle was selected as the UK location for a secure high capacity network routing to the US and mainland Europe. The so-called North Atlantic loop involves cabling being routed through the Stellium DataCenter which will give Newcastle the UK's most efficient connectivity with both North America and the continent. Given the recent effect of COVID in encouraging remote working and reinforcing the transformative impact of technology, the NTCA is looking to capitalise on this unique infrastructure.
But it is not only education, skills and connectivity which are beginning to focus the minds of investors. It's affordability, quality of life and local amenity. There are a variety of National Parks and blue flag beaches within a thirty minute drive of Newcastle city centre, and residential property prices are 37% less than the UK average. In the commercial real estate space, prices are 31% less than other UK cities and 64% less than London. With over 300,000 square feet of existing and new built office space in Newcastle city centre alone, prices are likely to remain low, keeping it affordable for businesses looking to base themselves out of the North East. Even if there was a partial rise to reflect the overall desirability of the region, there is reason to suppose they will remain competitive. Recent analysis by Cushman and Wakefield showed rent per square foot in Newcastle stood at £24.50 versus £30 for Leeds, £35 for Edinburgh, £36.50 for Manchester and £68 for London. There is room for significant upward movement as the full effects of the NTCA come to be felt.
For property investors considering the NTCA, Propeterra recommends a degree of caution. The foundations have been laid not only through this initiative but earlier hard work by the local authorities to ensure basics of education and connectivity are in place. But this has been a long process. Likewise, the new drive is admirable but has some way to go before real results are likely to be recorded. Savvy investors will look to track progress and engage with local partners now, so as strategic priorities come online, they are connected into the market they wish to benefit from. Amongst these priorities will be the evolution of the housing and land board, investment from the Government's Infrastructure Fund and the expansion in tourism and hospitality in areas of outstanding natural beauty. Investors should be aware, though, this remains a relatively opaque market, and so armchair punditry or desktop analysis, will do little to substitute on the ground research.