Compiling a shortlist of only ten places to eat in Las Vegas is a sacrifice. There are too many high quality establishments, independent or otherwise, that are more than deserving of mentions.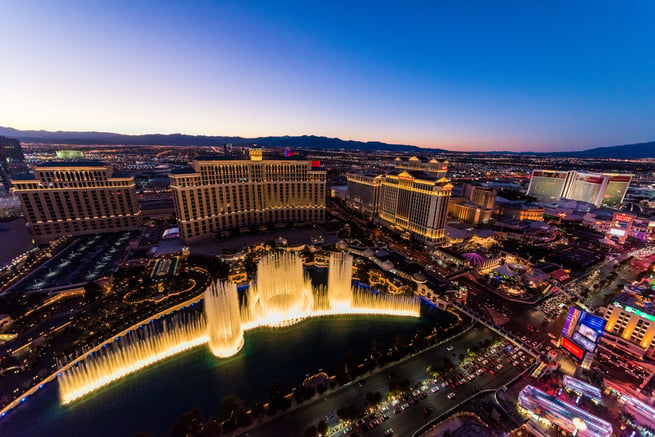 Fountains of Bellagio, Las Vegas
The reason is simple: the Las Vegas economy, built on the city's historic global tourism, its affluent gambling penchant and the business conventions that see CEOs flock to Nevada's capital, creates demand for exquisite food to feed these discerning mouths.
Whilst this list cannot do justice to the breadth of restaurants on offer, it aims to provide a guide to the classic, tried-and-tested, modern and molecular.
1. Joël Robuchon
As an amuse bouche, the only 3 Michelin star restaurant in Las Vegas, situated within the iconic MGM Grand, has won Winner of Forbes Five Star, AAA Five Diamond and Wine Spectator's Grand Award. In doing so, it has been claimed as the pioneer of elevating Las Vegas dining. The interior is designed to feel like an Art Deco townhouse with cosy, plush furnishings, soft lighting and an intimate feel, it provides the perfect setting for a quiet meal that champions the food and your dining partner.
A four-course tasting menu of haute French cuisine aptly demonstrates the artistic quality of the Head Chef, Christophe de Lellis. Decadent, perfectly balanced dishes such as truffled langoustine ravioli in a foie gras sauce put this establishment firmly on the list.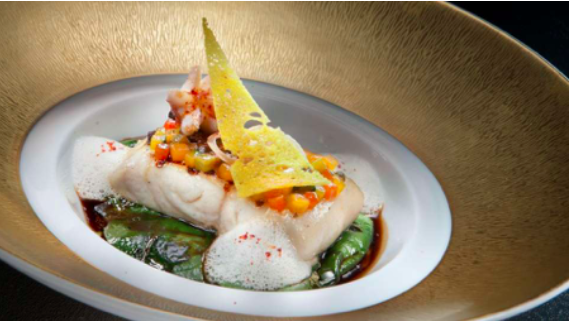 Credit: Joël Robuchon (MGM Grand Official Site)
2. Guy Savoy
Another French haute cuisine in Guy Savoy's restaurant of the same name is found in the iconic Caesars palace. Whilst the historically 'kitsch' elements of 20th century Las Vegas are being replaced by the sleek and modern, at Guy Savoy diners can enjoy their meal with a view of the Las Vegas Eiffel Tower. This however, is no distraction from the food. Traditional flavours of French cooking with a refined presentation, white tablecloth service and the extensive wine cellar truly create an atmosphere of Paris in the South West.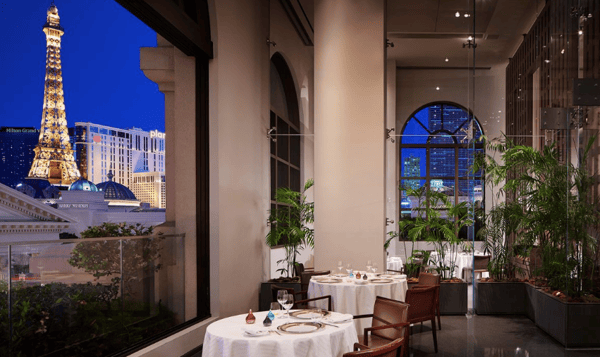 Credit: Caesars Palace Official Site
3. Picasso Restaurant
Museum cum restaurant - at The Picasso patrons sit amongst works by the artist of the same name. The head chef, Julian Serrano, fuses the western European delicacies of France and Spain for which the Spaniard himself has received AAA and Forbes Travel guide 5 Star Ratings. Diners are encouraged to peruse the extensive wine list featuring over 1,500 bottles of the finest produce from around the world. Diners can also eat and drink on the patio with a view of the iconic Bellagio fountains.
Serrano himself says "I've seen guests, they have four-courses of the quail, even for dessert! This is a true story." In other words, it is worth having the quail next time you visit.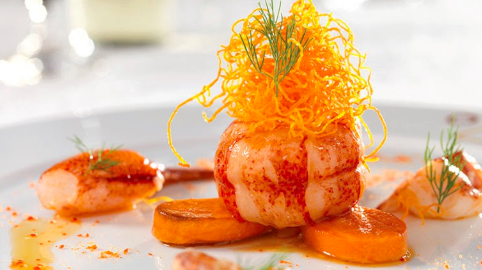 Credit: Bellagio Official Site
4. Wing Lei Restaurant
Located at the Wynn Resort, the first US restaurant to be awarded one Michelin star, Wing Lei boasts exceptional Chinese cuisine. The décor is something out of an Imperial palace, jade colour walls, gilding and a Qing dynasty inspired carpet bring the East to the South West. Spin the lazy Susan at this Forbes Travel Guide Five-Star winner for refined Oriental classics such Imperial Peking duck and journey through the flavours of the Cantonese, Shanghainese and Szechuan province.
Credit: Wynn Las Vegas Official Site
5. Le Cirque
A legend in the city, its reputation preceding it as a must-go for those who wish to understand what is at the essence of Las Vegas. Situated in the Bellagio complex, the restaurant has perennially won the AAA Five Diamond Award rating and Forbes Travel Guide 5 Star Rating.
The atmosphere is enhanced by its ornate, whimsical circus theme, the rich colours of which are replicated on the plate. Such theatre is typified by the Maryland blue crab with caviar and 'blue water smoke', and the Chocolate Ball dessert that conceals and reveals its treasure for those with a sweet tooth.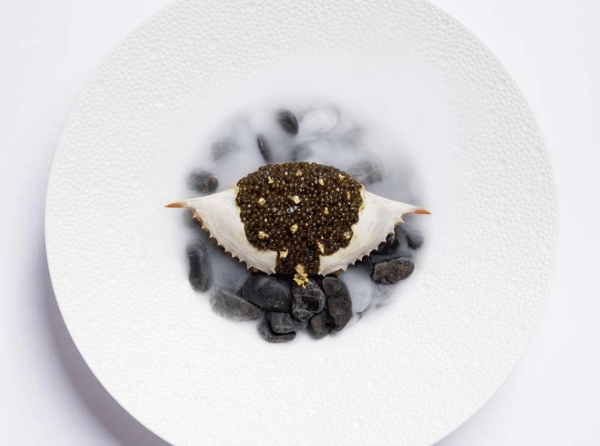 Credit: Le Cirque Bellagio Official Site
6. Nobu
This restaurant chain by master Japanese chef, Nobu Matsuhisa, has been a go-to for foodies and celebrities globally for one reason, the food. The Las Vegas-exclusive teppan tables and fond favourites such as the blackened cod and fresh sushi make this the best Japanese in the city. Like Guy Savoy, Nobu too is located in Caesar's iconic complex. This pillar of high-class Japanese cooking is a reliable and exceptional place to eat, made all the more stunning by its sprawling dining area and quality, knowledgeable service.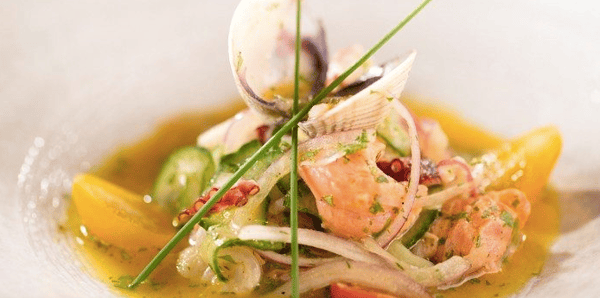 Credit: Nobu Restaurant Caesar's Palace Official Site
7. Bazaar Meat by José Andrés
A main course for meat lovers, Bazaar Meat by José Andrés is 1 of 4 restaurants by the master Spanish-American chef in the Las Vegas area. With a rustic lodge feel, including a roaring fire and the succulent smell of roasting pig, this restaurant is not to be missed if you are a serious carnivore. The indulgence of the expertly curated wine list and exceptional cooking feels more akin to a royal feast. Bazaar Meat has deservedly featured in America's Best 101 Restaurants 4 years in a row.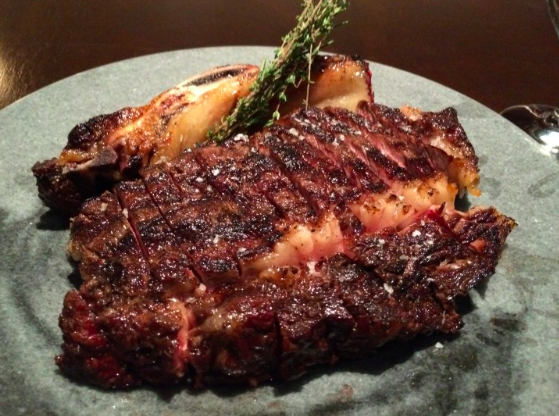 Credit: Fly & Dine Boarding Area
8. é by José Andrés
A refined, molecular and highly exclusive project by the acclaimed chef, 'é' exemplifies the masterful skill of José Andrés, especially when acknowledging his other endeavours such as Bazaar Meat. Patrons can only book a maximum of two spaces per sitting at a bar of 9 and bookings are required far in advance. This exclusivity is well worth it and diners are rewarded with a theatrical experience unique to anything they have had before.
Credit: Thrillist
9. The Black Sheep
The Black Sheep differs from many of the other restaurants on this list. It has a simple décor, almost utilitarian in approach, with the aim to allow the food to take the spotlight. This establishment is for the foodies that pride depth of flavour and innovative fusion cooking above the theatrical, molecular or decadence of the famous hotel restaurants.
Head Chef Jamie Tran has honed her craft around the high-end cooking scene, learning from some of the iconic chefs of the illustrious Las Vegas scene including Daniel Boulud of DB Brasserie and Charlie Palmer at Aureole at Mandalay Bay. She skillfully fuses Vietnamese flavours with French and American techniques to create a special dining experience at a vastly different price point.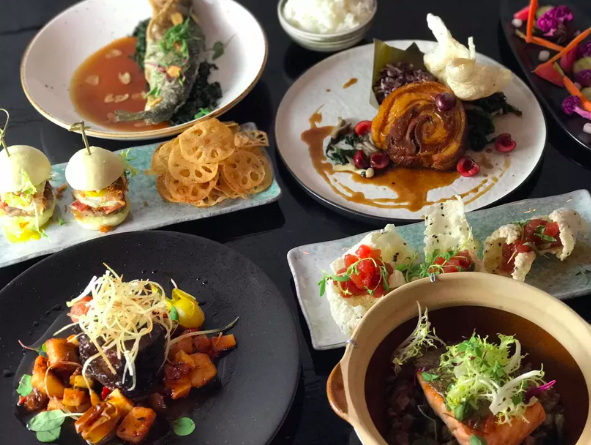 Credit: Eater Vegas
10. Gordon Ramsay Steak
The name says it all. Gordon Ramsay is a master chef, a recipient of a 3 Michelin star and many other awards for his quality. He opened this project in 2012 to great praise and this success has continued throughout the last 8 years. As 'classics done well', it seeks to excite, delight and satisfy the customer with hearty favourites such as Beef Wellington, wagyu steaks and shellfish platters. The Union Jack on the ceiling acts as an ode to the English chef's origins and inspirations, while the two-storey dining creates an opulent, theatrical feel.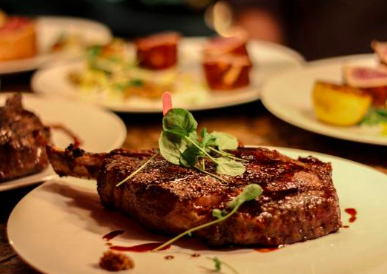 Credit: Gordon Ramsay Restaurants Official Site
Enjoy!