For Japan, 2021 couldn't have started in a worse way. On the 8th of January, the Tokyo Metropolitan region including Saitama, Kanagawa and Chiba Prefecture entered its second state of emergency, soon followed by another seven prefectures including Osaka, Aichi and Fukuoka. The 11 prefectures included in the state of emergency account for 61% of the country's GDP. Economists have predicted that this will reduce annual GDP by 0.4%, leaving Japan's economic outlook for 2021 as uncertain as ever. As for Japan's real estate, the pandemic raises further concerns about its future. The growth achieved by the 7 years of Abenomics may be lost, with further long term deterioration a serious possibility. Furthermore, Japan's population is already ageing and declining. The fact that 13.6% of residential property were unoccupied in 2018, the highest recorded figure, suggests that Japan is unlikely to face housing shortages. In order for the real estate industry to achieve long term growth, there must be sustained demand. For there to be sustained demand, Japan must face up to and overcome the reality of its economy; an ageing population, stagnant wages and the constant battle against deflation.
Prior to the pandemic, the real estate industry was enjoying the benefits of the longest fiscal expansion in the post-war period, headlined by ultra-low interest rates, strong job creation and business investment. According to the Chika Koji land price report in 2019, commercial land prices in regional areas (excluding Greater Osaka and Greater Nagoya) recorded the first positive growth since 1991. The 1.3% increase in average land prices nationwide were driven by regional property booms. Mortgages, some with home loan tax deductions, were handed out with low interest rates whilst sustained high price of new construction and its limited supply has driven up prices. Foreigners were also visiting and purchasing property in Japan like never before, resulting in condominium prices soaring in tourist hotspots such as central Tokyo, Osaka and Niseko in Hokkaido. In the world famous ski resort of Niseko, prices increased by 59% in 2019, largely due to increased inbound visitors fuelling demand for condominium and hotel construction. Parts of Osaka saw prices rise by 44%. The purchase of second-hand condominiums by those looking to profit from this property boom increased prices in surrounding areas. Many people mistook these regional booms as natural price increases where in fact, demand from wealthy foreigners and speculative investors played a big role. Hence, it is difficult to fully credit Abenomics for these price increases as in 2019, Japan's GDP only grew by 0.65% and the wage rate index fell by 0.4%. The escalation of the US-China trade war and the increase in consumption tax rate from 8% to 10% in October 2019 were the main factors behind this sluggish growth.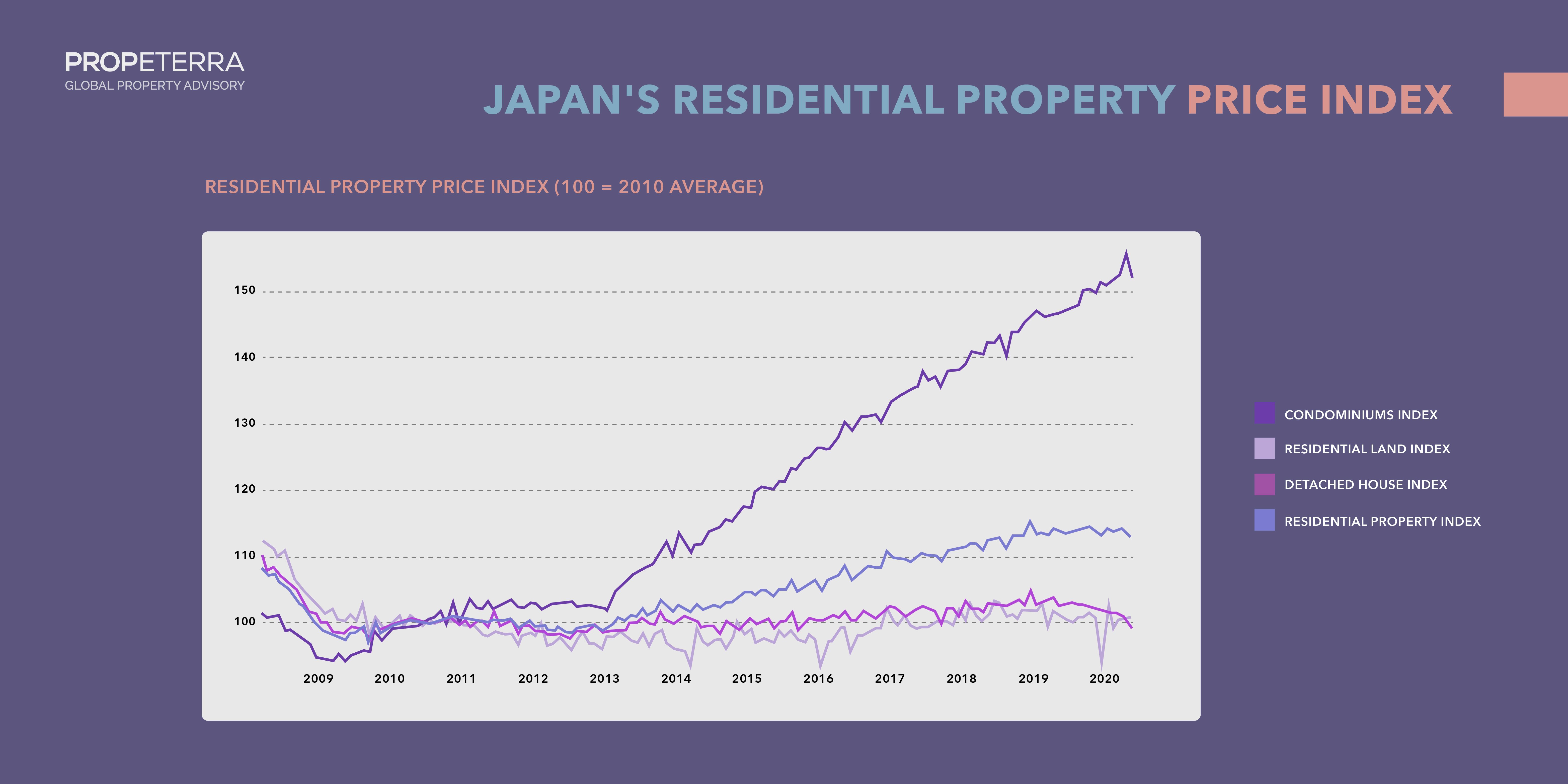 One sector that was achieving significant growth prior to 2020 was the tourism sector. The depreciation of the yen, increased flight routes, and deregulation of visa requirements made Japan more accessible, whilst steady economic growth in Asia increased the demand for foreign travel. From 2015 to 2019, inbound tourists increased by over 60% to 31.9 million in 2019. 2020 would have marked a landmark year as Japan was on course to welcome over 40 million tourists with the Tokyo Olympic and Paralympic Games. Instead, the Games were postponed and global travel restrictions reduced inbound visitors by 87%. In July, the government promoted domestic tourism through the "GoTo Travel" campaign by providing subsidies of up to 50% on transportation, hotels, restaurants, tourism attractions and shopping across Japan. It seemed like the campaign was largely welcomed by the public as hotel vacancy rates showed significant recovery, particularly in areas away from major cities. However, similar to the "Eat Out to Help Out" scheme in England, it was too good to be true and the scheme was suspended on December 28th over fears of a second wave of infections. The GoTo Travel scheme was providing a lifeline for many hotels in the industry as multiple hotel chains announced temporary closures in January. Hankyu Hanshin Hotels temporarily closed seven hotels including the 180 room Daiichi Hotel Annex in Tokyo and the 961 room Osaka Shin-Hankyu Hotel. Tokyu Hotels also announced its temporary closure of the 106 room Futako Tamagawa Excel Hotel in Tokyo.
With the possibility of a W shaped scenario for the economy and with no certain outlook for tourism to resume, the real estate industry faces a challenging road ahead. Once the pandemic is contained, there may be a spike in demand from those who seek to move or from those who have held back on purchases until certainty is restored. During the first state of emergency in 2020, real estate transactions for April and May were halved. However, following the lifting of the state of emergency, transactions picked up with an 18% year on year increase in August followed by a 31% increase in October. Sales for detached homes and existing apartments for the month of November reached the highest level recorded for that month since records began in 1990. If there is to be another surge in the market after the second state of emergency, the surge will only be in the short term and is unlikely to be for the typical penthouse in the wealthy neighbourhood of Aoyama or the high rise in the residential district of Akasaka. As working from home becomes part of normality, properties in the city centre or close to stations may no longer be the ideal location. Instead, more people may desire detached property with gardens, home offices, strong broadband signals and open designs.
In the medium term, Japan must find a way to generate demand for its economy and its real estate. Economic recovery will certainly depend on overseas economies, namely China and the US, as exports of goods and services account for roughly 20% of Japan's GDP. Domestic and inbound tourism will also be key, as travel-related expenditure contributed towards 5% of Japan's GDP in 2019. Hosting the Tokyo Olympic and Paralympic Games in 2021 and the 2025 World Expo in Osaka will certainly provide a boost, although not enough to provide sustained growth for real estate demand. Perhaps Japan can look at other metropolises such as London to seek inspiration. Japan has zero distinction between local and foreign buyers, and has property rights that are securely protected by a fair justice system. Hence, it is possible to drive up prices by attracting foreign demand from the rest of Asia's wealthy who seek a better standard of living and low geopolitical risk. However, given that 98.5% of Japan's population is ethnically Japanese and the likelihood that foreigners will encounter a language barrier, creating real estate demand the London way may not be so realistic.
An alternative solution may be through investment into new infrastructure. Prior to the pandemic, construction activity in Japan had been increasing. This was not only in preparation for the Olympic Games, but also in response to the increased demand for urban planning. New transport links and hubs were being developed with the application of new technologies for smart cities. Such investment would boost business activity, attract more tourists and raise local land and property prices. For example, the recent price surge seen in Niseko has much to do with the Hokkaido Shinkansen Station being opened in 2030. This will provide direct access from the main island of Honshu and New-Chitose Airport, the only international airport in the island of Hokkaido. The recent privatisation of New-Chitose Airport is also expected to boost flight capacity and attract more tourists once travel restrictions are lifted. Japan has already established its reputation as a tourism nation with its multifaceted culture and global pull. By investing in new infrastructure and transport links in regions where access can still be improved, Japan can generate further demand for its tourism industry. Where there is demand, there will be investment, generating a healthy cycle that will hopefully contribute towards higher real estate prices.