Sat on Carlton Hill, surveying the Georgian terraces and distant Firth of Forth, it is easy to fall in love with Edinburgh. Though a small city, it has a bewildering variety of space and place. Trekking Arthur's Seat or luxuriating in Princes Street Gardens, dog walking in Inverleith Park or meandering the Water of Leith. But unlike some Northern European cities which use the outdoors to counteract deficit of character, Edinburgh has culture in spades. Not simply in the eclecticism of Stockbridge, gentility of Morningside or café culture of the Grassmarket. But in its extraordinary cosmopolitan character, supporting everything from the Mosque Kitchen by Nicholson Square to Guadeloupian cuisine in Dalry. The openness which has enabled the Edinburgh Festival, now stands as a bulwark against nativism poisoning discourse South of the Border. Edinburgh has attributes which mark it out not simply in the UK, but in Europe too.
And its population has historically been quietly affluent. Average weekly workplace earnings at over £550 place Edinburgh as one of only two cities at this level outside the south of England.(ONS) The employment rate is nearly 77% and there is a high percentage of individuals engaged in private knowledge intensive business services.(ONS) Around a quarter of Edinburgh's school age population are privately educated, and a recent study from finder.com estimated it had one of the highest disposable income rates in the UK.(Finder.com) Yet, for all this residual wealth, Edinburgh's high end retail is conspicuous by its absence. Naysayers will point to George Street and its surrounding areas which intersect. But there is a certain tiredness to provision. The discounted shirt store, TM Lewin, with its perpetual sales, has a place, but should not be on what was once deemed Edinburgh's most prestigious retail thoroughfare. Walk further toward Princes Street, and the situation deteriorates, with familiar High Street brands alongside tourist shops selling 'See you Jimmy' hats and shortbread.
Edinburgh's George Street and Princes Street have a similar interaction to London's Bond Street and Oxford Street. And in both instances, work needs to be done to offer a more modern, flexible form of retail, Covid or no Covid. In Edinburgh's case, Harvey Nichols and Multrees Walk were an impressive start, smartening the Eastern End of George Street and introducing brands from Burberry to Michael Kors, Boss to Louis Vuitton. Until recently, if you walked through this area, you eventually arrived in the St James Centre. Completed in the 1960s, with brutalist architecture, it housed nearly sixty shops and felt both incongruous and sad. It was not representative of Edinburgh, and mercifully, it is now being replaced with one of the most exciting developments in the UK.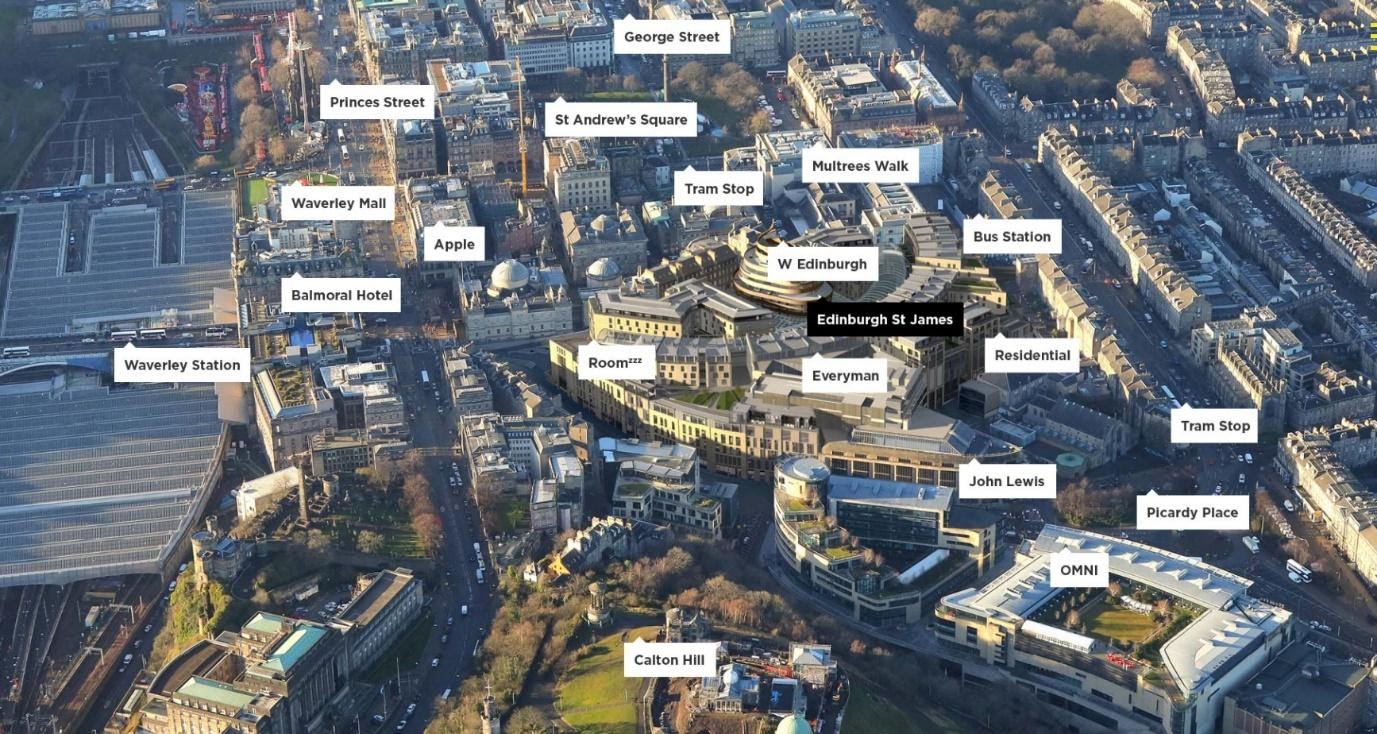 Figure 1
Nuveen Real Estate is deploying over £850m to redevelop the shopping centre to deliver 85 retail outlets and thirty food and beverage units. In total the development is over 1.7 million sq. ft., representing over a quarter of the entire retail offer in Edinburgh.(Edinburgh St James) Anchored by a W Hotel, Zara and John Lewis, alongside an Everyman Cinema, it will be a full service recreational area, which will transform the city. The scheme will be fully operational by the end of 2021, and by revitalising this overlooked part of the East End, it will link up Leith with George Street, thereby connecting Princes Street and the Old Town. In addition to the anchor tenants, it is understood New Look, Hackett, Next, Bershka, Stradivarius, Mango and Waitrose have taken space.(Retail Gazette)
Savills has recently completed analysis as to Edinburgh's prospects in light of coronavirus.(Savills) Helpfully, its conclusions align with those of Propeterra's Research Department. There is no question there are headwinds, however, 2021 may prove a good time to reassess the city. At the moment, a lot of attention has fixated on the cancellation of the Edinburgh Festival and the financial consequences of the loss of this important source of revenue. But look beyond, and there may be a stronger than anticipated rebound for major tourist centres such as Edinburgh. Pent up demand for vacations and an uptick in domestic travel may help offset some of the consequences of recent hiatus. Additionally, investors will gravitate toward cities with strong fundamentals and reliably consistent property markets in uncertain times.
Mean house prices in Edinburgh increased from c. £202,000 to c. £267,000 in the decade to 2019.(Land Registry) Though this was robust, it is some distance from say, the 75% appreciation in Slough or 65% increase in Southend.(Land Registry) But in lots of ways, this is reassuring. Edinburgh prices were already at a comparatively high level in 2009, and as the city has continued to strengthen economically, it has seen a good increase but one which will not raise concerns as to sustainability. Investors continue to see mid-single digit yields on residential properties, and little scope for over supply of new space in the city centre. Edinburgh does not have an abundance of brownfield sites, and its UNESCO designation plus extensive green belt, mean city centre properties will continue to be desirable both for purchasers and tenants.
This performance is likely to be consolidated as a result of the St James Centre opening. In part this owes to superior retail provision, but more profoundly, it connects the city. As Savills identifies, this state-of-the-art facility will hasten the transition (and improvement) of the Western part of Princes Street, from low value retail, toward more F&B, hotels and tourist uses. Premier Inn has gained consent to expand into what was previously New Look, and at the other end, Johnnie Walker are opening a new visitor centre, in what was previously House of Fraser. Indeed, there seems to be an imaginative planning policy designed to support a move in the retail centre toward St James, tourist usage on Princes Street, and the selective revitalisation of George Street in between. Helly Hansen and Sea Salt have recently selected this area, and with an improved tenant mix, it will be possible to reposition it as a prestigious retail destination. With a population of around half a million, an investment of nearly £1bn in Edinburgh can have an outsized effect on both economic activity and amenity. With already vibrant residential and commercial sectors, the St James Centre adds a world class retail element, with positive attendant consequences for the entire real estate market in the city.