The first snowfall of the year on the peaks of the Cascade Mountains is usually around the middle to end of October. The anticipation from the local skiing and snowboarding enthusiasts is palpable. Between October and November's Thanksgiving celebrations, the peaks of the Evergreen State turn white with fresh, powdery snow. Seattle truly has it all from beautiful weather and sunny beaches in the summer months, glorious Fall colours and snow-capped mountain views in the winter. Get out to the slopes this year with our guide to the best skiing close to the metropolis of Seattle.
Snoqualmie Pass
Regarded as Seattle's home mountain, Snoqualmie Pass offers a variety of terrain from fantastic snowboarding runs to night-skiing, family-friendly snow tubing areas and cross-country skiing. The summit is an accessible 52 miles from Downtown Seattle, Seattle locals have been visiting Snoqualmie since the 1930s. The first chairlift was installed in 1949, making it not only the first on the mountain but also the first in Washington State - this chairlift has of course been updated since then!
Snoqualmie receives an average of 426 inches of snow per year, covering a skiable area of 2000 acres, which features 62 runs and 25 chairlifts. The site is split into 4 distinct areas, each with their own characteristics: Alpental, Summit West, Summit Central and Summit East. Summit West is great for beginners and families, with equipment rentals and lessons available. Summit Central is a mix of easier slopes suitable for beginners and slightly more challenging runs for those who want a challenge. Summit East is designed to reflect the Alpine or Nordic skiing of Europe with narrower runs with less off-piste. Finally, Alpental is best for confident skiers.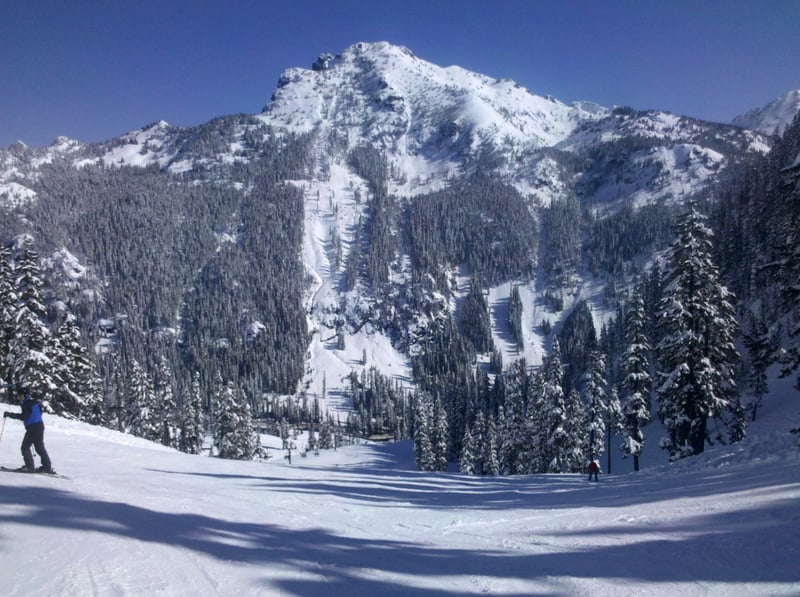 Stevens Pass
Located at the Cascades Crest, this resort is some 80 miles from downtown Seattle and therefore still highly accessible. Stevens Pass is better suited for intermediate and advanced skiers due to its deep, dry power thanks to the cool air from the east of the Cascades, and its steep runs. With 460 inches of snow per year, Stevens Pass is consistently good skiing over the winter months. Spread over 1000 skiable acres, with 52 runs, parks and night-skiing, there is plenty to choose from for the avid snow-sports enthusiast. Featuring slope-side cafés and restaurants, as well as family-friendly snow tubing totally free, Stevens Pass is great for a family day-trip.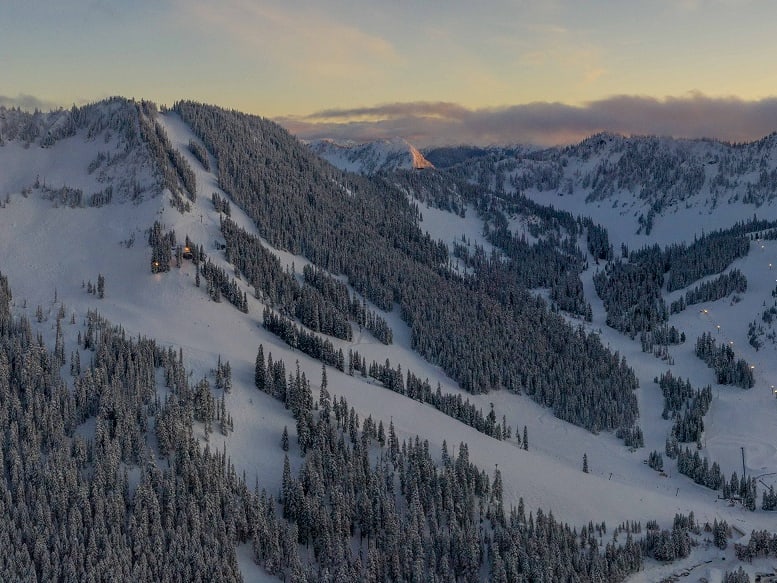 Crystal Mountain
This spot is blessed with a remarkable view of adjacent Mount Rainier, the tallest volcanic peak in the state. The drive from Downtown Seattle is still easy for a day-trip at only 85 miles. This ski resort was founded in 1962 and has since gone on to attract high-quality skiers from around the world. The runs are best suited to intermediates and advanced skiers, but family-friendly slopes are also dotted around the 2600 acre plot. With over 480 inches of snowfall per year, the powder is not as dry as Stevens Pass thanks to its unique geographic features, but the snowfall is consistent, ensuring you can always use Crystal Mountain over the winter months. Featuring summit restaurants with spectacular views of the Evergreen State, your chairlift to the top will be rewarded with some heartwarming food before you bolt down the runs feeling satisfied.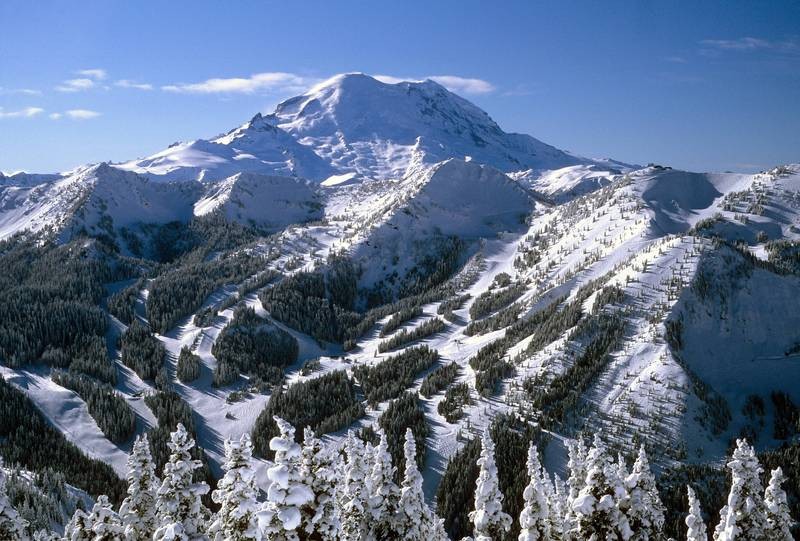 Other honourable mentions should include Mount Baker, White Pass and Mission Ridge, all of which are a reasonable distance of under 3 hours drive from Downtown Seattle. The beautiful state of Washington, is only made better by access to these picturesque mountain retreats.
To find your next investment for you and your family, contact Propeterra today and make Washington your home.