San Diego is a city garnering increasing desirability amongst young professionals. The population of this exciting SoCal city is home to some 3,338,000 people, half of which are either Millennial or Gen-Z according to Cushman & Wakefield. San Diego's young population are driving forward a city already on the cusp of the mega-growth that we have seen in other California cities such as Los Angeles and San Francisco. What lies in store for San Diego in the next decade and what role will the youthful, professionals of the technology age play in its transformation?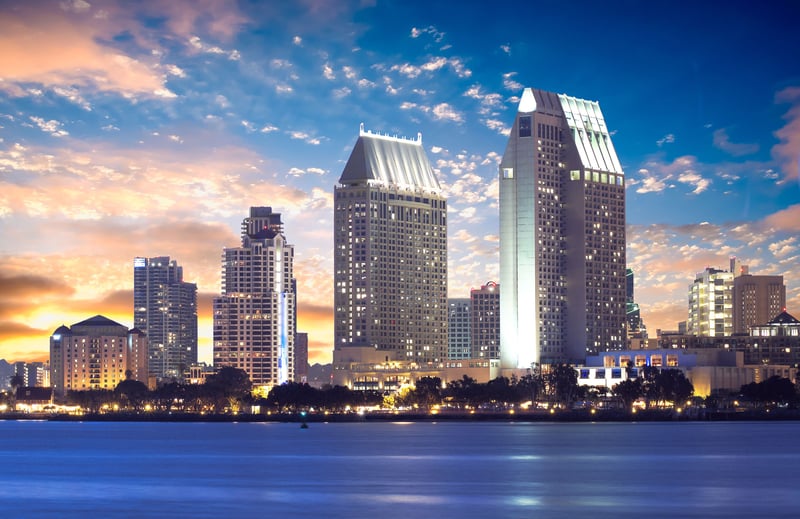 TechCrunch
San Diego has already placed in motion a major redevelopment programme that will see the city's major built up area expanding into the sprawling residential communities that surround it. The local government believes now is the time for a more densely populated urban landscape, rezoning land to be better utilised for the city's corporate future. San Diego Mayor Kevin Faulconer and his elected council have plans to expand the city's modern, upbuilt area thereby encouraging more corporations to utilise the newly built office spaces. This project has two aims in mind: the reduction of affordable housing costs in the city's metropolitan area, and to build the city's brand through a seismic redevelopment plan. With San Diego's population forecast to grow rapidly in the next few years, the implementation of this project has come at the perfect time.
Jolanta Campion, Director of Research at Cushman & Wakefield states that, "over the next 10 years, [San Diego's] total population is forecasted to grow 9% or 335,000 people." These welcomed new San Diegans will primarily reside in the North, East and Central areas of the city according to the report. Within the category of those aged between 20 to 30, the population is set to see a 10% increase, from 974,000 up to 1.07 million by 2030.
Given the forecasted influx in young people, it is pertinent to consider why they are gravitating to San Diego specifically. Underpinned by the goliaths of the life sciences and technology industries, San Diego naturally attracts the younger generation by nature of its industry offerings. It also supports military infrastructure, academia through the reputable University of San Diego (USCD), a varied portfolio of research institutions, alongside its brand as a technology hub for the advancement in a wide variety of sectors such as cybersecurity, aerospace, navigation, maritime, software, health, IT, bioinformatics and cleantech. Collectively, San Diego's research institutions account for $4.6 billion within the local economy, spearheading the city's $14.4 billion R&D cluster.
As a result, the city is home to the US' second highest concentration of engineering and science professionals in the US, garnering over $15.2 billion in venture capital within the last decade. Companies are sensing the growing reputation of San Diego and are making claims to take advantage of the city's 'undiscovered' commercial real estate. Apple Inc. already occupies some 97,000 square feet of real estate in the city's Eastgate area, leasing a further 360,000 square feet recently with an estimated occupancy date of early 2021. The technology sector as a whole accounted for 18% of office space as of Q4 2019. These industries, on average, are progressive, seeking to propel humanity into the future through innovative solutions to today's challenges. For many young people, these industries are more attractive for their social benefit aspects. Collectively, the population increase in San Diego, and the industries looking to consolidate office space within the city will generate wide-reaching exposure for the area, perpetuating a desirability and the cycle of influx further.

AlliedCleanrooms
San Diego is an incredibly exciting area right now. As the population grows alongside the city's dominant industries, existing homeowners are seeing the great benefits of a competitive market and rising house prices. Isn't it about time you saw San Diego in the same way? For more information about how you can maximise your United States real estate investments, contact Propeterra today. Propeterra, your global real estate advisory.