Colorado is home to some of America's best scenery. The wild landscapes outside of the state's capital, Denver, offer some incredible experiences right on your doorstep. Live the best of an urban and outdoors lifestyle in Denver, with its bustling downtown and beautiful scenery just a stone's throw from the city centre, there is arguably no better city to live in for those that love to explore nature. Whether you are passing through, living in Denver or even considering moving to the Mile High City, check out our guide to the best outdoor activities below.
Hike/Bike Red Rocks Park
The park plays home to the astoundingly beautiful Red Rocks Amphitheatre, at which visitors can enjoy some of their favourite bands playing throughout the summer months under the great, open Colorado sky. However, during the daytime, this area is a great place to explore on foot or by bike. Choose from a number of different trails of varying difficulty to challenge yourself as you traverse this ancient landscape. The Trading Post Trail is 1.4 miles long, showcasing the area's impressive rock formations and other geological features. As when undertaking any kind of hikes, visitors should wear sensible clothing and hiking boots to minimise the risk of injury. For the biking trails, check out the Red Rocks Trail. The route splits leading to either Jefferson County's Winters Park or the Dakota Ridge Trail. Choose your route and get exploring the slanting rock formations of this beautiful landscape.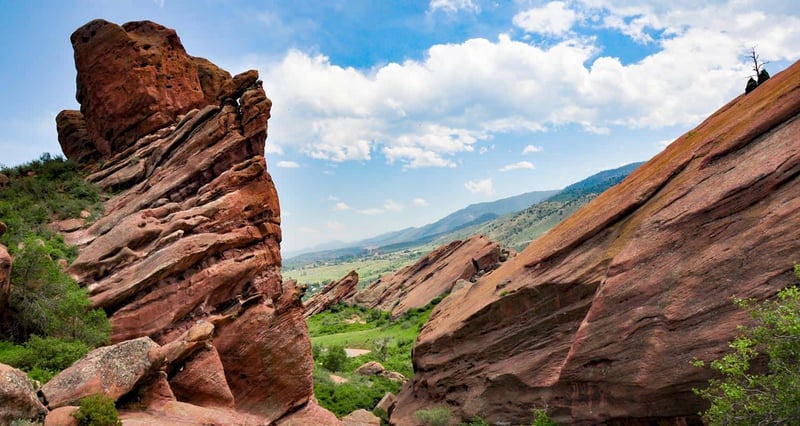 DayHikesNearDenver
Rocky Mountain National Park
The Rocky Mountains are America's defining mountain range, the spine of the country and a nature preservation teeming with wildlife from bald eagles, the national animal, to bobcats and grizzly bears. The park is accessible from downtown Denver in under 2 hours drive time. The national park itself features 415 square miles of unspoiled nature, hikes and the Continental Divide. Cross the continental divide on Trail Ridge Road, the highest continual highway in the world, walk the hundreds of miles of trails, see the lakes, waterfalls and wildlife as you traverse this area of outstanding natural beauty. For all your refreshments, head to Estes Park, a small town on the edge of the park complete with restaurants, shops and historic Stanley Hotel.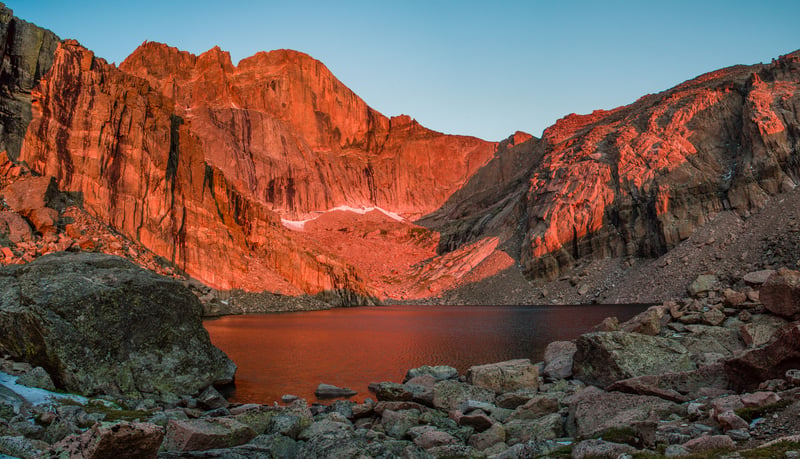 Denver.org
Visit Echo Lake on Mount Evans
To get to Echo Lake, located some 60 miles from downtown Denver, visitors have to drive up 14,000 ft tall Mount Evans on a route that sees snowfall so frequently that it is only open for a few months of the year. The drive is well worth it, you'll agree, upon seeing the views stretching far into the distance and encompassing the entire Front Range of the Rocky Mountains. Stop along the route and enjoy the M. Walter Pesman Trail featuring rare wildflowers and age-old pine trees as it winds through stunning alpine areas.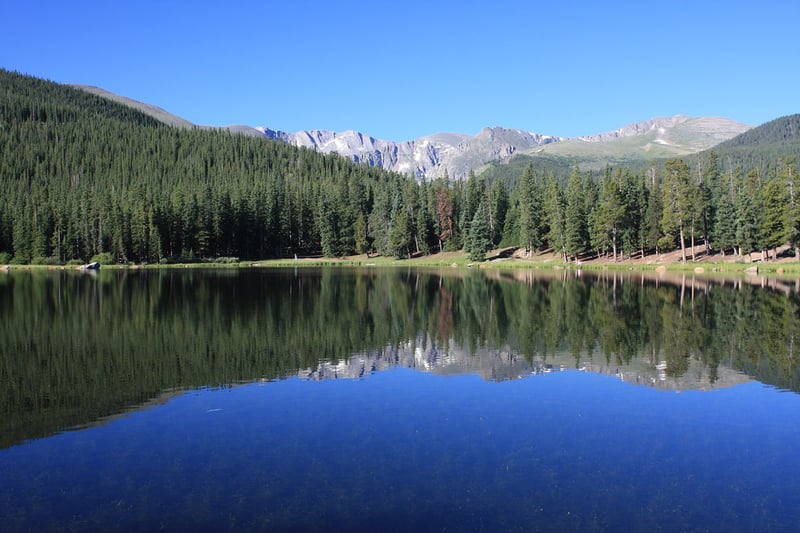 Flickr
Whitewater Rafting
For those who are keen on adrenaline-inducing sports, brave the Colorado rapids (not to be confused with the MLS franchise) at any of the local whitewater spots including Clear Creek Rafting Co. or Raft Masters. Feel the rush as you hit the waters of Clear Creek in Idaho Springs or the Arkansas River. This activity is great for kids above 9 years old and is on offer all summer. So grab your swimming gear and get ready to hurtle down the rapids in the stunning surroundings of the Colorado landscape.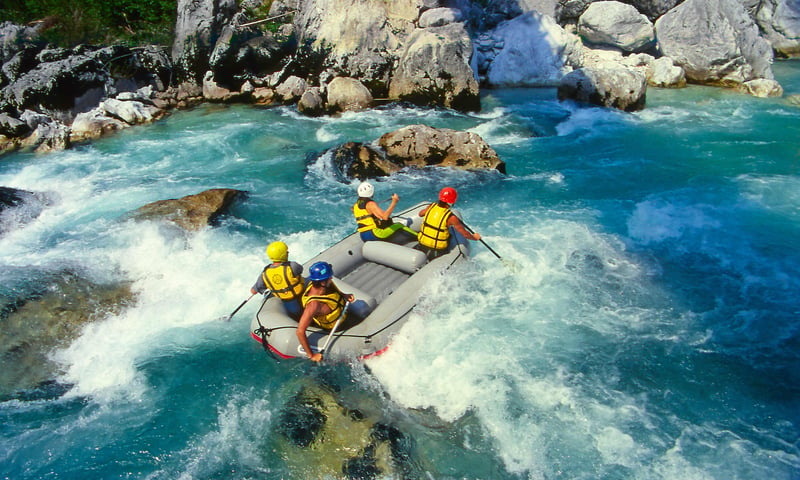 CheckYeti
Go Zip-lining
Colorado's natural landscape lends itself to adventure playgrounds like that of Castle Rock Zip Line Tours. The thrilling 1.5 miles of zip-lines are exhilarating as visitors can soar down them at up to 50 miles per hour. Other activities include a 42 foot high climbing wall and obstacle courses. For your chance to zoom across Clear Creek at Idaho Springs, the Colorado Adventure Centre offers a 65 feet high, 1 mile long zip line experience. If you prefer the idea of a one-stop-shop for all your adventuring desires, look no further than Lawson Adventure Park and Resort, which offers visitors a comprehensive package of energetic activities. Try zorbing, rafting, climbing and zip-lining in one easy destination for a thrilling day out.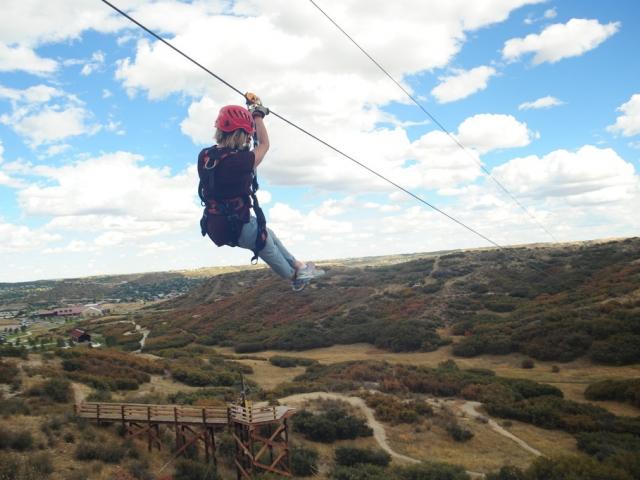 Colorado.com
Colorado's incredible landscape and outdoor opportunities draw people to live in the state from all over the world. The rise of Denver in recent years thanks to low unemployment, great corporate investment, a strong real estate market and a popular, healthy lifestyle means that more people than ever are enjoying the Colorado landscape. Why not enjoy it for yourself? To learn more about how we can help you to realise your real estate investment potential, contact Propeterra today. Propeterra, your global real estate advisory.