San Francisco has remained a 49 square miles, densely populated hotbed of financial, technological and creative industries for over a century. The limited space combined with San Fran's growing international reputation as the centre for new-age technology in Silicon Valley, has caused commercial real estate valuations to soar in recent years. The high price of real estate and growing demand for office space has meant further limitations to the creativity of urban designers and architects. With large-scale infrastructure development projects few and far between, these multi-billion dollar construction initiatives will undoubtedly change the face of the city. Check out the revolutionary projects set to augment San Francisco by 2035 below.
Transbay Redevelopment Area
Set to redevelop a 40 acre plot northeast of downtown, the axial project that anchors the project will be a 5-storey transportation hub. Originally agreed in 2005, the project broke ground in 2013 with a few of the skyscrapers already complete, notably the tallest in San Fran at 1070 feet tall, the Salesforce Tower. Totalling an estimated $4.5 billion, a 5.4 acre park will be constructed atop the transportation hub with 3 million square feet of office space and 100,000 square feet of retail space also planned across three landmark towers. The entire project is set to be complete by 2030 according to the city of San Francisco's development office.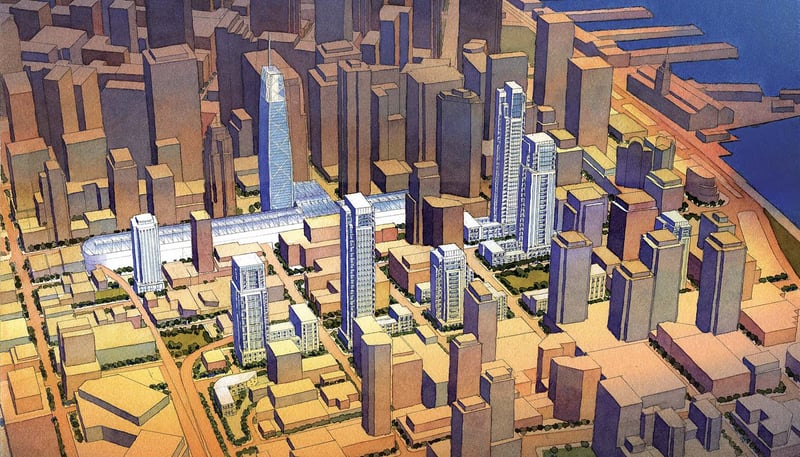 SOM
Mission Rock
The site of Mission Rock is owned by the San Francisco Giants, one of the country's leading Major League Baseball teams that holds a passionate city-wide fanbase. The city's heartthrob is set to renovate a 28 acres on the city's waterfront opposite the teams existing AT&T Stadium. The project will prioritise public-access outdoor space but will also feature the 1.4 million square feet of office and commercial space. Plans are in place for 1500 residential units exclusively leased for renters in an attempt to combat the city's shortage of affordable housing. An on-site brewery is a unique but welcome addition to the mixed-use development with 8 acres of public space causing a stir amongst locals in anticipation. The $1.6 billion development broke ground in 2019 with no forecasted date of completion but timelines estimate it ready for the public before 2035.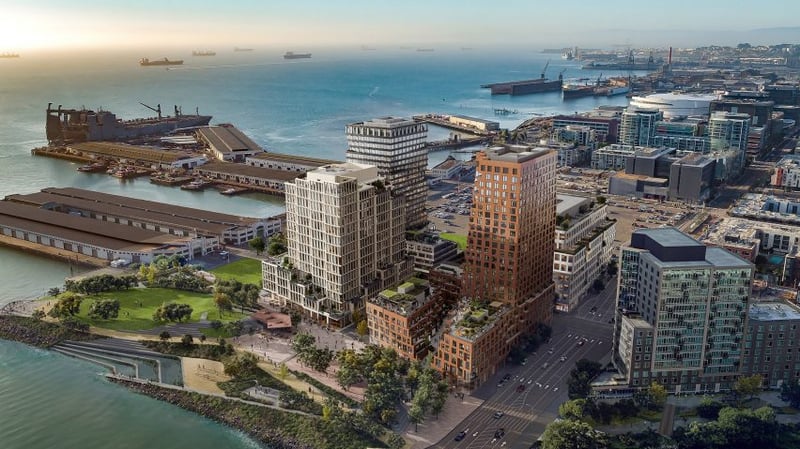 Dezeen
Mission Bay Redevelopment
A seismic development project, the Mission Bay Redevelopment will include thousands of housing units alongside public, retail and office spaces. The jewel in the crown of this construction initiative is the Chase Center, a 18,000 seat basketball and live music arena, which plays home to the San Francisco Warriors as of 2018. The site's redevelopment was approved back in 1998, with development having taken place in phases thus far. With the completion of the anchoring Chase Center, the other facilities are likely to be more logistically simple going forward. With 4.4 million square feet of office space, a new University College of San Francisco research campus and associated medical centre, over 400,000 square feet of retail space, hospitality facilities, 40 acres of public space, a public school, public library, security facilities including police and fire stations and interconnectivity through the light rail transit system. With many facets of this multi-use development already constructed, the Mission Bay area has radically changed from only a decade ago.
Other projects include the 5m Development in the SoMa district, which is set to including an array of housing units at various price points, over 800,000 square feet of office space, retail and dining facilities also; the Treasure Island Development, proposed to become a commuter hub with residential and commercial facilities; the Candlestick and Shipyard residential, masterplanned communities and Parkmerced in southwest San Francisco.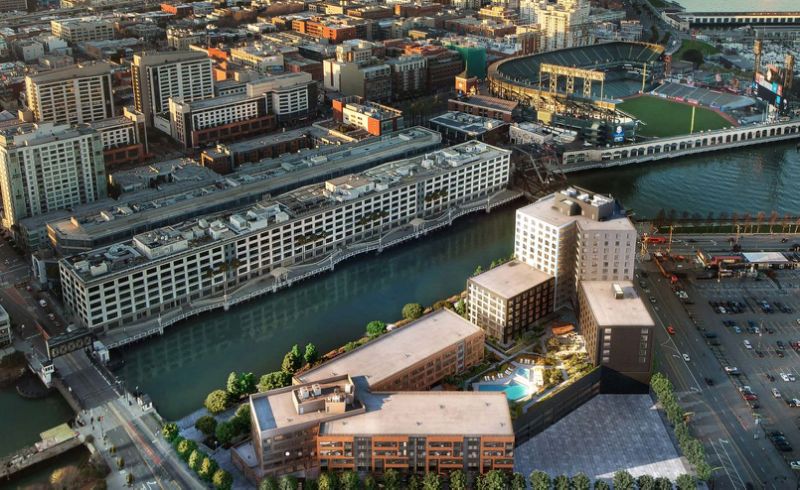 With so many seismic projects on the horizon, breaking ground or set to come to completion in the next few years, San Francisco's commercial and residential real estate markets are forecast to continue rising. To find your own real estate investment or your slice of the San Francisco lifestyle, contact Propeterra today and discover your American dream.