Since gaining independence in December 1991, Kazakhstan's economy has undergone deep transformation. Whilst establishing national institutions and starting the transition from a centrally planned to free market economy, following the breakup of the Soviet Union, economic instability led to a deep recession between 1992 and 1995, especially as a result of collapsing demand for Kazakh heavy industry. Between 1990 and 1995, GDP fell by 36%, with inflation peaking at 3060% in 1992. Despite economic recovery between 1995-1997, stimulated by increasing the increasing privatization of state assets and the signing of the 1996 Caspian Pipeline Consortium agreement to build a new pipeline from western Kazakhstan's Tengiz field to the Black Sea, the economy was hit by the fallout of the Russian financial crisis of 1998 and slump in the price of oil. As a result, GDP declined 2.5%. Overall the economic disturbance of the economy in the 1990s led to the destruction of 1.6 million jobs. Since recovering from the fallout of the Russian financial crisis, Kazakhstan's growth performance has been significant, averaging almost 8% per annum in real terms between 2000 and 2013 despite substantial slowdown during the 07/08 financial crisis.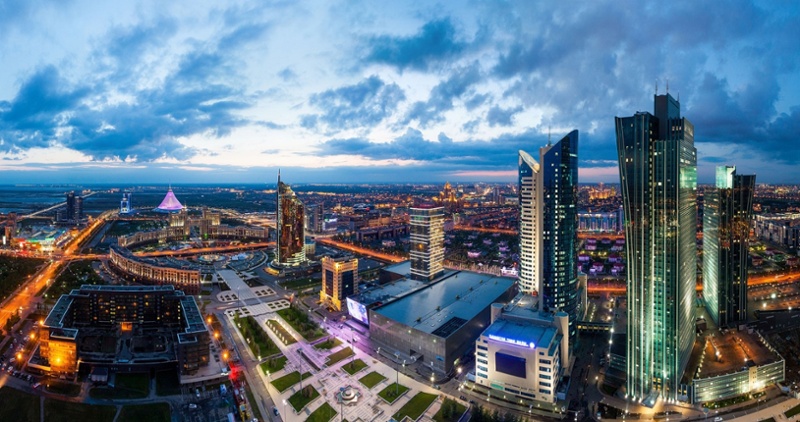 The growth has been significant driven by the oil and gas sector, which expanded in Kazakhstan between 1998 and 2007, during which time the price of Brent Crude also increased from $20 to $150 per barrel. Value added in this sector also increased from 8% in 1998 to 20% in 2010. The economy has also started to shift away from sectors of low productivity such as agriculture, with employment in the sector dropping from 35% to 24% between 2001 and 2014. The agricultural sector is however, highly unproductive, representing 24% of employment albeit only 5% on GDP. Kazakhstan has also taken efforts to try and boost foreign investment and trade. In 2010 Kazakhstan joined Russia and Belarus to establish a Custom Union, in an effort to boost foreign investment and trade, with the Customs Union latter developing into a Single Economic Space in 2012 and the Eurasian Economic Union (EEU) in January 2015. Kazakhstan also joined the World Trade Organisation in 2015 (WTO).
CURRENT GROWTH AND OUTLOOK
GDP is seen contracting notably this year as activity takes a double hit from severe restrictions imposed in Q2 and a second wave of social-distancing measures in Q3. Economic output should rebound in 2021 as external demand rebounds and oil prices recover somewhat. However, possible further restrictions pose downside risks to the outlook. FocusEconomics analysts project GDP to expand 4.0% in 2021, which is up 0.1 percentage points from last month's forecast. For 2022, the economy is seen growing 4.4%.
GDP Growth (annual %)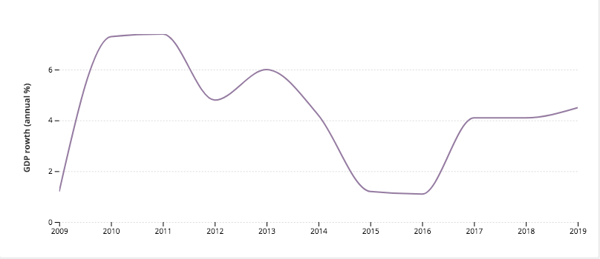 KAZAKHSTAN 2050 STRATEGY
These fall into both short-term and long-term changes. Building on the success of the early 2000s, 2012 saw Kazakhstan set the overarching objective of becoming one of the 30 most developed countries by 2050. The 'Kazakhstan 2050 Strategy' sets priorities for economic, social and political development, however, the success of achieving Kazakhstan's vision for 2050 will be judged not only on the basis of GDP per capita, but also on the basis of citizen's wellbeing and the transformation of the economy and society.