Washington, DC is blessed to be set in the beautiful landscape of the northeastern United States. Whilst the city itself is historical and architecturally stunning, full of neoclassical gems, imposing stone façades and towering ceilings with exquisite mouldings, it is only natural one begins to crave the freedom of the great outdoors. Thankfully, Washington's surroundings are well worth venturing outside of the city for. The city itself is lucky to have open green spaces for the public to enjoy on a bright day, but there is more to the Maryland and Virginia landscape than meets the eye. In order from easiest to hardest, here is a short guide to the 5 most enjoyable hikes around the city - so get out there and walk these states!
Scott's Run Nature Preserve
This tranquil hike is only a short drive from downtown DC making it accessible to those conscious of time or dissuaded from driving long distances. Culminating in a stunning riverside waterfall, the 2.2 mile loop is the easiest listed here. Amble across streams and over shallow hills, this dog-friendly hike is perfect for a morning stroll - you could even take young children, it's that easy! The hike in its entirety is manageable, accessible and enjoyable for all. If a strenuous, heart-pumping walk is not your style but getting out in the glorious outdoors of McLean, Virginia is, then this is the hike for you.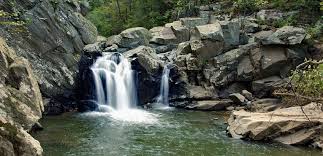 FairfaxCounty
Mount Vernon Trail
Included here for its historical and hiking value, the Mount Vernon Trail is 18 miles in total but can be shortened significantly for those daunted by spending a few hours on the move. Located in nearby Arlington, Virginia, the hike's reward is stunning DC skyline views, where you can really soak in the beauty of America's capital. The trail is bike-friendly, so if cycling is how you would prefer to spend your down-time, then this trail is highly recommended. Connecting to the web of trails and paths through the Virginia countryside, the Mount Vernon trail is arguably one of the most popular routes for its connection with the birthplace of Founding Father and first President of the United States, George Washington. Culminating at Theodore Roosevelt Island, hikers can't help but be in awe of the history and significance of this area of the country whilst overlooking the city. The trail is accessible by car and can be incorporated into a day trip to the quaint town of Mount Vernon.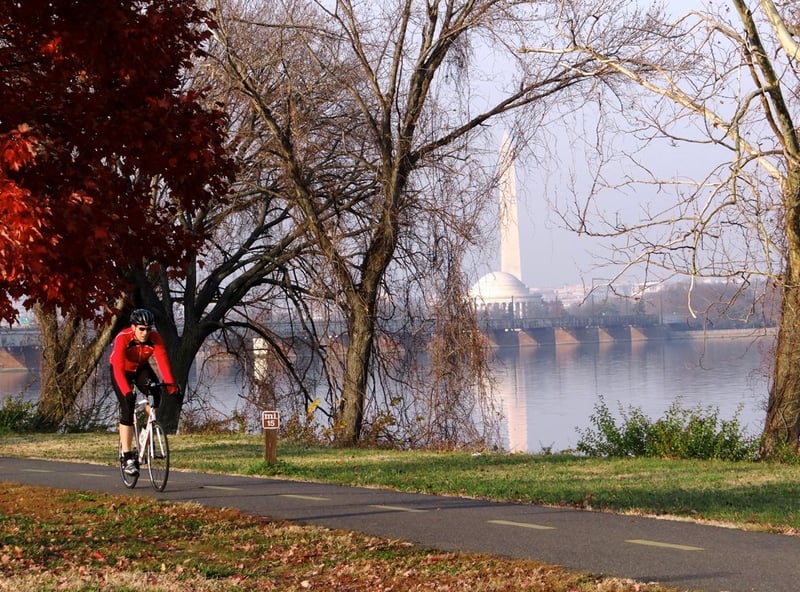 Washingtonian
Maryland Heights Trail
A moderately difficult hike, the trail leads to Harpers Ferry within the National Historic Park. A landmark of the American Civil War, Harpers Ferry sits at the convergence of the Potomac and Shenandoah Rivers as well as the convergence of Maryland, Virginia and West Virginia. Only a one hour drive from downtown DC, the trail is accessible and provides two route options. Either walk the entirety of the route totalling 6.5 miles or finish the 'overlook' of the route at 4.5 miles in with unrivalled views of Harpers Ferry, the convergence of the rivers and the historic iron bridges.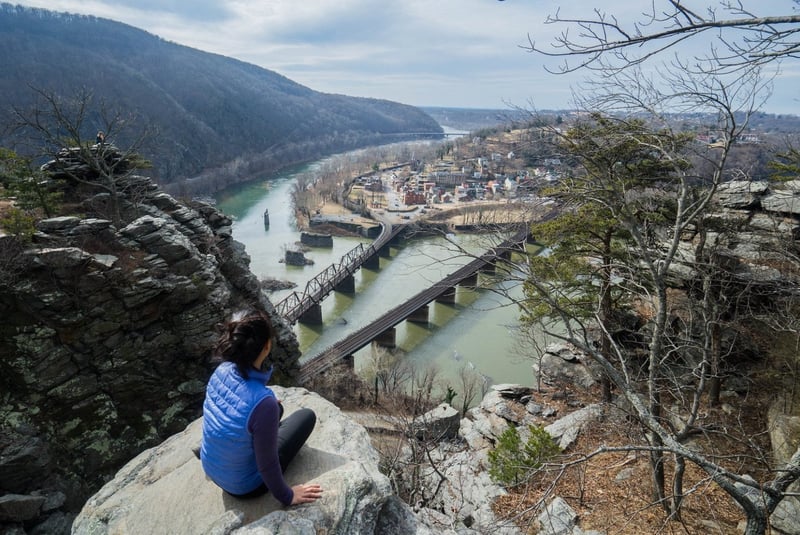 UrbanOutdoors
Whiteoak Canyon
Another moderately difficult hike, this route totals 7.3 miles. Hikers get to enjoy the 8 cascading waterfalls that act almost like punctuation within the route, signalling a moment to stop and enjoy your surroundings in tranquil settings. This route can be done as a stand alone walk or as part of a day trip to Shenandoah National Park. Providing great photography opportunities, this route is especially popular in Fall when the leaves turn a burnt orange, the light is mellow and you are surrounded by beautiful, imposing nature.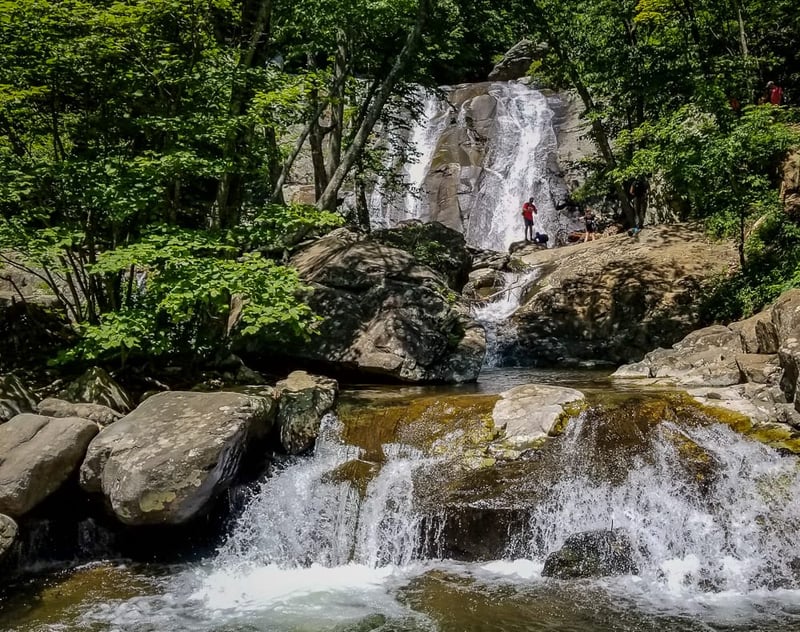 CasualTravelist
Old Rag
The most difficult hike listed, Old Rag is a route for experienced hikers given its demanding qualities. Located in the Shenandoah National Park, the trail totals 8.6 miles in length. This route is arguably one of the most popular and most challenging routes available near Washington, DC. It is largely an uphill battle that is rewarded with unparalleled views stretching across the protected nature reserve. Hikers are advised to keep going until there is a clear sign that you have reached the summit as Old Rag is famous for its false summits that can mislead hikers and prevent them from achieving the peak. This hike is demanding so hikers should be well prepared with adequate supplies like food and water, as well as noting there are areas where scrambling will be necessary to mount various rock formations.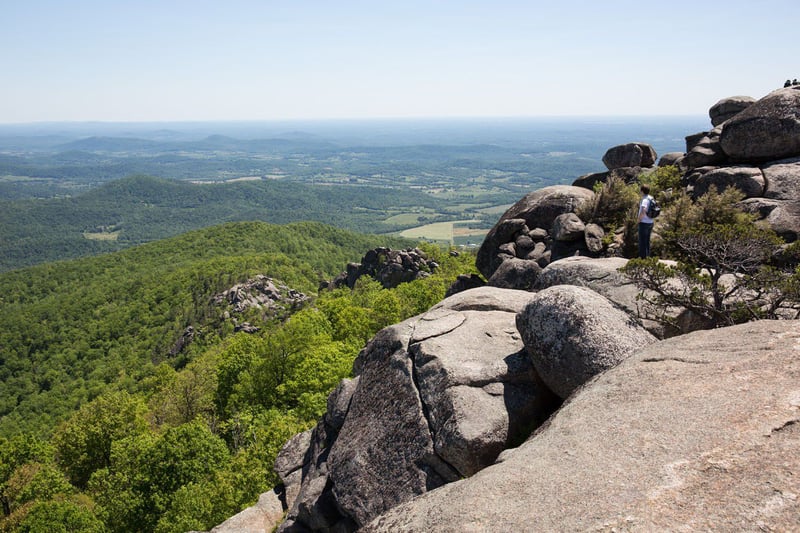 EarthTrekkers
Washington has lots of great ways to experience the beauty of the surrounding landscape and hiking is a popular pastime among Washingtonians. Always make sure you are well prepared for a hike including water, snacks, proper footwear and proper clothing to avoid injury. To better understand what living in Washington is like, including the restaurant and nightlife scenes, head over to the Propeterra Resource Centre to find out more. Or you can contact Propeterra today to find out what real estate opportunities are available in Washington, DC, America's illustrious capital.