So you've decided to move to Bristol - what a great decision! Bristol is a city with so much to offer - fascinating history, beautiful green spaces, cultural diversity and a great range of restaurants and bars. But Bristol is a big city, with many different neighbourhoods to suit everyone, from slick urban professionals to friendly families. Check out our guide below to find the perfect place for you.
1. Clifton
Number one on any house-hunter's list is desirable Clifton, with its beautiful Georgian and Victorian architecture and upmarket shops and cafes. But beware - all this charm and elegance comes at a price, as Clifton has the highest house prices in the city.
Where to eat: Fishers Restaurant is a fantastic place to enjoy sustainable, locally-sourced fish & chips - and there's an onsite fishmongers, so you can even choose something to take home with you!
Where to drink: Visitors shouldn't miss the Coronation Tap, a renowned Georgian pub famed for its cider.
Where to shop: Clifton Arcade is a stunning two-story Victorian shopping arcade which has recently been restored - check out My English Home for some interior design ideas and paint workshops.
Average property price: £524,719
2. Totterdown & Temple Meads
Colourful Totterdown will be familiar to many for its gaily painted terraced streets, once home to railway workers. Today, this artistic area is popular for its lively bars and cafes, easy access to the city centre and train station, and relatively affordable house prices.
Where to eat: Visit the Totterdown Canteen for a greasy spoon with a twist - regulars love the bustling atmosphere and veggie breakfasts.
Where to drink: If you love music, head to The Thunderbolt, an intimate and eclectic live music venue serving local cider and ales.
Where to shop: Visit The Bakehouse for delicious frappucinos, home-made cakes and locally milled flour.
Average property price: £270,264
3. Redcliffe & City Centre
If you're a true urbanite and want to be in the heart of the action, then the City Centre is the place for you. Properties available in this area are mainly flats and apartments, and with a number of new developments in the pipeline, it's rapidly growing more popular with young professionals and commuters.
Where to eat: Mugshot is the epitome of 20s glamour - the ideal place to impress a date. Try their hot stone steak experience for something a little different.
Where to drink: Don't miss Black Rock Bristol if you're a whisky lover; they have over 200 different types, as well as a range of signature whisky-based cocktails.
Where to shop: St Nicholas Market, in the heart of the Old City, houses a fantastic range of independent retailers, selling everything from vintage stamps to hot sauce to handmade clothing.
Average property price: £277,224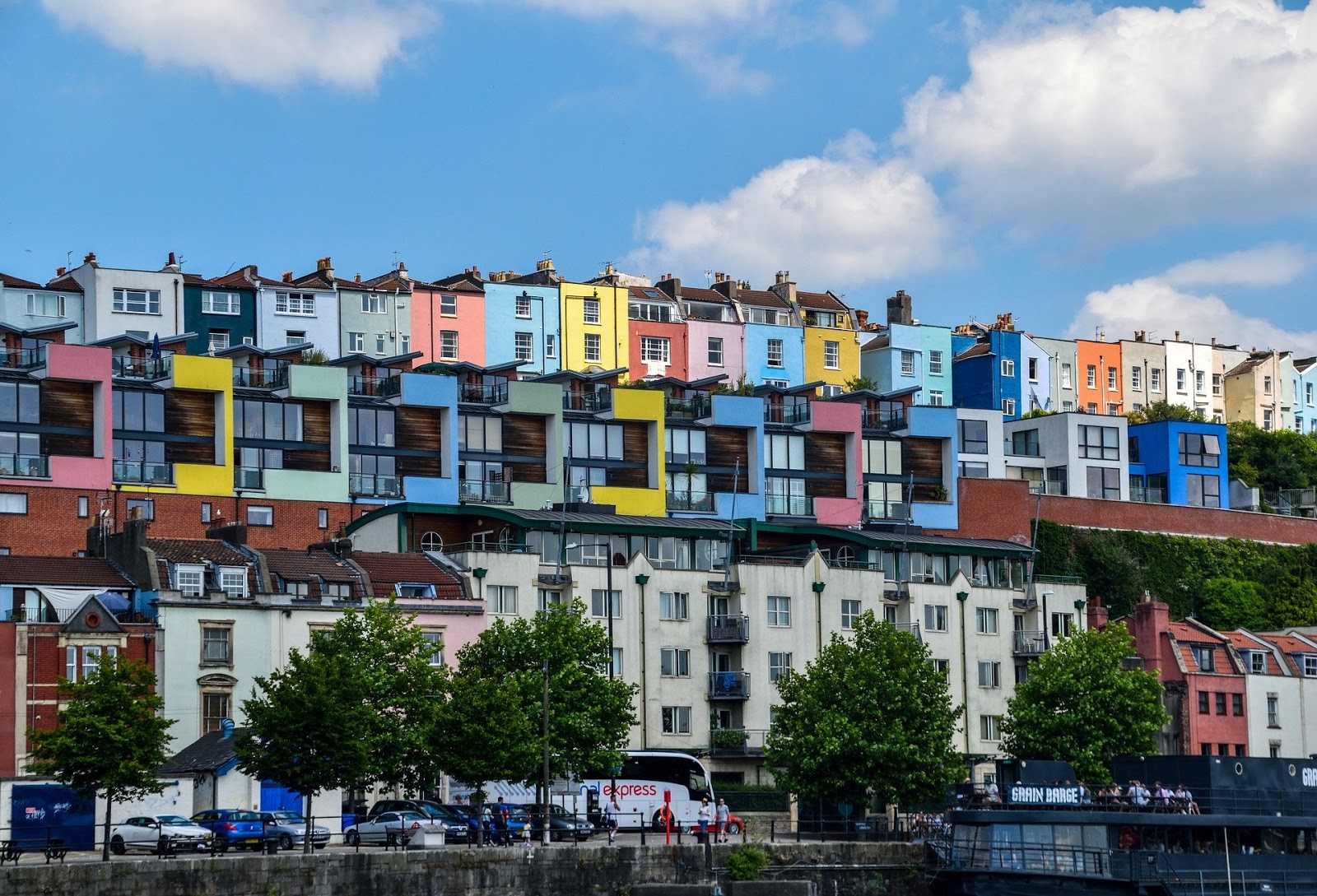 Colourful terraces in Totterdown
4. Stokes Croft
This is one of the most diverse parts of the city, filled with vibrant street art and lively bars. Formerly a grimy and run-down area with some social problems, a host of new developments mean that this neighbourhood is gentrifying rapidly, and filling with hip new cafes and shops.
Where to eat: Canteen is the place to go for local, sustainable, vegan and vegetarian food, and is the winner of two Bristol Good Food Awards.
Where to drink: Craft beer fans will love Crofters Rights, with an ever-changing array of beers from the UK and around the world, and live music later in the evenings.
Where to shop: Gloucester Road is Bristol's Indie Shopping District - visit Room 212 for locally-made gifts and artworks.
Average property price: £227,783
5. Harbourside
This formerly derelict area has sprung into new life following a ten year redevelopment programme and is now filled with attractions and buzzing new restaurants and shops. With new apartment buildings offering stunning waterfront views, this is a place for people who love to be in the thick of the action.
Where to eat: For something a bit special try the Riverside Grill - with its floor-to-ceiling windows looking out over the river, and high end dining, this venue is sure to impress.
Where to drink: No. 1 Harbourside is another venue with stunning waterside views, and a great range of drinks on offer.
Where to shop: CARGO at Wapping Wharf is a shopping area made entirely of shipping containers - try Something Elsie for retro clothing, or Husk for stunning kitchenwares.
Average property price: £328,750
6. Stoke Bishop
This suburb is the perfect area for families - a bit further out from the city centre, it's quieter than some other neighbourhoods, but with good schools, spacious houses and close to the University of Bristol. It's also close to the Downs so it's easy to escape for some country views and fresh air.
Where to eat: Visit Ciao for delicious authentic Italian food in a family-friendly atmosphere.
Where to drink: The Mill House is a relaxed local pub with a welcoming atmosphere, serving delicious roast lunches on a Sunday.
Where to shop: Locals love Aimee's Wine House for the best tipples in town - with over 500 wines in stock, it was shortlisted for Best Independent Wine Merchant in 2020.
Average property price: £676,032