When we write about the potential for rental yields in Ulaanbaatar, we offer point to the large (and growing) expat community. Our narrative is that foreigners seek prime units, and though there has been no shortage of new commissions, there is a lack of actual delivery. These people, often transient, work in specialist roles, and have large housing packages, underpinned by even larger corporates.
Their contribution, can be a vexed question for politicians, but is generally acknowledged to be beneficial for Mongolia- a fact reinforced by policy makers who recently rejected a cap on numbers. Here we consider, three trends relevant to real estate investors.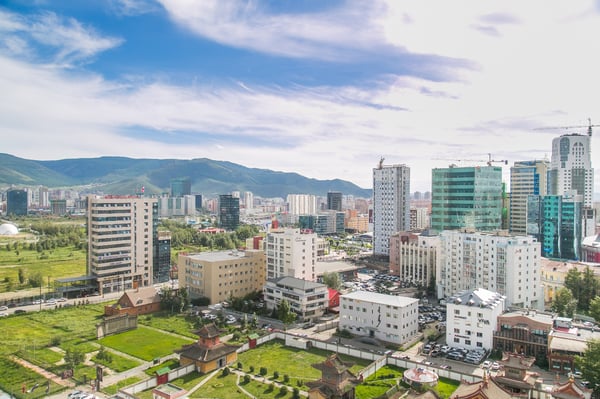 1. The number of foreigners coming to work on Mongolia is on the up……
The National Statistical Office of Mongolia (NSO), began tracking the arrival of foreigners arriving to in 2008. Back then around 19,000 people came- a figure that increased eightfold by 2011 at the height of the boom. Since 2011, there has been a decline in the number of arrivals, briefly interrupted in 2014. By 2016, the figure was triple 2008, but a third of the peak. 2017, saw an increase of over 6% compared with the previous year. Though a welcome development in itself, Mongolia-watchers know this may be less than the true number. The truth- understood but little reported- is many individuals on short business trips arrive on tourist visas if only in the city for a few days. So, in practical terms, the figure may be higher than the headline figures suggest.
2. ...and the number coming to permanently reside is rising sharply.
But, a relatively modest increase in people issued work visas should not send developers to the bar in jubilation. What is more exciting, is permanent settlement. Mongolia has changed markedly over the last decade. Where previously a move to Ulaanbaatar may have been for the more intrepid worker, now, there are a range of amenities sufficient to comfort the home-sick expat. Excellent local and international schools, and an increasing bar and entertainment scene. This combined with some of the most beautiful scenery in the world, is enhancing the appeal of the home of Chinggis Khan. As the chart shows, there was a significant increase in permanent settlement in 2017, when compared with 2016- amounting to a growth over 30%.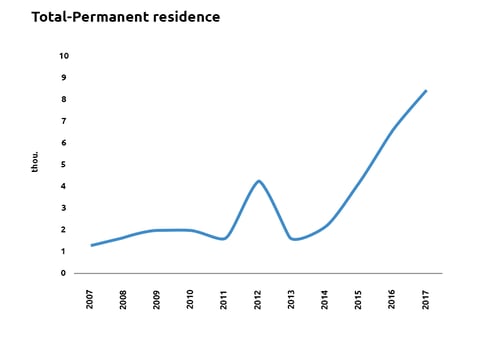 The data seems to suggest that in the past, full time workers were brought in in smaller numbers, possibly for short contracts rather than to work longer term. But this trend is changing.
3. The biggest source of new permanent arrivals is from the Americas, East Asia and the Pacific and Europe.
Over 50% of the permanent arrivals in 2017, came from countries in East Asia. Since independence Mongolia has a proud history of welcoming workers- both skilled and unskilled- from neighbouring countries and those further afield. Our own staff have set up Mongolian Chambers of Commerce in Singapore and Hong Kong. South Korea and Japan are important allies in the road to economic development, and the Sino-Mongolia relationship, though tumultuous, is warming with positive statements from leaders in both Beijing and Ulaanbaatar. With this increased interaction, companies place staff into the country to oversee development and work with Mongolian colleagues.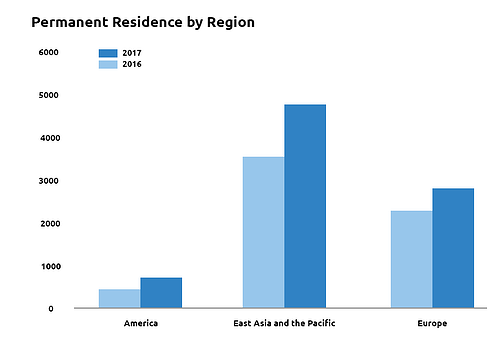 The biggest increase in arrivals is from the Americas- up nearly 57% year on year. The number of people arriving to build a home in Mongolia from East Asia meanwhile increased by a third, with those from Europe by a fifth. We've documented successive announcements in Mongolia in 2017 from multinationals as to the initiation or acceleration of activities in the country. Figures seem to suggest this is matched by the arrival of workers, who will seek high quality accommodation for themselves and their families- a fact corroborated by our own anecdotal findings.
4. What does an increasing expat population mean for real estate investors?
If we wanted to build a company targeted at an expat class of workers, in a commodity-driven economy, it would be built on insecure foundations. APIP tracks urbanization in Mongolia, and believes with such incredible mineral wealth, rising prosperity will stoke the need for housing. This said, Mongolia, in the way of certain Middle Eastern countries, has a mismatch, where in the early stages of development of these sectors, labour will be imported. The nature of work undertaken- and its corporate sponsorship- mean for now, at least, there is a shortage of good quality product to cater to this demographic. As capital values are at a cyclical low, with rents on the rise (driven by domestic and international demand), attractive yields can be delivered to adventurous investors.