Denver has seen massive growth in the past decade and continues to be one of the hottest US real estate markets year after year, receiving major investment from international corporations. The 2020 Emerging Trends Report, compiled by PricewaterhouseCoopers and the Urban Land Institute sees Denver competing with other hugely successful markets in Austin, Texas, Raleigh-Durham, North Carolina and Charlotte, North Carolina (if you want to learn more about the real estate opportunities in these cities, check out the Propeterra Resource Page on our website. Denver's sprawling population growth, influx of millennials, deep talent pools and economic diversity make it an attractive place to establish oneself. With this growth has come rising house prices, a dwindling supply of office space, rising commercial property taxes and increased corporate tax. These results have benefitted existing residents and, largely, companies continue to see Denver as a highly desirable space. The population growth has been outpacing new construction and the demand for commercial and residential real estate has spiked in recent years. The commercial development projects in this article will define a new age of Denver and what it aims to achieve, doing so in style. Check below to find out more!
River Mile Development
Set to bring a new lease of life to Confluence Park, the River Mile Development is a project centred around the urban magnet philosophy. The aim of this is to develop densely build up urban centres that prioritise walkability and sustainability, encouraging people to spend elongated periods of time in these public spaces. This marks a sharp contrast to the often employed American development ethos of urban sprawl, taking advantage of vast space and promoting the use of private transport to navigate this distance. Over a 25 year period the River Mile Development aims to infill the existing Elitch Gardens and, eventually, the amusement park. The space will seek to ensure sufficient daycare, recreation and schooling for children; deliver bike bridges over the South Platte River, as well as pedestrian routes; curate a riverfront public park whilst conducting river 'improvements' in areas including but not limited to ecology, riverbanks and public safety. The residential units will be priced as affordable housing to ensure those with less income are not pushed out of the city centre as the city seems dramatic growth.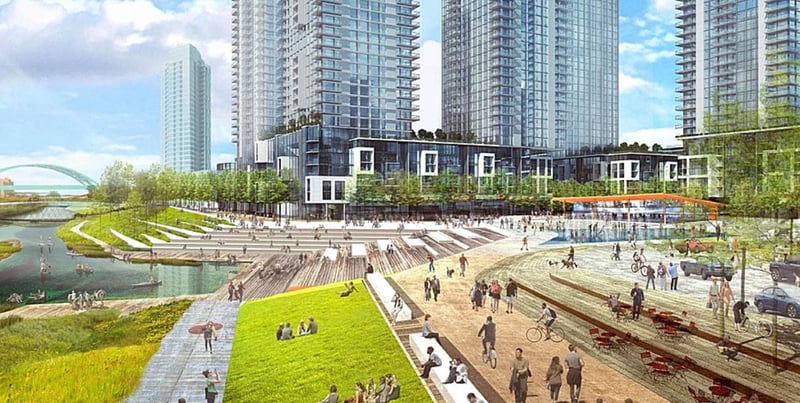 DenverPost
BroncoVille
The area surrounding the Mile High Stadium - the home stadium of local National Football League franchise, the Denver Broncos - is set to be developed into a mixed-use destination neighbourhood for entertainment. The stadium currently has approximately 50 acres of sprawling parking lot surrounding the ground, much of which can be developed whilst maintaining parking accessibility for those unable to use public transit options. The aim of this neighbourhood is to be a densely residential development, providing affordable housing and offering retail opportunities and public spaces. Mac Freeman, The Chief Commercial Officer of the Denver Broncos has voiced the franchise's desire for a "pedestrian experience" that sees the public enjoy the space on foot, interacting with and discovering the environment as they walk through it. The development is believed to be a 10 year project that will effectively create a new vibrant neighbourhood in the heart of Denver.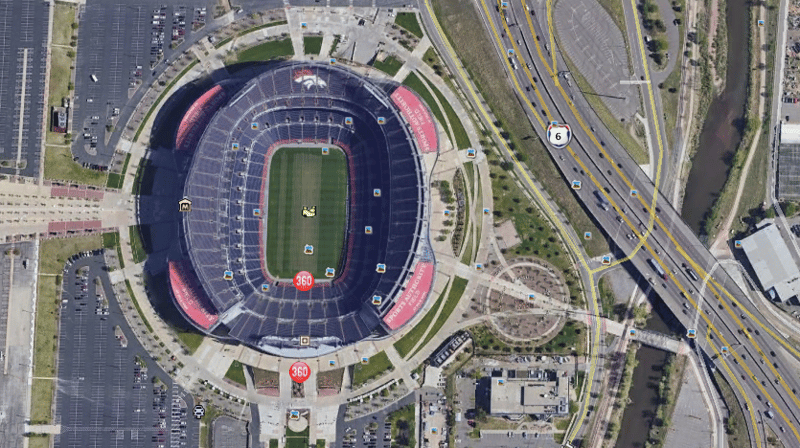 BizJournals
North Wynkoop
This project has already broken ground in 2018 with the primary infrastructure construction ongoing to ensure the 14 acres between Brighton Boulevard and the train tracks from 40th to 43rd Street is fit for purpose. The project is different to both Bronco-Ville and River Mile in that it is creating a community space first and foremost. Its aim is to develop an area of the city much loved by artists, creating a more suitable and engaging space for all whilst promoting the work of the various creatives that call it home. The area will feature a 3700 capacity venue to engage audiences with performance from local talent. In order to combat the lack of new, affordable housing in Denver, coupled by rising house prices across the city, the project will include affordable residential units. North Wynkoop will also challenge the lack of office space that is challenging the city in attracting even more corporate investors. Therefore it has committed to develop 1 million square feet of office space across the 14 acres. A community-led market over 80,000 square feet and lots of ground floor retail space across the entire complex will encourage visitors to see North Wynkoop as a destination district. Finally, local artists will be catered for through special units, or studios that they can rent for their creative endeavours.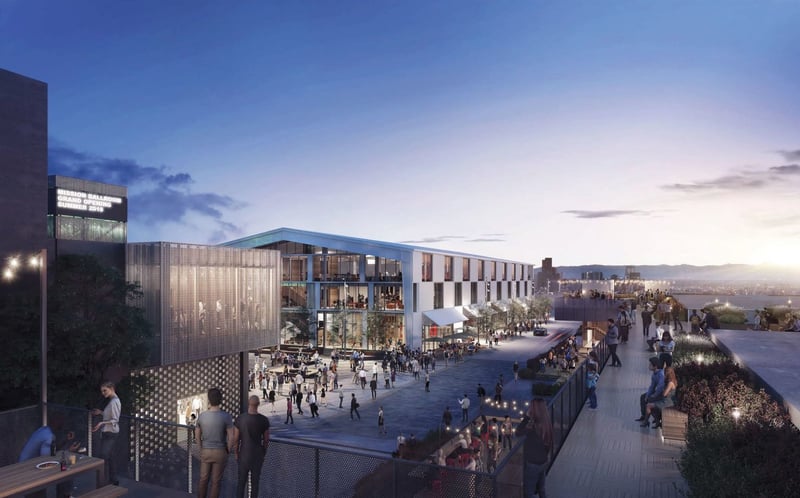 Andrew Katz
Denver is a city thriving in the growth it has seen over the past 10 years. Whilst it is a market not yet at full maturity, the next few years and the development projects it erects will play a vital role in ensuring the longevity of the market's adolescence. By combining sustainability and economic diversity through these projects, as well as delivering office space and affordable housing, paves the way for Denver to excel for years to come and maintain its prosperous real estate market. To find out more about how you can invest in Denver's thriving real estate market, contact Propeterra today. Propeterra, your global real estate advisory.