Rising house prices and a shortage of housing stock in Cambridge's city centre have led to an unprecedented boom in new towns and developments around Cambridgeshire. Here is Propeterra's rundown on some of the biggest and best:

Marleigh
Just three miles to the east of Cambridge City Centre, Marleigh will be a major new quarter for the city, with 1200 homes planned in the site on Newmarket Road. Along with two other development sites, north of Cherry Hinton and Marshalls ground run enclosure, Marleigh will comprise a "sustainable new urban quarter" with up to 13,000 homes, green spaces, cafe, community centre, a primary school for more than 400 children and a 52-place nursery. The developers are placing a high priority on design, working in conjunction with award-winning architects Pollard Thomas Edwards and landscape architect Robert Meyer to create a vibrant and welcoming community.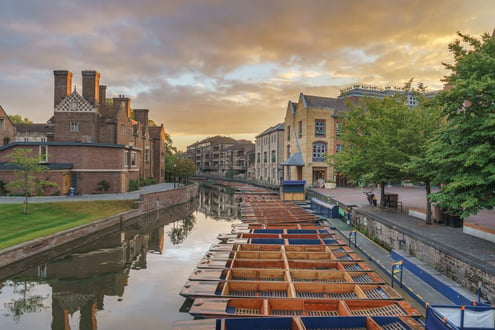 Bourn Airfield
Bourn Airfield is a 270-hectare site lying six miles directly to the west of Cambridge City Centre. Formerly a WWII RAF satellite station, in 2018 the land was allocated in the South Cambridgeshire Local Plan for a new village of around 3,500 homes, 40% of which will be affordable. In addition to housing, the plan includes two primary schools, a secondary school, a hotel, village centre and community hubs, 4,000 sq m of retail space, 1,500 sq m of employment space, and health and fitness facilities. The site's developer, Countryside, also aims to focus on the environment, with 45% of the project comprising of open spaces, including a 'Runway Park' which will pay tribute to the site's historic heritage. improving connectivity between the site and surrounding areas is also a priority, with a rapid transit bus route to Cambridge and Cambourne and excellent cycling and pedestrian links also being planned. The scheme should also receive a boost from the new Bourn Quarter business park, which will be located to the north east of Bourn Airfield. This project will include R&D, Life Science and warehousing space along with a nursery, restaurant and gym. The scheme was recently granted planning permission for the first phase of development.

Waterbeach
Waterbeach is a new town which will be situated to the north east of Cambridge, just outside the greenbelt. Comprising land including a former army barracks and airfield, master developers Urban & Civic and RLW will be releasing plots to developers to build 10,000 new homes, 40% of which are projected to be affordable, in line with the targets set by South Cambridgeshire District Council. Although there is an existing village in Waterbeach, this new development will greatly increase the population of the area, and therefore facilities including schools, a health centre, a new train station and green spaces are also included in the plan, along with a beach and outdoor theatre. It is estimated that the entire town will take around 20 years to complete.

The first phase of the town has now been approved, with Stonebond Properties winning planning consent for 89 homes, including apartments and houses ranging from one to four bedrooms. The first houses are due to go on sale in autumn 2022.

Northstowe
Northstowe is a new town which is being developed to the north-west of Cambridge - the biggest new town since Milton Keynes, with plans for more than 10,000 homes on the former RAF Oakington site. The new town will fall in the Longstanton ward of South Cambridgeshire District Council, with the final population for the town projected to be around 24,000. With such a large number of new homes the town will have infrastructure to match, with fully integrated public transport and cycleways, and a focus on being environmentally friendly, including incentives for new residents including bus tickets and cycle training. The development is only a half hour cycle away from Cambridge.

The first residents of Northstowe moved in in 2017, and the development is split between multiple housebuilders including Bovis, Linden, Barratt, Taylor Wimpey and Bloor Homes, whose development has now been completed. There is a large amount of affordable housing available, including shared ownership apartments from housing association BPHA for as little as £57,500. As well as these housebuilders, the first homes in Phase 2 of the project are now also being built by Urban Splash, who are working in partnership with the Japanese construction company Sekesui. The neighbourhood of Inholm in Northstowe will feature eco-friendly townhouses with solar panels, with family-friendly attractions including two waterparks and play areas.

Cambourne
The area of Cambourne has been the subject of new developments since the original masterplan was put in place by South Cambridge District Council back in the 1990s. Today, the settlement boasts around 4000 homes, supported by a primary and secondary school, along with many other essential facilities including shops and leisure facilities. Now the town is set for further expansion, with planning approval for a further 2,350 houses having been granted. Vistry (which includes Bovis and Linden Homes) and Taylor Wimpey are developing Cambourne West as a joint venture, and will be including two new primary schools, a community centre, sports facilities and allotments within the development, as well as business and retail opportunities. South Cambridgeshire District Council has also recently announced that they will be purchasing land in Cambourne in order to build a further 300 homes. They will be developing the site in partnership with housebuilders Hill.

For more information on developments in Cambridge, Propeterra's Cambridge Investment Report is coming soon - watch this space!