Myrtle Beach is renowned as a holiday destination for its warm weather, miles upon miles of white sand beaches and its relaxing lifestyle. Its beaches stretch for 60 miles along the South Carolina Atlantic coastline, a strip known as the Grand Strand. Dotted along the Grand Strand are watering holes of all shapes and sizes, from lively cafés to party venues. Perfect for quenching your thirst during a hot Carolina summer day, pick up your flip flops and head to one of the bars on this list for a relaxing drink overlooking the panoramic views of the ocean. Check out the list below for some of the best bars along the coast in Myrtle Beach.
Ocean Annie's
For over 20 years, Ocean Annie's has been a lively hotspot for locals and tourists alike. Transitioning seamlessly from a family-friendly clubhouse during the day, to a relaxing spot for an evening drink in the shade and finally to a party atmosphere long into the night, Ocean Annie's is renowned for curating a fun, inclusive atmosphere. The outside sports a swimming pool for those less keen on the salty Atlantic waters, with the deck playing host to live music acts as the evening draws on. Ocean Annie's is extremely popular for its sociable, easy-going atmosphere, so if you want assurances of a place, head down early doors and grab a precious sun-lounger.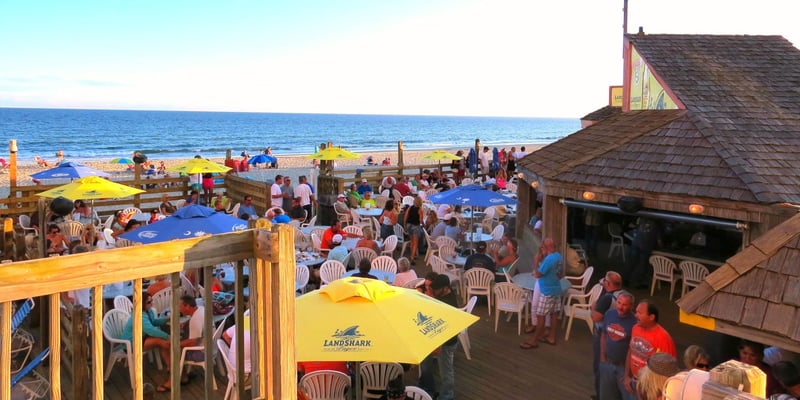 MyrtleBeach
Bummz Beach Café
As the name suggests, patrons are invited to stroll up from the beach in their swimsuits having left their flip flops down on the sand. The bar offers frozen, thirst-quenching beverages, decent grub and live music throughout the summer months. Mere metres from the beach, Bummz is a hotspot for families and beach-goers for its laidback and sociable atmosphere. Situated in a 1930s beach house, it feels more akin to visiting a friend's house, such is the setting. Loung the afternoon away in the sun or shade, in one of the hammocks or at a table, sipping on a glass dripping with condensation.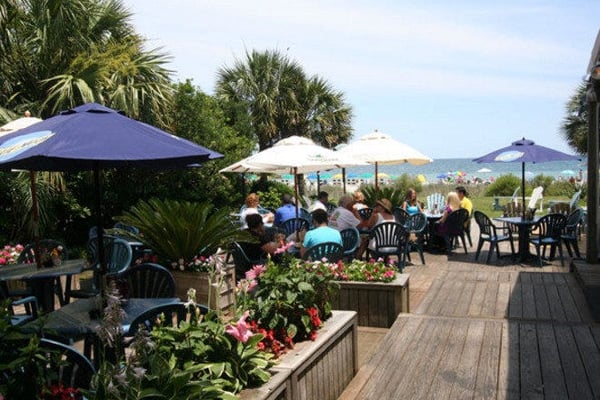 USA10Best
McAdoo's Beach Bar
McAdoo's is renowned for its large, covered live music stage and frequented by easy-going music fans looking to dance long into the night in a tranquil and social setting. Check out their brilliant cocktails, perfect for enjoying at the beachfront bar overlooking the shimmering, blue Atlantic. Open from the early time of 11 am right through to 2 am, there is plenty of time in the day to pop into McAdoo's for a drink or two. A hot nightlife spot for visitors and locals alike, its infectiously fun atmosphere is something loved by everyone, so why not check it out for yourself next time you're in town.
8th Avenue Tiki Bar & Grill
Ocean Boardwalk, the main thoroughfare and summertime strip of the city, is attracting more and more businesses to cater for the increasing numbers of tourists that are coming to Myrtle Beach year on year. The latest addition to the numerous bars and restaurants is the 8th Ave Tiki Bar & Grill, and from the outset, it has made a lasting impression. A festive and fun beach bar that breaks the mould set by the longer established haunts. With a focus on delivering great food, a festive atmosphere without the outright party and, of course, ice-cold cocktails, Tiki is one to visit next time you're in town. Try the Reeses' Cup cheesecake for an indulgent bite in the glorious Carolina sunshine.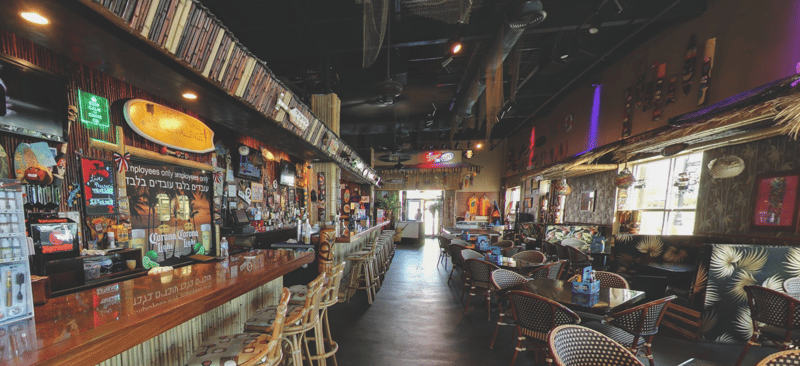 8thAveTikiBar
Oceanfront Bar & Grill
A Myrtle Beach tradition for more than 60 years, Oceanfront Bar & Grill is quintessential for a beach visit in the city. Located in a prime position on the Boardwalk, the Oceanfront Bar has a breathtaking view of the expansive Atlantic. Serving ice-cold cocktails and thirst-quenching beers on tap alongside live music performances, Oceanfront cracked the formula for a fun and relaxing beach experience. Enjoy the cool ocean breeze as you sit at the bar's patio and soak up the South Carolina sunshine.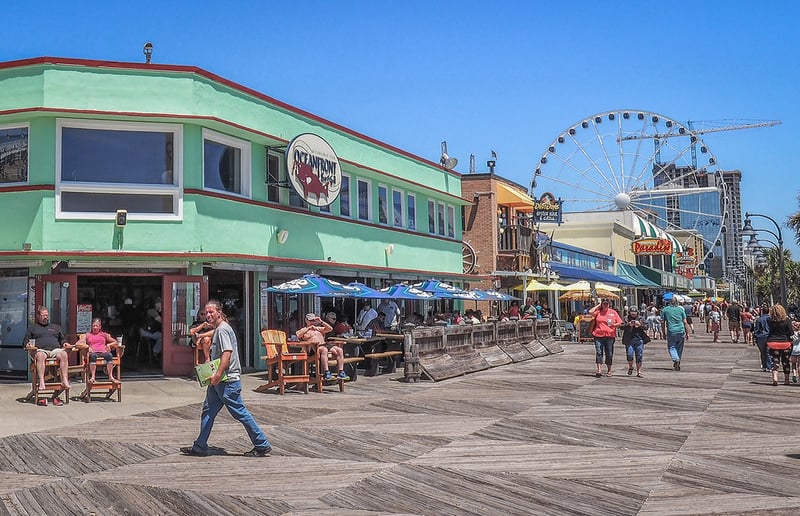 Flickr
Myrtle Beach knows how to do beach days. In fact, they have arguably perfected the beach holiday experience. No wonder 20 million tourists fill the city every summer for months on end to soak up the lively atmosphere and glorious sunshine. To find out more about your real estate opportunities in Myrtle Beach and the United States, contact Propeterra today and realise your American real estate dreams.