Just say the word Scotland and several images are bound to spring to mind; misty, heather-covered mountains; shaggy Highland Cattle; and a glass of peaty, amber-coloured whisky. And where better to try Scotland's most famous export than in Edinburgh? Read on for our recommendations , and the perfect whiskies to pair with them.
Watering Hole: Bennets Bar
This venerable old-timer was established in 1839, and you can still see the 'jug bar', where women and children were separated off from the menfolk for the serious business of drinking. Other original features include stained glass, carved wood and mirrored panels. With a great range of single malts, it's the ideal place for a swift drink before visiting the King's Theatre next door.
Whisky: Laphroaig 10 Year Single Malt
Soak in Bennets' Victorian atmosphere with this classic smoky single malt from Islay. Peaty, oaky, and slightly sweet, it's best drunk with a little water to open up the palate.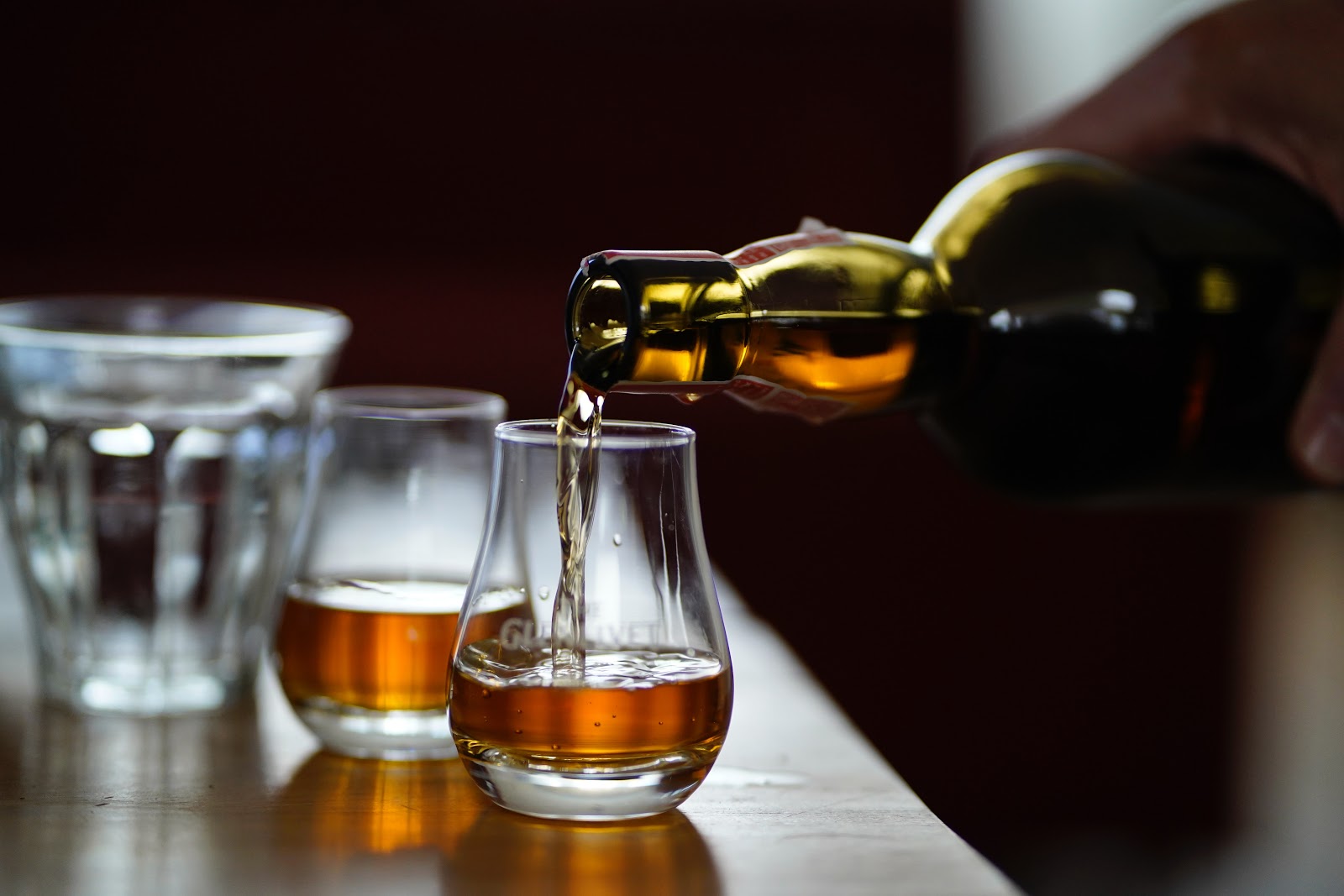 Watering Hole: The Bow Bar
This is one of Edinburgh's premier whisky destinations, with over 300 different whiskies to choose from. Feeling overwhelmed? The friendly bar staff will help you choose the perfect drink for you. Winner of the Best Bar in Scotland two years running, and the Best in Edinburgh at the Bar and Brew awards, this is one bar that's not to be missed for the serious whisky aficionado.
Whisky: Cambus 25 Year - Chorlton
With such a great list to choose from, why not try a rarity like this 25 year old single grain from Chorlton, a lowlands distillery long since defunct. With notes of morello cherry and gingerbread, this whisky is something a bit special.
Watering Hole: SCOTCH at The Balmoral
Sip in style at this luxury hotel. With one of Edinburgh's most extensive whisky lists, how do you choose from the 500 single malts and blends on offer? Well, why not try one of their whisky tasting journeys, such as 100 Years of Whisky; four different whiskies, with a combined age of over 100 years.
Whisky: Glenmorangie Pride 1974
Such opulent surroundings demand a whisky of equal stature; something like this 41 year old single malt, the oldest produced by Glenmorangie to date. With deep rich flavours of chocolate truffle, brioche and leather, this is one to savour.
Watering Hole: Usquabae
The perfect spot for the beginner whisky enthusiast, Usquabae offers a selection of tasting flights, such their 'Tour of Scotland', featuring whiskies from the main producing regions of Speyside, Islay, The Highlands, The Lowlands and Campbeltown. And you can soak up all that booze with their delicious Scottish menu, featuring typical local dishes such as haggis (of course) or Scottish rump steak.
Whisky: Brora 21yo 1977
With over 300 whiskies to choose from, branch out with something a little unusual, such as this Brora 21 year old from Rare Malts. With notes of banana and coconut and a peppery kick to finish, this is an unusual whisky not to be missed.
Watering Hole: Whiski Rooms
Situated just off the Royal Mile, this is the perfect place to stop off during a day of sightseeing. But be careful - with its welcoming ambiance and cosy banquettes, it's easy to lose an hour or two without noticing! Winners of 'Whisky Bar of the Year' at the Dram Awards, there is an attached whisky shop next door, so after sampling their delights at the bar, you can buy a bottle of your own to take home.
Whisky: Ardbeg 10 Year Old
To go with their delicious Ardbeg food menu, why not try a whisky from this Islay distillery. With notes of sea spray and beach bonfire smoke, this is guaranteed to blow the clouds away.