When you think of Las Vegas, you probably imagine the Strip, glitzy Casinos and fantastic food. You'd be right, but that's only a part of it.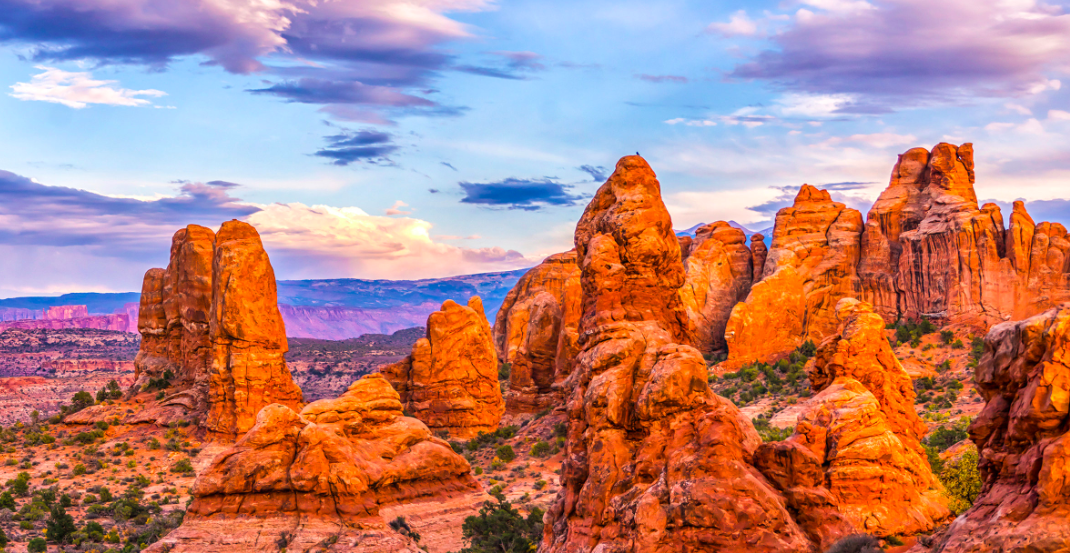 Image credit:
Thrillist
One of the reasons Las Vegas is beloved by its residents are its many areas of natural beauty, and scenes of adventure! Think skiing, hiking, hot air ballooning and much more. Check out our list of unmissable places and outdoor activities for families, couples and adventure-seekers! Let us know what you think @propeterra.
1. Lake Mead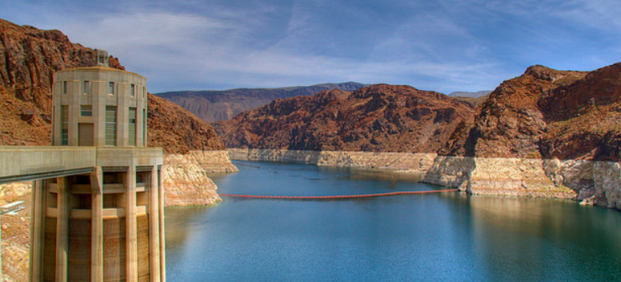 Image credit: Get Your Guide
An 'Oasis in the Desert', Lake Mead is one of the largest and cleanest reservoirs in North America. A man-made lake that lies on the Colorado River, it was created in 1936 with the installation of the Hoover Dam, which you can visit on one of the many tours! Its waters also offer the perfect playground for water skiing, sport fishing and famed summer parties.
For those of you looking to chill, Lake Mead features gentle cruises along its wide expanses of open water, with shaded areas dotted along the coast with picnic tables, fire grills and more. The perfect day out, or place to camp.
Only around 24 miles (39 km) from the Las Vegas Strip, this is not one to miss.
2. Kayaking the Colorado River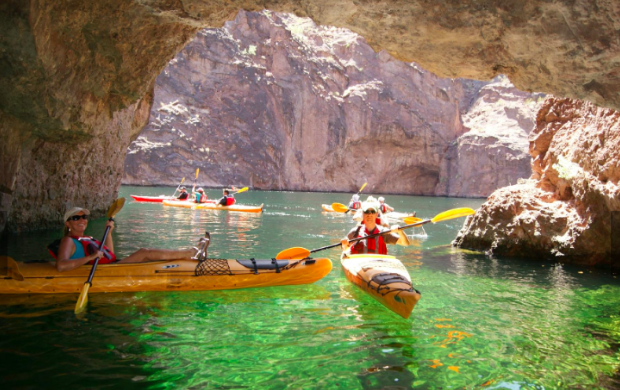 Image credit: Trip Advisor
Fresh from your trip to Lake Mead, you can hop on a kayak at the Hoover Dam and travel around 19km along the beautiful Colorado River. On the way, you can glide over the green water of the famed Emerald Cave, and stop at beaches where you can picnic, swim or sunbathe. While you carve your way through the Grand Canyon, keep an eye out for the impressive wildlife, like desert bighorn sheep, coyotes and bald eagles.
Just a 40-minute drive from the Strip, and offering expeditions for both highly seasoned kayakers and beginners, this is an essential day out.
3. Hiking in the Valley of Fire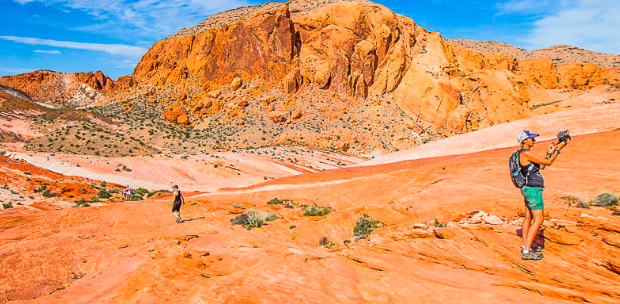 Image credit: Y Travel Blog
Only an hour's drive north-east of the Strip, the Valley of Fire State Park will transport you to the film-sets of classic Hollywood westerns, Star Trek, and Transformers.
It's stunning south-western desert scenery feature wonderful rock formations, many of which are inscribed with Native American petroglyphs, and provide a magical backdrop to early morning and late afternoon hikes. There are also a number of short hikes that are easy, full of colour and very scenic for people of all ages and abilities. Best visited between the months of October to April when the heat is lighter, this will soon become one of your favourite ways to spend a day.
Top tip:
A little known spot but a firm favourite amongst residents is Pink Canyon, also called Pastel Canyon. It's an unmarked spot, but one of the most beautiful in the Valley of Fire. Parking only has space for one or two cars, but once you get there (GPS coordinates: 36°28'47" N 114°31'36" W) turn east into the Canyon, and prepare to be amazed.
You're welcome in advance.
4. Grand Canyon Helicopter Tours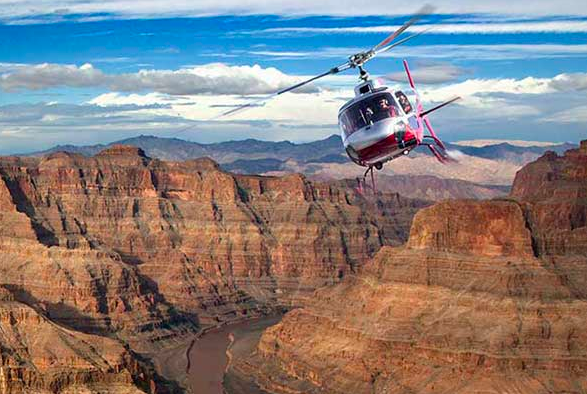 Image credit: Pink Adventure Tours
While getting from the Las Vegas Strip to the Grand Canyon, America's classic natural attraction, can take up to five hours, we have an alternative for you.
Only a 40-minute flight to the West Rim of the Grand Canyon, embark on a tour of a lifetime, in style. Trace the multicoloured chasm of the Canyon from the air, and enjoy stunning panoramic views from your helicopter seat. Many companies will also make a dramatic landing in the Canyon itself, and have a gourmet meal waiting for you. Heaven.
5. Go Golfing in Angel Park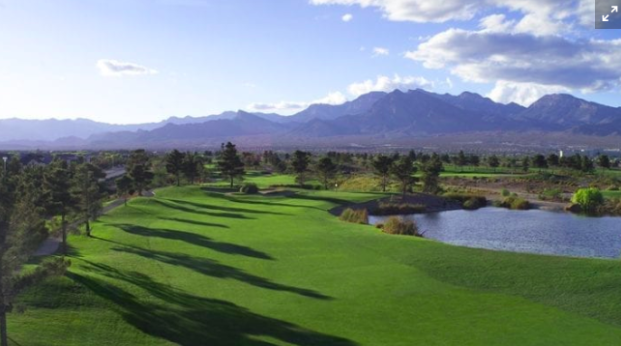 Image credit: VIP Golf
While Las Vegas has a vast array of award-winning golf courses to keep keen golfers busy all year, we'd recommend the laid-back Angel Park. Located in Summerlin, a suburb that's a firm favourite amongst families for its location (nestled next to the Red Rock National Conservation Area) and incredible amenities, it couldn't come more highly recommended. Offering wonderful vistas of the Red Rock Canyon desert and Las Vegas Valley, and featuring 36 holes designed by Pro Legend Arnold Palmer, it's beloved by locals and tourists-in-the-know alike.
If you just can't get enough and would like to explore other courses too, we've got you. Check out this top 10 list from TripAdvisor.
6. Cycling in Red Rock Canyon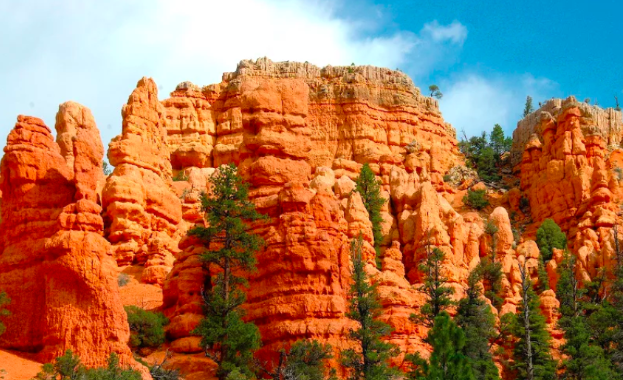 Image credit: TripSavvy
It simply doesn't get much better than renting a bicycle on a warm afternoon and looking at the Red Rock Canyon up close: in glorious technicolour. Only a 30-minute drive west of the Strip, its seasonal waterfall oases, sandstone bluffs, and hiking trails that lead to prime wildlife watching areas are astonishing. Bring a friend, glide over the undulations, and make a day of it.
7. Zip lining in Bootleg canyon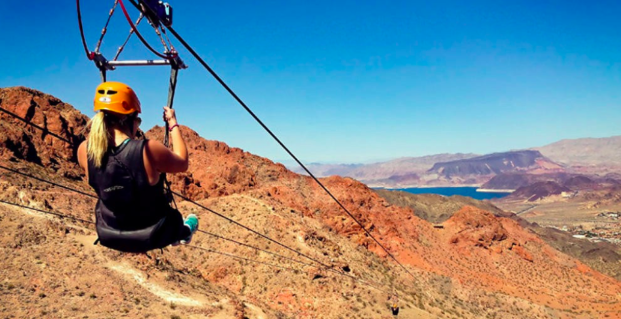 Image credit: Medium
While Downtown Las Vegas has its own short zip-line experience on Fremont street, the real fun lies just 25 minutes away in Boulder City, Nevada. Bootleg Canyon Park is one of the most popular destinations for thrill-seekers, with a paragliding harness and a 50mph descent waiting on a variety of ziplines: the longest of which is half a mile long.
Eco-friendly and safe, although not for the faint-hearted, Bootleg Canyon awaits!
8. Skiing and snowboarding on Mt Charleston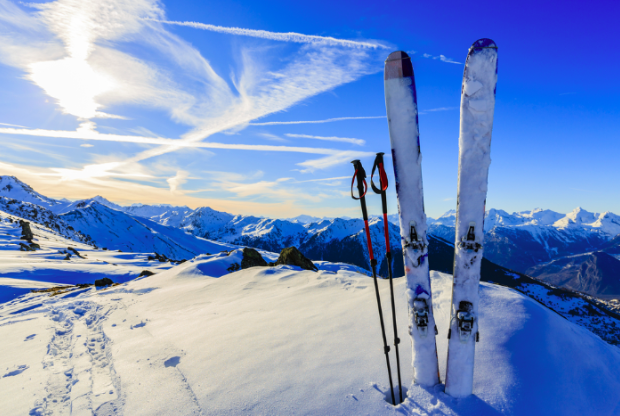 Image credit: Vine Vera
You heard us right. While Las Vegas reaches scorching temperatures in summer - although it's a dry heat, don't worry - it offers a winter wonderland only an hour's drive from the city itself. Lee Canyon, the area's ski resort, has a base elevation of 8,510 feet, with the top of Mount Lee 2,500 feet higher up. Perfect for beginner and intermediate skiers and snowboarders in particular, but certainly catering to all, it's the perfect getaway.
Fun fact: 'Nevada' in spanish means snow-covered. You heard it here first.
9. Racing a dune buggy in the desert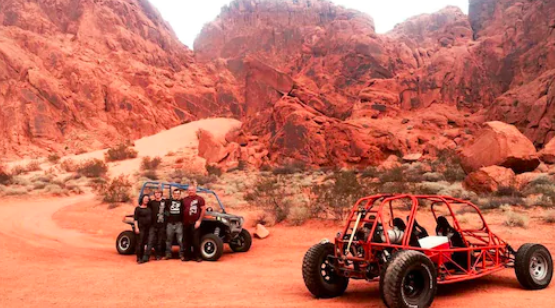 Image credit: SunBuggyFunRentals
Another one for the explorers amongst us, to properly experience the desert, you've got to rent a dune buggy. Bring some friends, be part of a race (check out the Mini Baja Chase) and speed through off-road trails between deep red rocks. Tours normally range from three to seven hours, and many will take you through Lake Mead, the Hidden Valley, or the Valley of Fire State Park.
We don't know about you, but we're feeling a multi-day trip coming on.
10. Gold strike Canyon Hot Springs Hike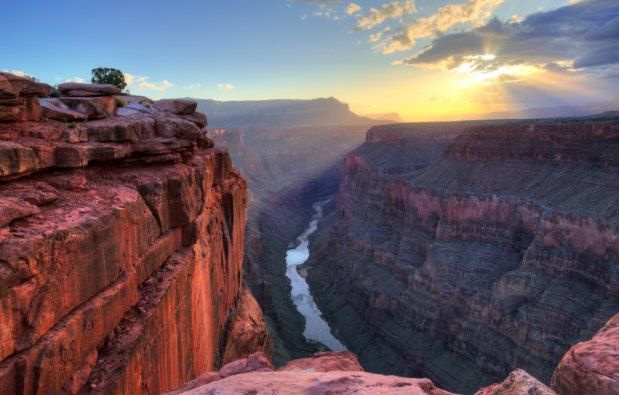 Image credit: Iexplore.com
A well-known secret amongst the locals, you can get to this haven through a hard-to-find trail next to the Colorado River. Relax in nature's natural hot tubs, the hot springs, and admire the beautiful landscape. Directions are difficult to navigate, but arrange to have a Tour Guide take you and you won't regret it.
11. Hot Air Balloon Ride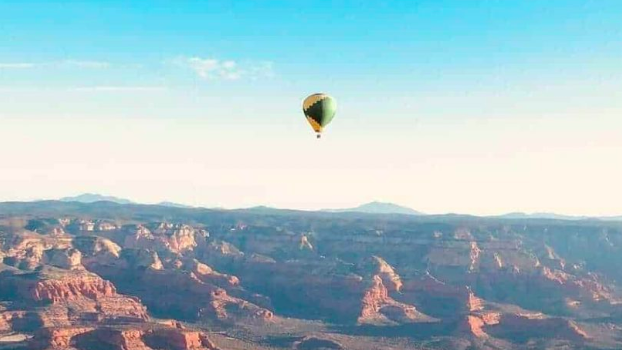 Image credit: Town & Tourist
Always wanted to go into a Hot Air Balloon? Us too. This 3.5 hour ride is breathtaking at sunrise and sunset, and you can bring some champagne to toast to the glorious journey. Romantic and instagrammable, now that's a combination we can't resist.
Take a pick of any of the above, and we guarantee you'll have an amazing time! Need some more ideas? Get in touch @propeterra.