Propeterra is pleased to present you with the 2019 Niseko Report. Based on extensive research and expert interviews, this report aims to provide the necessary information for investors interested in the vibrant Niseko market. This report will prove to be useful in evaluating and identifying the main investment prospects in this exciting region. It will give the reader an overview of the challenges as well as the broader conditions shaping Niseko's real estate market.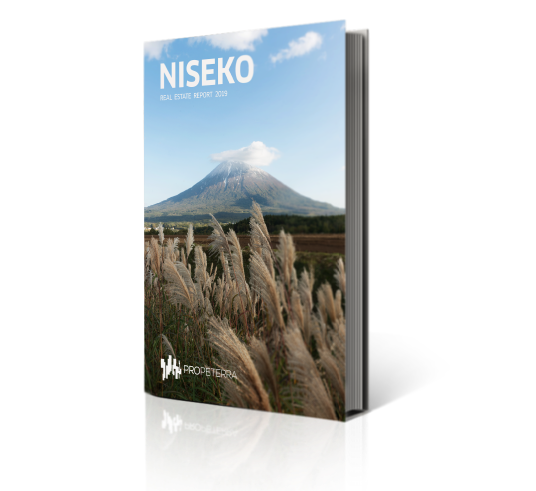 Prime Minister Shinzo Abe's ambitious economic revitalization policy, dubbed Abenomics, targeted at increasing fiscal stimulus, monetary easing and structural reform, though effective, may not be enough to revive the economy. Nonetheless, the effects of Abenomics on housing prices have been significantly positive. Perhaps even more so in the dynamic real estate scene in what people are calling the "Niseko Boom."
Niseko is Asia's top ski and resort vacation destination. Located in the northern Japanese island of Hokkaido and renowned for its beautiful scenery with commanding views of Mount Yotei, it is referred to among locals and expats alike as "Mt. Fuji of Hokkaido" or "Ezo Fuji". One of the snowiest resorts in the world, Niseko is blanketed in over 15 meters of annual snowfall. It's renowned powder snow and dynamic tourist scene attracts skiers, snowboarders, and investors alike as a prime ski resort and investment destination.
Inward foreign direct investment mostly lends itself to the luxury segments of ski-in-ski-out chalets, private onsen, and newly built condominiums. The raw land market is also becoming increasingly active, a strong signal of new developments to come. Niseko attracts high-end investors such as from Australia, Hong Kong, and Singapore and has received substantial investment from well-known developers such as YTL Corporation, SC Global, and Richard Li, among others. This paves the way for the resort to become a more robust property market and holiday destination.
Potential multi-billion dollar investors are in talks to privatize airports like New Chitose International Airport, located just outside of Hokkaido's regional capital of Sapporo, approximately three hours from Niseko. Also of note is the new highway under construction which would sharply decrease the driving time from the airport. Otherwise, the continued development of the Shinkansen train, first to Hokkaido and then later up to Sapporo by 2030, bodes well for the overall development of the northern island as a whole and specifically for Niseko.
At Propeterra, we look forward to participating in the exciting growth of Niseko in the years to come and anticipate close collaboration with developers, investors, property buyers, and agencies involved in the unfolding story of this destination.